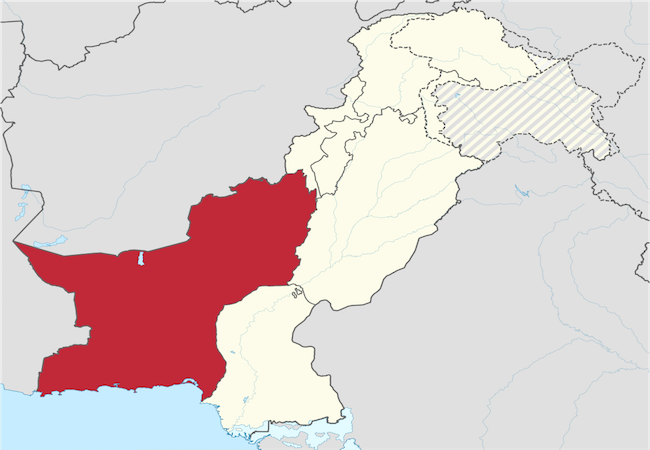 By Sadia Kazmi
Baluchistan figures prominently in the list of major political challenges Pakistan has been dealing with ever since its independence. The nationalistic movement augmented by ethnic grievances including the claims over provincial discrimination and injustices, gave impetus to the problem and it continued to intensify till it spilled over beyond a manageable threshold. Now whether it was intentionally allowed to exacerbate or was it a problem too hard to deal with, doesn't change the fact that today Baluchistan has become a multilayered and complex predicament.
For instance a major chunk of state efforts are being invested in fighting off insurgencies in Baluchistan. The human resource and finances which could have otherwise effectively been employed in the socio-economic uplift of the country are being used in extensive and expensive military operations in the province. Another important dimension is that this internal unrest offers favorable grounds to external elements where they have been able to exploit the situation and further aggravate the problem. India who is always aiming at Pakistan's economic strangulation and political extirpation, finding the opportunity ripe, intervened and has been instrumental in fanning the flames of separatism in Baluchistan. One cannot turn a blind eye to the fact that today in Baluchistan it is not just those demanding equal rights but equally strong is an Indian fed faction who doesn't want to settle for anything less than full provincial autonomy. This raises another security threat for Pakistan's sovereignty i.e. India's vile intentions aimed at the eventual disintegration of Pakistan, as was done by them back in 1971. The internal unrest and chaos undermines the progress on prospective developmental projects. Sympathetic environment for Afghan Taliban is another serious issue facing security agencies in Baluchistan. Last but not the least, the sectarian militancy, organized crimes, hostile foreign agencies, and banned outfits render Baluchistan a multifarious quandary.
However, recently the province has seen some positive developments too.  There has been robust international investment by China and more recently by UK in the proposed CPEC project that promises huge economic and political dividends for Pakistan and for the province in particular. Iran has also expressed interest to be part of this multibillion dollar infrastructural project. One can also witness firm determination of both civil and military leadership to make this possibility into a reality. A remarkable policy of appeasement and general amnesty by the government for all the home based insurgents convinced a large number of rebels to voluntarily surrender and lay down the arms. Also for the first time the self exiled Baluch leaders have shown some flexibility and inclinations towards having negotiation with the Government and have hinted they might even forego their demand for independence. These significant developments are all interlinked and again have direct repercussions on the security structure of the country.
Nonetheless it is not yet time for celebration. Now the focus should be on how to keep the process going and how to further build up on the positive developments. The state authorities need to stay vigilant and be on guard against the separatist elements which are still at work. Even though Brahamdagh Bugti and Javed Mengal have responded positively to the government's invite for dialogues, the other tribal leaders need to be taken into loop as well. Harbiyar Marri, leader of Baluch Liberation Army is an equally important part of this puzzle or may be even the strongest one. One should remember that the responsibility of various hostile activities like killing of Chinese engineers, ambush on railroads, attack on Pakistan Army's installations in Baluchistan, and the more recent attack on Jiwani airport have all been openly accepted by BLA. It is important to engage all the stakeholders and earn their confidence in order to have a full spectrum win-win outcome. The lucrative amnesty scheme seems to be working for now but one also needs to remember that these insurgents have long been waging this war for their right and their cause is not only just but also sacred to them. Even though monetary incentives are being offered to them, this cannot put their real grievances to rest and might just provide a temporary solution to a much deep rooted socio-political problem.
Along with expanding and strengthening intelligence network in Baluchistan, more employment and business opportunities should be created in order to ensure sustainable economic, social, and political growth. Indian influence should be mitigated and intra-provincial skirmishes between Pashtuns and Baluch and sectarian killings should not be taken lightly as these could be exploited by RAW that aims to create internal rifts, not just to divert the concentration of security forces from the borders to the internal disturbances but also to disrupt CPEC. To deal with this, internal security situation should be enhanced. Baluchistan attracts world attention for its immense natural gas, coal, and mineral resources. Indian instigated Baluch demand for the UN intervention in Baluchistan on humanitarian grounds might provide international actors with an excuse to intercede for purely their own strategic and economic motives. This may directly challenge state's sovereignty. So a balanced approach focusing simultaneously on social indicators as well as military operation should be adopted. Last but not the least an impartial electronic and print media should be allowed to bring forward an uninfluenced Baluch narrative and should also work vigorously to dispel their misgivings and to instill sense of patriotism and unity in the province.
One can see there is a long list of challenges that needs attention. In order to secure lasting peace it is important to work towards an over arching political solution, in particular addressing conflict's root causes.