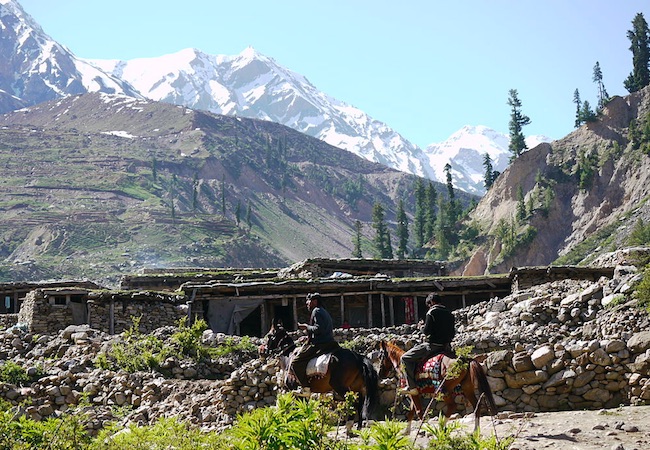 By Ambreen Agha
On September 11, 2015, two volunteers of a 'peace committee' [Government-backed 'people's' counter-insurgency forces] , identified as Nawab Khan and Fazal Khan, were killed in an Improvised Explosive Device (IED) attack while they were travelling from Pandyali tehsil (revenue unit) of Mohmand Agency to Dwezai area of the same Agency in Federally Administered Tribal Areas (FATA).
Earlier, on September 8, 2015, at least six pro-Government peace volunteers of Tauheed-ul Islam (TI), belonging to the Zakakhel tribe, were killed by Lashkar-e-Islam (LI) terrorists in the Bara tehsil of Khyber Agency. An unnamed 'spokesman' of LI claimed that the volunteers were helping the Security Forces (SFs) against them.
On September 7, 2015, another five peace volunteers of TI were executed in the Qambarkhel area of Khyber Agency. LI 'spokesman' Salahuddin Ayubi called from an undisclosed location and claimed that his men had killed the five pro-government fighters. These 11 'peace volunteers' of TI were abducted by LI from the Sanda Pal area while they were going to the Maidan area in the Tirah Valley of the Khyber Agency on September 6, 2015.
Again, on September 7, 2015, a pro-government tribal elder, identified as Mullah Amanullah, was shot dead by unidentified armed assailants in a targeted attack in the Chaharmang area of Nawagai in the Bajaur Agency.
On September 1, 2015, at least six persons, including one Khasadar (tribal Police Force) official, were killed and 56 were injured in a suicide attack in the Jamrud tehsil of Bajaur Agency. The Political Agent of the Bajaur Agency, Shahab Ali Shah, disclosed that the suicide bomber was aiming to enter his office but failed to do so because of strict security measures, and consequently blew himself up at the entrance gate. Salahuddin Ayubi, 'spokesman' for the LI, first claimed responsibility for the attack declaring that their targets were Government officials. Later, Tehreek-e-Taliban Pakistan (TTP) 'spokesman' Mohammad Khorasani claimed that the TTP's 'special martyrdom unit' carried out the suicide attack, with the aim to kill Government officials tasked with implementing the Government's National Action Plan (NAP). Notably, the 20-point NAP came as a counter-terrorism measure under the Constitution (Twenty-First Amendment) Act, 2015, on December 24, 2014, after the gruesome December 16, 2015, Peshawar Army Public School massacre which had resulted in 147 fatalities, including 134 school children.
According to partial data compiled by the South Asia Terrorism Portal (SATP), FATA has already recorded 1,678 fatalities in 2015, (all data till October 4), including 98 civilians, 90 SF personnel and 1,490 terrorists. 741 of these fatalities have been recorded in NWA (four civilians, 27 SF personnel and 710 terrorists); 587 from the Khyber Agency (38 civilians, 17 SF personnel and 532 terrorists); 152 from the South Waziristan Agency (SWA, 28 civilians, 17 SF personnel and 107 terrorists); 70 from the Kurram Agency (two civilians, 12 SF personnel and 56 terrorists); 60 from the Orakzai Agency (four civilians, nine SF personnel and 47 terrorists); 34 from the Mohmand Agency (six civilians, one SF and 27 terrorists); 28 from the Bajaur Agency (15 civilians, six SF personnel and seven terrorists). Frontier Region (FR) Bannu recorded a total of five fatalities, including one SF trooper and four terrorists; followed by FR Peshawar with one terrorist killed. The other four FRs did not record any fatality. [FATA comprises of seven Agencies – Bajaur, Khyber, Kurram, Mohmand, North Waziristan, Orakzai, South Waziristan; and six FRs – FR Peshawar, FR Kohat, FR Bannu, FR Lakki, FR Tank and FR Dera Ismail (DI) Khan] .
According to partial data compiled by the Institute for Conflict Management (ICM) a total of 27,833 persons, including 3,769 civilians, 2,226 SF personnel and 21,838 terrorists, have been killed in FATA since 2002 (all data till October 4, 2015). All seven Agencies have witnessed extensive and prolonged violence. Of these, NWA remains the worst hit, recording at least 6,626 fatalities over this period, including 651 civilians, 661 SF personnel and 5,314 terrorists; followed by the Orakzai Agency with at least 5,073 fatalities, including 259 civilians, 198 SF personnel and 4,616 terrorists; and Khyber Agency with 4,795 persons killed, including 1,017 civilians, 317 SFs and 3,461 terrorists [these are likely to be significant underestimates, as media and independent access to the regions of conflict is severely restricted. Categorization of fatalities is also without independent verification].
The Khyber Agency ranks first on civilian deaths, recording a total of 1,017; followed by NWA, 651; Kurram, 538; Bajaur, 463; Mohmand, 455; SWA, 376; and Orakzai, 259.
On SF fatalities, NWA tops the list, recording at least 661 deaths; followed by SWA, 472; Khyber, 317; Mohmand, 244; Orakzai, 198; Bajaur, 177; and Kurram, 105.
On terrorist fatalities, NWA ranks first, recording at least of 5,314 deaths; Orakzai, 4,616; Khyber, 3,461; SWA, 3,127; Bajaur, 2,619; Kurram, 1,465; and Mohmand Agency 1,211.
Terrorist fatalities at 21,838 of a total of 27,833 deaths, account for a staggering 78.46 per cent of total fatalities, suggesting indiscriminate operations that rely overwhelmingly on area weapons – artillery, drones and missiles, rather than face to face engagements between ground forces and the terrorists. A multiplicity of military operations have targeted FATA in the past, prominently including Operation Sirat-e-Mustaqeem (Khyber Agency in FATA; June 28, 2008-July 9, 2008); Operation Sherdil (Bajaur Agency in FATA; August 7, 2008– February 28, 2009); Operation Rah-e-Nijat (South Waziristan Agency in FATA; June 19, 2009-December 12, 2009); Operation Khwakh Ba De Sham (Orakzai and Kurram Agencies in FATA; March 23, 2010-June 1, 2010); Operation Brekhna (Mohmand Agency in FATA; November 3, 2009); and Operation Koh-i-Sufaid (Kurram Agency in FATA; July 2, 2011 – August 18, 2011). These are just some additional campaigns in a long series targeting renegade domestic terrorist formations, that was launched after the Lal Masjid debacle of 2007.
Meanwhile, an operation is still underway in NWA. The Pakistan military had launched an 'all out offensive', codenamed Operation Zarb-e-Azb [Sword of the Prophet] in NWA on June 15, 2014, in the aftermath of the attack on the Jinnah International Airport, Karachi, on June 8-9, 2014, in which at least 33 persons, including all 10 attackers, were killed. According to SATP data, thus far 2,039 terrorists and 227 soldiers have been killed in this ongoing operation. A day before the completion of one year of Operation Zarb-e-Azb, Major General Asim Saleem Bajwa, Director General (DG) of the Inter Services Public Relations (ISPR), on June 14, 2015, claimed, "The operation has moved to last few pockets close to Pakistan-Afghanistan border and so far, 2,763 terrorists have been killed. 347 soldiers and officers have also been killed since the start of the operation on June 15, 2014."
Operation Zarb-e-Azb, however, narrowly targets domestic terrorists, principally of the Tehrik-e-Taliban and its various constituent and splinter formations, even as it assiduously avoids any conflict with the Pakistan-backed groups operating in Afghanistan. Significantly, on the sidelines of the United Nations (UN) General Assembly session in New York on September 28, 2015, US Secretary of State John Kerry urged Pakistan Prime Minister Nawaz Sharif to take "additional action" against terrorist groups such as the Haqqani Network that operate in Afghanistan and maintain safe havens in NWA. Despite repeated appeals to this effect from the US, Afghanistan and other countries that were part of the International Security Assistance Force (ISAF), Pakistan continues to provide fullest support to the terrorist formations operating in Afghanistan.
In the Khyber Agency, Operation Khyber-II was launched on March 23, 2015 and ended on June 15, 2015, after inflicting a total of 227 fatalities, including 218 terrorists, two civilians and seven SF personnel. Operation Khyber-II was preceded by Operation Khyber-I, launched on October 16, 2014, and that ended on March 17, 2015, with a total of 717 persons, including 50 civilians, 19 SF personnel and 648 terrorists, killed. Despite these two long operations, terrorists continue to operate freely in Khyber, as is evident from the spate of recent incidents (above). Once again, this raises questions about the credibility and efficacy of such operations.
FATA has been described as the epicenter of World Terrorism, and has provided safe haven to at least 40 prominent terrorist outfits, the largest number of which are based in NWA, followed by SWA. There are a total of 18 terrorist outfits based in NWA, including the most lethal and deadly Haqqani Network that has been a major threat to United States (US), NATO and Afghan National Security Force (ANSF) troops in Afghanistan.
Ambreen Agha is a Research Assistant at Institute for Conflict Management