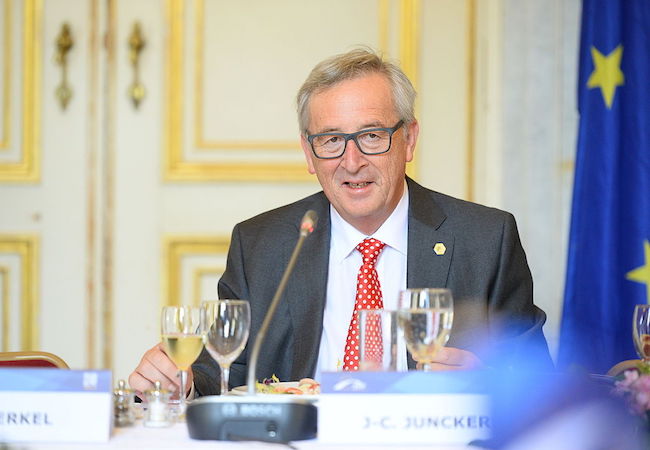 BNS/TBT Staff/VILNIUS
European Commission President Jean-Claude Juncker said the signing of the financing agreement of the Gas Interconnector Poland-Lithuania (GIPL) on October 15, 2015, is a historic moment as the gas pipeline is the first energy infrastructure project to link the Baltic States with Western European markets.
"Just a few moments ago, you witnessed a breakthrough. You have witnessed history being made," Juncker said at a news conference in Brussels after the signing ceremony.
"You have done more than just connect two countries. You have ended the energy isolation of the Baltics," he told Lithuanian President Dalia Grybauskaite, and Polish Prime Minister Ewa Kopacz. "You have ended their long-lasting dependence on a single supplier.
"You have linked the whole region to the rest of Europe."
The European Commission president said that this was the EU's biggest ever investment in a project of this kind.
"It is an investment that will pay a dividend – the free flow of energy in Europe," he continued. "We need the free movement of energy.
"We need it for security of supply; we need it to diversify energy sources.
We cannot do this on our own. We can only do this together. We need it for our citizens and consumers."
Lithuanian President Dalia Grybauskaite said that the signing of the agreement was an important step toward an European Union energy union.
"It is an important step that would have not been possible without good will, political understanding and, of course, financial support from the European budget," she added at the same news conference.
"This is a decisive step towards creating an energy union that we have agreed to have," she continued. "This will also be decisive for the competitiveness of all of the European Union, not only for our region, and for the prosperity of our European Union."
Estonian Prime Minister Taavi Roivas said the gas pipeline between Poland and Lithuania would bring Europe closer together.
"We truly believe that no part of Europe should be an island in terms of being disconnected from others," he said.
"With the step we are taking today, with the launch of this project, we are not only building a pipeline, we also building a Europe that is closer to each other.
"Energy connections, and their construction should definitely continue.
"There are still markets to be connected, and there are still projects to be taken care of," he concluded.
The gas pipeline project is estimated to cost 558 million euros.
The Commission granted 295 million euros under the EU's Connecting Europe Facility for construction work, plus another 10 million euros for studies and research.
Lithuania was allocated 55 million euros and Poland was allocated 240.3 million euros.