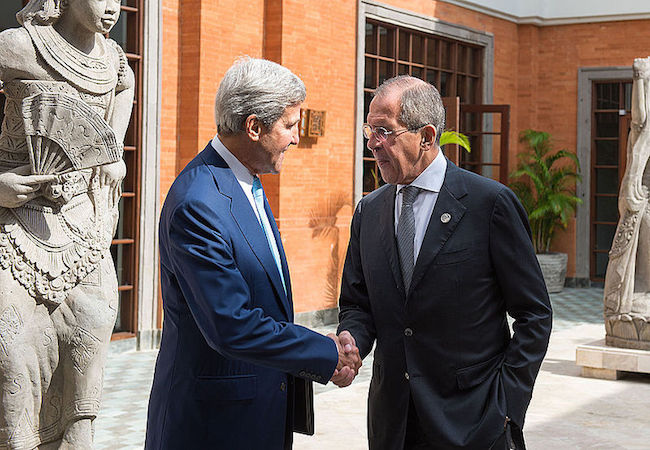 U.S. Secretary of State John Kerry on Monday said the United States maintained hopes of a diplomatic solution to the ongoing conflict in Syria, and asked for "clarity" over the recent upsurge in violence between Israel and Palestinians.
Kerry made the statements during a two-day visit to Spain, which saw him meet Spanish Prime Minister Mariano Rajoy and Spanish Foreign Minister Jose Manuel Garcia Margallo.
The visit, his first to Spain as secretary of state, was to discuss "bilateral and international issues" such as the Transatlantic Trade and Investment Partnership (TTIP) and the ongoing conflict in Syria.
"I will be coming back in a few days and will meet with leaders from Russia, Turkey, Saudi Arabia and Jordan to work through real and tangible options that could perhaps reignite a political process and bring about a political transition in Syria," said Kerry, who added Washington feels it has a responsibility to "help avoid the total destruction of Syria."
Kerry also called for what he described as the "senseless" violence on the West Bank to end.
The violence has increased over what Palestinians fear is Jewish encroachment on the al Al-Aqsa Mosque. Kerry assured that in conversations with Israeli Prime Minister Benjamin Netanyahu, the Israeli leader said he "understood the need for status quo in the region."
"I don't have any specific expectations other than to try and move things forward and that will depend on conversations themselves," said Kerry, who said the United States was "not seeking a new change or outsiders to come in."
Kerry's visit to Spain follows a recent visit by Spanish King Felipe VI and his wife Queen Letizia to Washington DC, and an agreement signed between the two countries to increase the U.S. military base at Moron de la Frontera in the south of Spain.
Sunday's meeting with Garcia-Margallo also saw the United States agree to pay for the cleanup of radioactive contamination around the Spanish town of Palomares, which was caused in 1966 by the crash of a U.S. bomber carrying four nuclear weapons, making Palomares the most radioactive town in Western Europe.