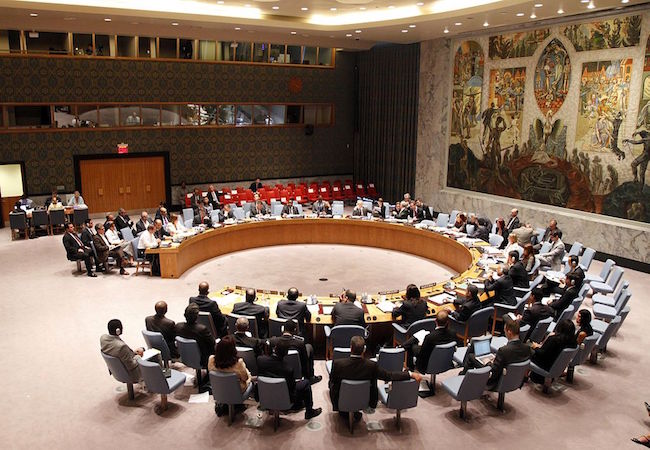 The UN Security Council adopted a resolution here on Friday, calling on all countries to coordinate efforts to prevent further terrorist attacks by the Islamic State (IS) and similar groups.
The unanimously-adopted resolution calls upon member states that have the capacity to do so to "take all necessary measures" to "redouble and coordinate their efforts to prevent and suppress terrorist acts" committed by IS and other terrorist groups.
The resolution "unequivocally condemns in the strongest terms" the horrifying IS terrorist attacks in Sousse, Ankara, Sinai, Beirut and Paris, and other attacks including hostage-taking and killing, saying "all such acts of terrorism as a threat to peace and security."
It also expresses sympathy to the people and governments of Tunisia, Turkey, Russia, Lebanon and France, and to all governments whose citizens were targeted in the above mentioned attacks and all other victims of terrorism.
IS has been conducting deadly terrorist acts at multiple locations across the world. The most recent ones that have shocked the world are the Paris attacks which took place last Friday, in which nearly 130 people were killed and many more were injured.
After the adoption of the resolution, Francois Delattre, permanent representative of France to the UN, said IS perpetrated "a war against France," and it sought "a target far beyond" — the world; it sought to "undermine an ideal that of our freedom and shared humanity, an ideal which is one of the United Nations."
"The resolution we've just adopted recognizes the exceptional nature of the Daesh (IS) threat and calls upon all member states to take all necessary measures to eradicate the sanctuary it created in Syria and Iraq, but also to push back its ideology which is radical," said Delattre.
IS, a militant group that has overrun vast swaths of territory in Iraq and Syria, has become notorious for its brutality, including mass killings, abductions and beheadings.
Liu Jieyi, China's permanent representative to the UN, said China condemns the terrorist group's "heinous atrocities," and the perpetrators must be brought to justice.
"The international community must join hands in acting on the purposes and principles of the UN Charter and other basic norms of international relations, give full play to the UN, further strengthen coordination and cooperation in counter-terrorism and form a united front against terrorism," said Liu.
"Counter-terrorism efforts must address both the symptoms and the root causes of the problem and refrain from adopting double standards," he added.
IS announced its killing of a Chinese citizen, Fan Jinghui and a Norwegian hostage, Ole Johan Grimsgaard-Ofstad, in the latest issue of its English-language magazine Dabiq. China has confirmed Fan's death on Thursday.