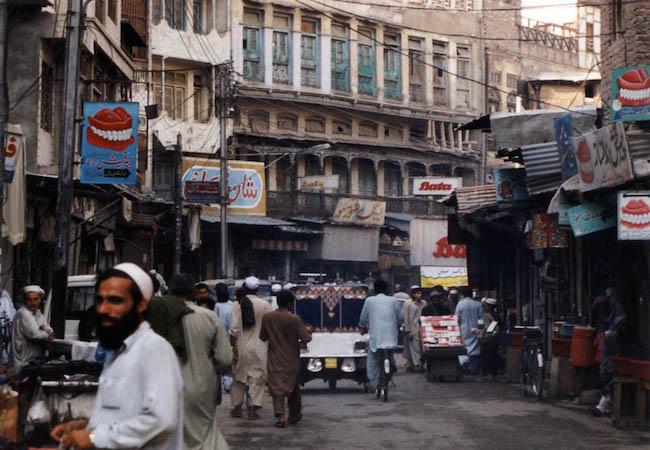 By Tushar Ranjan Mohanty
At least five women were injured in a medium-intensity blast in the Mohalla Bajauri Khord area of Sarki Gate in Peshawar, the provincial capital of Khyber Pakhtunkhwa (KP), on December 6, 2015. An unnamed Police official disclosed that a device weighing three kilogrammes was planted near the house of one Amjad Khan, a local contractor. "The windows of nearby houses have been damaged and five neighbourhood women were injured inside their houses when they were hit by broken glass," the official added. The official disclosed that the contractor was constantly receiving threats and extortion demands.
On December 4, 2015, at least two houses were damaged in separate explosions in Yakatoot and Phandu areas of Peshawar. In one incident, an unnamed Police official indicated, unidentified assailants lobbed a hand grenade targeting the house of one Ahmad Khan at Madina Colony in Panj Khat Chowk of Yakatoot. Though there was no loss of life, the house was damaged in the attack.  According to the Police, "Unidentified extortionists had been demanding Ahmad to cough up (sic) Rs. 10 [PKR] million as extortion… They were constantly threatening him."
In another incident on the same day, the house of a trader, Zainullah Khan Safi, on Phandu Road was damaged when an explosive device planted near the main gate went off. Though no loss of life was reported in the attack, apart from the house, four shops were also damaged in the blast. The attack is believed to be carried out by a group of extortionists.
An Improvised Explosive Device (IED) explosion took place near the house of a trader, Haji Saeed Hussain, in the jurisdiction of Yakatoot Police Station on November 15, 2015. No causality was reported in the blast. Again, extortionists are believed to be behind the attack.
On November 14, 2015, unidentified assailants hurled a hand grenade targeting the house of a Customs Inspector, Muhammad Rafeeq, at Ghari Qamaruddin in Peshawar, as he had refused to pay extortionists. No causality was reported in the blast.
These recent incidents exemplify a growing trend in Peshawar. According to Peshawar Police data released on November 14, 2015, as many as 58 cases of extortion had been reported under separate Police Stations falling under three Police Circles over the preceding 10 months. Of these, 38 were reported in the Peshawar Cantonment Circle; 14 in Peshawar City Circle; and six in the Peshawar Rural Circle. An unnamed Police official, on the condition of anonymity, is reported to have stated that the actual incidence would likely be much higher, because most victims don't contact the Police out of fear.
Earlier on July 16, 2015, the Peshawar Police had claimed an over 50 per cent drop in extortion cases in Peshawar during the first six months of the current year. According to them, 107 extortion cases were reported in Peshawar during the first six months of 2014, but the number dropped to 43 in the corresponding period of the current year.
Data collected from the Central Police Office, Peshawar, puts the annual average of extortion cases registered during years 2011, 2012, and 2013 at 30 cases per year. The data shows that while 13 cases of extortion were registered in 2011, 21 such cases were reported in 2012. 56 such cases were witnessed in 2013. This jumped to 285 in the first three quarters of 2014.
Though no current data is available in the open source, a report published in November 2013 indicated that at least 42 groups were actively involved in extortion and kidnappings for ransom in KP: "In the provincial capital, Peshawar, the number of such groups stand at 18, followed by 11 in Dera Ismail Khan, five in Kohat, five in Bannu and three in Mardan." According to the report, three types of groups were involved in extortion and kidnapping for ransom – militants, criminal gangs and individuals or groups who use abduction as means to settle their business or personal disputes with opponents. "Following abduction, the kidnappers hand their victims over to other groups to make the demand for ransom. In most cases, trained gang members are used to survey the intended target before kidnapping them at gunpoint… Sometimes police officials, other criminals or influential people are used to finalise the payment of the ransom with the target's families," the report claimed.
Significantly, cases of Policemen's involvement in the extortion racket have come to light recently. Three Police officials were suspended on September 26, 2015, for collecting extortion money from leather traders in the Namak Mandi area of Peshawar. The Policemen were suspended after a video came out that showed an old man, the leather trader, handing over money to the Policemen and then leaving. The old trader later had said that he had paid bribes to Policemen on at least eight occasions because they kept giving him trouble. The video also showed a child riding on a bicycle being kicked by a Police constable.
Unsurprisingly, local traders on July 15, 2015, had insisted that extortionists continue to threaten many of them for money, and that the situation remained far from satisfactory.
More specifically, the Peshawar Chamber of Traders and Small Industry President Ehtesham Haleem stated, on July 15, 2015, that while extortion calls from local phone numbers had declined considerably, extortion remained a worry, and that calls demanding money originating from Afghanistan were forcing 80 to 90 per cent of traders to pay to extortionists, as the Police were failing to stop such demands. Significantly, the Provincial Government and the Pakistan Telecommunications Authority have failed to block unregistered Afghan roaming Subscriber Identity Modules (SIMs), which are available easily in the local (Peshawar) market.
Significantly, Counter-Terrorism Department (CTD) officials admitted, on November 22, 2015, "These [extortionists] are local groups based in Afghanistan. We know about them and are currently investigating the matter. Our crackdown is still under way. We are trying to target and eliminate all extortionists but it will take time." On December 13, 2014, Capital City Police Officer (CCPO) Ejaz Khan had admitted that incidents of harassment for extortion have increased and Afghan SIM cards working on roaming were the main medium being used. He had then demanded that these mobile networks should be banned.
Violence related to extortion in Peshawar in particular and KP at large has compelled traders to move to other cities or countries. Though no reliable data has been made available, the KP Chamber of Commerce and Industry, in a statement released on March 4, 2015, had revealed that around 150 professionals had left the Province due to the fear of extortionists. Echoing the sentiment, on the same day, Fuad Ishaq, President of the KP Chamber of Commerce and Industry, had stated that there is a constant threat of extortion to industrialists and traders of Peshawar: "This is why, Peshawar has witnessed flight of capital as well as migration of industrialists and traders to other parts of the country." He had also disclosed that in KP, extortion cases were on the rise in Peshawar, Charsadda, Mardan, Nowshera, Swabi, Kohat, Lakki Marwat and Bannu Districts. Ishaq added, "If the Government is sincere to bring back peace to the militancy-hit Province of KP, it should work to restore the confidence of the industrialists and traders by providing security." He argued, further, that this would help fight terrorism as well, since extortion was the principal means used by terror groups to replenish their coffers and sustain their activities.
Regrettably, however, the Provincial Government continues to demonstrate helplessness in controlling terrorism. Provincial Minister of Industries, Shaukat Yousafzai stated, on April 27, 2014, that the Government was pinning hopes on a specialised Anti-Terrorist Force, adding, "We cannot provide a Policeman to every man. But we are trying to solve these burning issues." He admitted that the Police had been assigned the task of fighting militancy without being adequately equipped.
Extortion has become rampant across KP in particular, and, in fact, across Pakistan at large. The failure of the state to control this menace has contributed directly to the capacities of terrorist groups to sustain their operations, undermining the security of citizens and the state across the country.
Tushar Ranjan Mohanty is a Research Associate at Institute for Conflict Management.