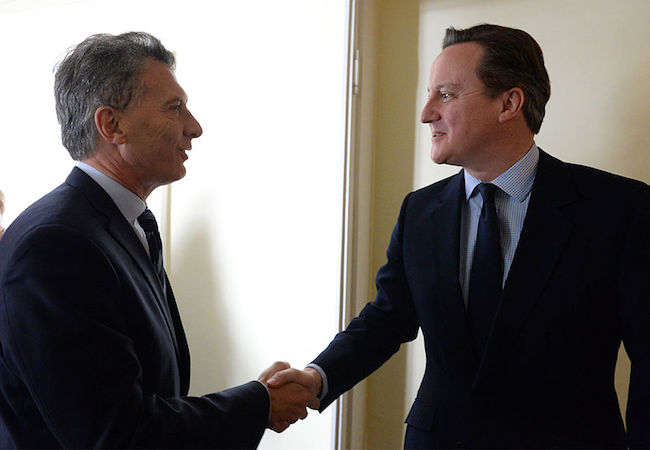 The United Kingdom government has released a statement pointing out the "three areas" British Prime Minister David Cameron and President Mauricio Macri "covered" during their Davos meeting on Thursday.
These areas were economic reform, trade and investment and the sovereignty of the Falklands Islands. In this sensitive point, Cameron was reported to have made "clear" that the UK's position in the bilateral row "remained the same," ratifying the 2013 referendum held by the inhabitants of the disputed archipelago in which they expressed their "wish to remain British."
"They discussed how the UK could help with plans to reform the economy in particular on energy, transparency and science," the text read.
On trade and investment, the statement says Cameron "stressed that we are keen to significantly expand bilateral trade, which is currently worth around £1.14 billion."
"They agreed that the economic reforms could lead to greater trade opportunities for UK businesses involved in infrastructure, oil and gas, mining and agritech."
Regarding the Falklands Islands sovereignty dispute, David Cameron ratified that London was not changing its stance on the conflict, making "clear that our position remained the same and that the recent referendum was absolutely clear on the Islanders' wish to remain British."