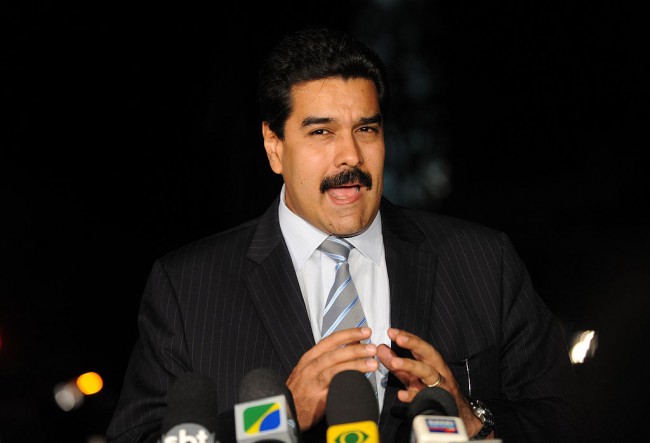 Venezuelan president Nicolas Maduro was the only leader to take time during the recent Celac summit, to make a public statement on the Falklands/Malvinas pledging full support for Argentina's sovereignty claim over the Islands and promising not to rest until "the dream of Malvinas Argentinas comes true".
"We express our satisfaction with the ratified position of solidarity with Argentina" approved by the summit of Celac (Community of Latin-American and Caribbean states) on Argentina's claim over the Malvinas Islands", said president Maduro, during his speech to his peers at the Ecuador meeting.
Likewise the Venezuelan leader celebrated several 'shared positions' renewed by Celac members such as rejection of the economic blockade to Cuba and all "our will and determination to continue building peace in Colombia".
"We must also celebrate the ratified solidarity position with Argentina and its struggle for sovereignty over the Malvinas Islands. We shall not rest until having made true Latin America and the Caribbean's dream of Argentine Malvinas and holding a Celac summit there in the Islands", underlined Maduro.
In effect the final resolution from the Celac IV summit, includes references to Cuba, Colombia and Malvinas, although the full text has still to be made public.
The summit however was not absent of clashes between Argentina and Venezuela, referred to human rights, an issue that president Mauricio Macri has been pressing on the Venezuelan regime. Apparently the exchange of opinions happened when all summit leaders and representatives met behind closed doors.
Maduro called on Argentina not to get involved in the internal affairs of Venezuela, since the Macri administration and several of his top officials have been expressing concern over the human rights situation in that country, particularly of opposition leader Leopoldo Lopez.
Argentine Vice-president Gabriela Michetti, who attended instead of Macri, said it was "necessary to overcome some government practices contrary to the defense of human rights", but without mentioning Lopez.
Last year Leopoldo Lopez was sentenced to 13 years in jail for the instigation and brains behind government protests that caused at least 43 deaths. The Venezuelan opposition rejected the sentence from the 'monkey trial' and said it was political persecution.
Before leaving for Ecuador Maduro had promised he would 'hit hard' Macri for his liberal views and attempts to ignore the chavista-socialist revolution and dismounting the working people's advances during Cristina Fernandez eight years.
But none of this happened: Macri with a fissured rib was recommended by his doctors to rest in Buenos Aires, and he was represented in Quito by vice-president Gabriela Michetti, a nice looking lady but in a wheel chair.