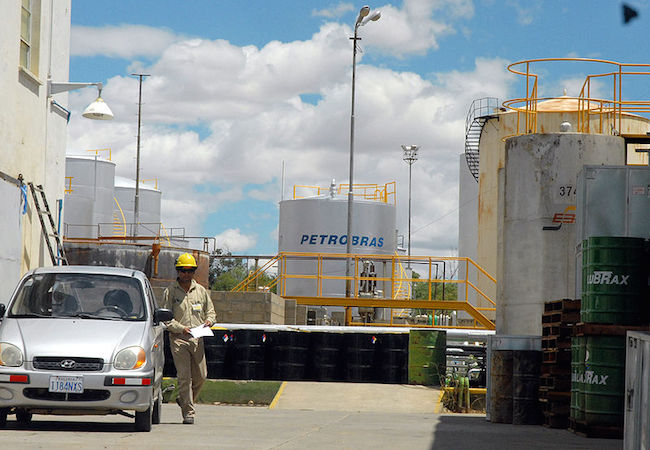 As Brazil struggles with a corruption scandal in which executives and politicians face investigations of alleged bribery, Brazil's state-run oil company Petrobras announced it will slash management jobs as part of an efficiency drive approved by its board of directors.
The plan calls for a 30% reduction of management jobs in non-operating areas. The company has about 7,500 approved management positions, of which 5,300 are in non-operating areas.
Petrobras said the reforms are a response to lower oil prices and mark a shift to more profitable activities. It hopes the restructuring will trim about 1.8 billion Reais — now US$440 million — from its annual costs.
As part of Petrobras' adjusted investment plan, the company will invest US$98.4 billion through 2019, mainly on exploration and production. The company said it also will attempt to improve its financial profile through an aggressive drive to reduce debt.
The investigation into kickbacks on Petrobras contracts has resulted in the arrest of several of Petrobras executives and politicians, some close to former president Lula da Silva — notably his former chief of staff José Dirceu. But until recently, investigators had not probed the former president.
On Wednesday, though, it was announced that police and prosecutors are looking into whether beachside apartments in Brazil may have been used as bribes and to launder money for members of Lula's political force, the ruling Workers' Party (PT). There are concerns in the local press that the scandal may implicate Lula and members of his family.
In response, the government expressed its support for Lula da Silva and said that the Federal Police is acting "obsessively" in its attempt to link him to the Petrobras corruption scandal.
"I think there is a certain obsession… it's like the whole (investigation) was looking contaminate president Lula," Minister Jaques Wagner said.
The statements were made Thursday night after the Attorney General's Office reported that they will continue to investigate Lula's possible implication with money laundering.
In statements before São Paulo's Public Prosecutor, the engineer who worked on the suspected property said that he "virtually" remade the apartment. The renovation cost 777,000 reais, according to Armando Dagre of Talento Construction.
In 2006, Lula told the electoral Justice his stake in the housing cooperative was 47,000 reais. The then-owner of the apartment was the cooperative Bancoop that, when suffering serious cash problems, transferred the project to the OAS conglomerate. The Federal Police and the Prosecutor's Office suspect that OAS paid bribes to public officials in exchange for fraudulent contracts at Petrobras.