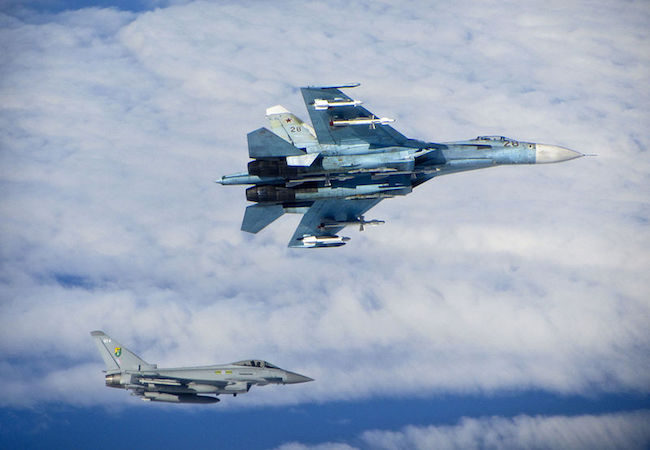 NATO has called on Russia to act responsibly after Turkey summoned Russian ambassador to protest what it claimed a violation of its airspace by a Russian warplane.
"A Russian combat aircraft violated Turkish airspace yesterday, despite repeated warnings by the Turkish authorities," said NATO Secretary General Jens Stoltenberg on Saturday in a statement.
"Previous incidents have shown how dangerous such behavior is," he said.
He called on Russia to act responsibly and to fully respect NATO airspace. Turkey has been a member of the alliance since 1952.
Stoltenberg urged Russia to take all necessary measures to ensure that such violations do not happen again. "I welcome the direct contacts between Ankara and Moscow, and I call for calm and de-escalation," he said.
The Turkish Foreign Ministry summoned Russian ambassador to Ankara late Friday and protested against the violation of Turkey's airspace by a Russian SU-34.
In a written statement, the ministry said Turkish air force warned the Russian aircraft several times on Friday in Russian and English, adding that the violation is also a new and concrete indicator of Moscow's actions which aims at "accelerating problems despite open warnings by our country and by NATO."
The claim was immediately denied by Russia. "There were no violations of Turkish airspace by planes of the Russian air group in the Syrian Arab Republic," Russian Defense Ministry spokesman Igor Konashenkov told reporters.
"The statements of the Turkish side about the alleged fact of violation by the Russian Su-34 is unfounded propaganda," said Konashenkov.
Turkish President Recep Tayyip Erdogan on Saturday warned Russia of "consequences" if it continues to violate Turkish airspace.
He blamed Russia for acting "irresponsibly" and escalating the tension in the region, while emphasizing that the issue was closely followed by NATO.
"These kinds of irresponsible acts not only damage NATO-Russian relations but also the regional and global peace," the president stressed.
Erdogan said that he was trying to meet Russian President Vladimir Putin but to no avail.
Relations between Turkey and Russia plummeted after Turkish air force shot down a Russian jet on Nov. 24, claiming it had violated Turkish airspace, whereas Moscow insisted the Su-24 did not cross into Turkey.
Following the incident, Russia imposed sanctions against Turkey and deployed S-400 missiles at a Russian air force base in Syria.