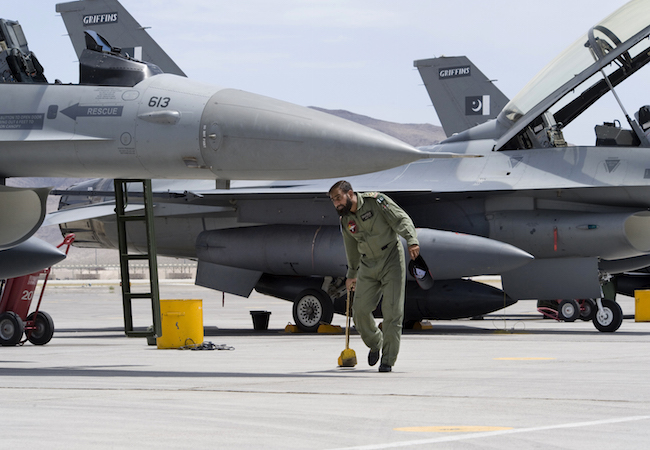 By Anam Kauser
Terrorism, the utmost phenomenon of the contemporary world, needs serious attention at global level. World organizations, regimes, and forums, all are making efforts to deal with terrorism, but they are so far unsuccessful. Presently, many terrorist organizations like ISIS are strengthening their positions, increasing the threat of terrorism to the peace of world, especially for Muslim countries. Just like other states, Pakistan is doing it's best in the war on terror. In view of fight against terrorism, Pakistan took another step and made a deal to get F-16s from US.  The U.S. Department of Defense has approved the sale of 8 F-16 fighter jets to Pakistan in a deal that cost $699 million and is set to improve defense capability of Pakistan.
Because of terrorist activities particularly terrorist attacks on military bases & educational institutions, Pakistan's nuclear weapons and Pakistan Army's security became distrustful for the whole world. Security lapses take place everywhere in the world. US itself faced security lapses several times, in fact US faced the biggest terrorist attack of 9/11. Pakistan needs more technology and modern weapons to deal with the modern terrorism. Pakistan-US arms deal is an embodiment of Pakistan's determination to fight terrorism.
Indian lobby is exceedingly active against every positive move of Pakistan to uproot terrorism and trying its best to damage the reputation of Pakistan in international media. Present example of Indian immature behavior is India's propaganda against US-Pak deal over F-16s jets. Even before the deal was made public, the mainstream and digital media of US expressed serious concerns against the sale of F-16s to Pakistan. Although F-16 is primarily an interceptor and only an auxiliary in anti-terrorism/anti-insurgency operations, India is moaning as if F-16s deal is a threat to the stability of entire region. India's confused reactions show that it is now in habit of making an issue out of everything. India is afraid of Pakistan growing as a military power. The whole world is acknowledging the efforts of Pakistan military against terrorism. In addition to it, Pakistani military and its war techniques are considered as one of the best examples in the world. When the audacious army of Pakistan will employ the use of modern weapons, definitely it will enable Pakistan to stand steady against any opponent.
Most clear was to make PAF's current F-16 armada more corroded as these planes have been utilized broadly as a part of war against terrorism. Aside from that, had the US succumb to Indian system, New Delhi would have dispatched a serious media war and promulgation through its media about shortcoming of Pakistan as a country state and India being the persuasive player.
In response to this upcoming fear, India raised the question "how Pakistan will pay the price of these jets and sometimes they associate this deal with terrorism. India is behaving so anomalous as it is unaware of the fact that total deal is reportedly for $699 million, to be paid for jointly by Pakistan and by the US under the military support program. Ironically, from India's perspective, when the US signs a full arms deal with India, it is considered to be in the strategic interests of the region but when the US signs any arms deals with Pakistan it suddenly becomes a threat for the peace of the region. How? Pentagon has strongly responded to Indian behavior and said F-16 sale to Pakistan should not be of concern to India. India is discontent about the deal so much that Delhi even started questioning the role of the US in the region. It's a high time when India needs to realize that hostile remarks will only damage its image before the world. India should confront reality that U.S and Pakistan are sovereign nations and they can make decisions that suit them without paying heed to the concerns of others.