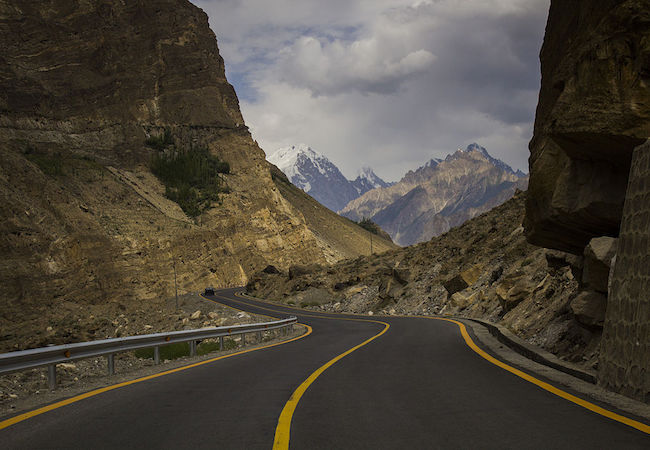 By Syed Sadaqat Ali Shah
The history of corridor stretching from China's Xinjiang Uyghur through Khunjerab Pass, passing through Gilgit-Baltistan, to Gwadar port, a deep water port on Arabian Sea, dates back to 1959 with construction of Karakoram Highway. The among 'Eight Wonders' of the world operationalized in 1979, with estimated human losses of about 800 Pakistani workers and 200 Chinese workers.
The Creator of the universe has bestowed upon us uncountable blessings in various forms and styles. Baluchistan is awarded with mines and gas reserves, KP with hydro-power reserves, Punjab with fertile land for cultivation, Sindh with mines and sea like awards. So what is hurting our country's growth is rueful and pathetic. The way we politicize things is harrowing and the outcome of politicizing much needed projects are borne by denizens of the country collectively.
Pakistan is fighting war of survival and the China-Pakistan Economic Corridor shortened as CPEC in such times is manna from heaven. The value of CPEC can be gauged from the fact our arch rival India has opposed and objected it, we need to understand CPEC's value. CPEC, it is crucial to understand, will not merely advance Pakistan's economy, it will link Central Asian countries and land locked countries like Afghanistan and Uzbekistan, we need tutoring in this regard.
A from-the-heart speech by Lt General Amir Riaz, Commander Southern Command, very beautifully defines the CPEC's significance not only for Pakistan but for other Asian countries. He in his speech cautioned about transparency in the multi-billion dollar mega project; transparency not only in allocation of funds for multiple projects but in clarification of future plans by government to take advantage from the project. To carry forward CPEC to its successful end the presence of chief ministers of both KP and Baluchistan is of immense importance, he opined.
The definition of CPEC is not a road stretching from China to Pakistan, it is a collection and cluster of multiple projects; roads and infrastructural development projects, energy related projects, transport and communication, development of technological parks and laboratories, industrial cooperation, inevitable people-to-people cooperation and hence almost 51 agreements under this mega project were signed by all-weather friends, China and Pakistan. 11 billion USD for public investment and about 35 billion USD earmarked for other than road projects, forming $ 46 billion figure.
We are a credulous and easy-to-believe nation who believes more in empty rhetoric employed by public servants for their own gains, first Kalabagh and now CPEC, and less in if we self-examine the projects signed by 'Iron friends', China and Pakistan. We need to understand realities and should try at least once to calculate the intergenerational profits Pakistan will realize in just about future. It is now up to us to realize this dream in reality-dream that foes of Pakistan are trying to the best of their abilities to turn CPEC in unsuccessful story and into an imagination only.
We should be thankful to China and Chinese people for prioritizing Pakistan in their projects at a time when Pakistan is entrapped in myriad problems. We in lieu of thanking our Chinese brethren opted to question CPEC which sends cynical and negative message to the region who wish economic integration through CPEC, it will add to our chronic problems we are facing today. The immaturity and impatience displayed by politicians is zany.
Some quarters presume maximum profit will be accrued by Punjab, the political hub of the ruling party and that maximum funds are allotted to Punjab development. The figures however are contrary when Minister Planning, Development and Reform Professor Ahsan Iqbal mentioned; Out of 46 billion USD, energy projects worth $ 11.5 billion are for Sindh, $ 7.1 billion are for Baluchistan, $6.9 billion are for Punjab. Potential of Khyber Pakhtunkhwa is hydel so maximum allocations for construction of dams in the province. He elucidated no provincial bias existed and that provinces are taken into confidence through agreements to realize the dividends from the project. Projects like coal-fired power projects have inherent bias which can't be altered and applied to other provinces, he mentioned.
The federal government stance to address every single reservation raised by KP is appreciable and positive step toward accomplishing long term objectives. The reservations raised by Pervez Khattak, Chief Minister KP, were resolved in a meeting and that issues relevant to hydel too were resolved which is an encouraging move by Federal Government to restore confidence of the war-torn province. After all, political maturity must prevail.
Federal Government led by PML-N is obliged to eliminate any bias and address reservations raised by various quarters. The government should ensure transparency in projects falling under CPEC and that altering original route should be discouraged. The projects under CPEC should be divulged to every stakeholders, including provinces, policy makers, and the State Bank of Pakistan in particular. Council of Common Interest, CCI, can be instrumental in this regard. The statesmen should inculcate CPEC is for Pakistan in particular and for Central Asian countries in general, not for a particular province or territory.
Citizens in the same way should refrain unnecessary discussion and trivial discourse on CPEC, they instead should prioritize constructive discussion on CPEC to turn the dream into reality, for themselves and their future generations. It is of utmost importance to mention world is at present finding ways to make CPEC go up in smoke and ruin it, both for Pakistan and China, since the project on one hand is expected to boost Pakistan's economic growth and on the other hand it will enable China in future to reach Central Asia and Europe in minimum time period, thereby becoming economic giant in the world besides other geostrategic advantages.
CPEC is a game changer and it will enable Pakistan in future to emerge as Asian Tiger. The project is expected to remove wrenchedness and miseries prevalent in the country, mitigate inequities, and reduce unemployment in country to unprecedented level. The establishment of university at Gwadar where classes will be started from September this year is laudable. The mega project is changing image of the country from 'failing state' to emerging market at international forum. Terrorism, likewise, will be decimated from the soil of Pakistan. The Prime Minister of Pakistan for this one unique reason called CPEC as 'Corridor to Peace', which is a positive omen for making Pakistan a peaceful country. The world views Pakistan as next destination for investment as soon as CPEC accelerates and develops into reality. Pakistan is expected to be part of BRICS in future which shows significance of CPEC.
For early completion of CPEC and without any hurdles political consensus, favorable law and order are pre-requisite. We the patriotic citizens of Pakistan should avail this golden opportunity and should thwart any plot that is deemed as detrimental for our future growth. We need to understand the multi-billion project will change life style of common people. Pakistan having quality network of roads will be further integrated, thereby improving transport and reducing time taken today per kilometer to travel within the country.
We need to analyze the project thoroughly without any subjection to bias and prejudice. Opponent of CPEC will be marked by history as enemy of shining Pakistan. Pakistan needs us in these testing times, and we the youth in particular are obliged to save our motherland Pakistan. Only mutual consensus and cooperation from every quarter can sort out problems of high significance.