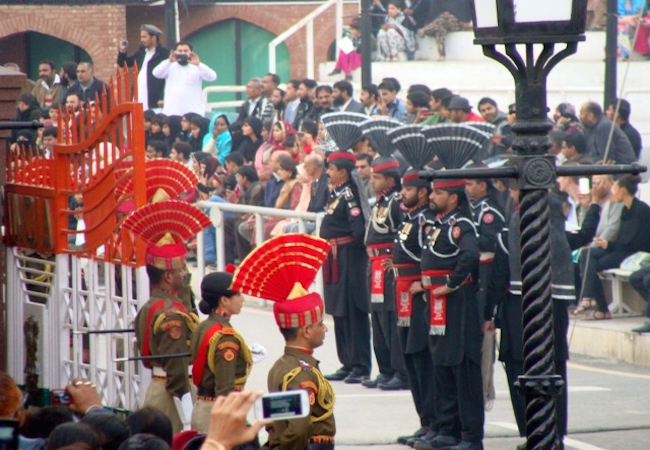 By Anam Kausar
In recent times, several Indian writers and newspapers are keenly running the propaganda against Pakistan Nuclear program. Since its beginning, Pakistan Nuclear program has been viewed as a nightmare for India and the West as they are inclined to present it as the biggest security threat by putting false allegation on international forums.
Case in point, an article named "Risk analysis of nuclear terrorism in Pakistan" written by an Indian writer Rayhan Chouglay. His entire piece is filled with propaganda concerning with the worst case scenario if happens in Pakistan related to the terrorist attacks. He writes "Security situation in Pak seemingly common motivation of attacking non-Muslims has the potential to be a horrifying foundation for collaboration between ISIS (Khurasan Chapter) and the Taliban. If one of them somehow obtains a nuclear weapon, the consequences could be catastrophic. The relationship between the Pak state and groups who have committed terrorist attacks has not been proven. These incidents raise a fear that IS or other terrorist groups could exploit some within Pak to potentially gain access to nuclear material."
It seems Indian media has started another series of propaganda slandering Pakistan's nuclear program, a nightmare for India and the West. Pakistan has repeatedly assured during world nuclear forums that its nuclear arsenals are safe and secure. IAEA itself appreciated Pakistan and its security agencies for providing best security to its nuclear program. Pakistan officials clearly negate the speculations about IS presence in the Pakistan. Propaganda against Pakistan is an effort to create fear and mistrust between critical allies in the war against terrorism. Growing US ties with Pakistan and sale of F-16 is one of the reasons which prompt external factors to start hype against Pakistan nuclear program. Feroz Hassan Khan, one of the leading nuclear analysts has stated that Western-Indian fears about Pakistani nuclear security range from valid to bizarre. The more valid concerns involve theft of material, sabotage, unauthorized use of nuclear weapons, and insider-outsider collaboration. The bizarre fear involves the allegation that Pakistani armed forces and intelligence agencies, who are the custodians and guardians of the nuclear arsenal, could be accomplices to such an act as Taliban sympathizers. This is same valid to bizarre which is making discourse from the pens of western and Indian media against Pakistan.
It is true that peace situation in Pakistan is uncertain, its unqualified democracy and political leaders, and it is facing internal threats from terrorists and extremist organizations, therefore, it is justified to worry and ask questions about the security of a nuclear-armed country undergoing such a disturbing trend. As far as nuclear security of its arms is concerned, Pakistan never made a single mistake in it. Nuclear weapons, being an essential component of Pakistan's national security, Pakistan never tolerated any single question on the security of its nuclear program. One of the senior officials of Pakistan's establishment calls Pakistan Nuclear Program as Pakistan's "Baby Boy". How can a mother afford to leave any single dodge in securing its baby boy?
In spite of limitations, Pakistan has done remarkably well in establishing a nuclear security system and developed nuclear security trend that requires appreciation and support worldwide. It is repeatedly said that any attempt to undermine Pakistan's core capability will be strongly resisted and defeated.