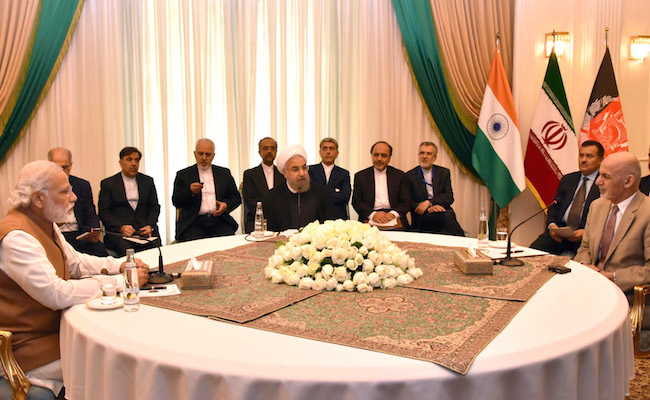 By Sameem Habibi
The economic and political significance of Chabahar Port not only to Afghanistan but also to the other central Asian countries in the region.
Afghanistan along with other 5 central Asian countries in the region is landlocked and deprived from direct access to any sea while Pakistan, the historic and chronic opponent or enemy in the neighborhood has long been exploiting from such a situation through Karachi Port which has been the only way of transporting goods/services from India and China to Afghanistan so far for years.
More than half of Afghanistan's goods and services are transited and shipped through Karachi Port that has also been used as a political means by Pakistani government to pressure and impose its demands on Afghanistan for decades. Although Afghanistan has consistently been seeking for other ways to partially end such dependency and make use of other ports as substitutes, it has failed due to Pakistan's interference, hence Afghanistan remains such dependent infinitely. Pakistan has also been very rough and a barrier towards Indian goods destined to Afghanistan and wouldn't allow it to trade with the Central Asian countries including Afghanistan ever since the port of Karachi was formally used as the only way to connect Afghanistan to India and other worldwide markets.
On the other hand, China, the world's second powerful country, has been competing with India by signing an agreement to invest billion US dollars on Gwadar port of Pakistan being built in cooperation with China so that it could transport and move its goods to the Central Asia. But India, due to its rivalry and hostility with Pakistan, prefers to invest on Chabahar Port which is located on Iranian soil and create a corridor to transport its goods to Afghanistan and other countries in the region as well. In fact, India's move is also being seen as a balance to China's influence in Pakistan. India wants a counter to Pakistan's Gwadar port, which was built with Chinese assistance and is 72 km from Chabahar. The port will help India bypass Pakistan to transport goods to Afghanistan and Central Asia using a sea-land route. But this free-trade zone will not only contribute to the economy of India, it will also be very vital and fruitful to Iran and Afghanistan as well as other landlocked countries in the region.
As estimated, Chabahar port is closer to Afghan borders by 300 km compared to Karachi port; the area is more peaceful, stable and will be very efficient and effective to both India and Afghanistan to exchange goods and services freely and far from any restriction to the other markets. Indeed, this accord which calls for joint investments, will significantly boost the role of the under-tapped port of Chabahar connecting Iran through India and Afghanistan to Central Asia. Finally, as the presidents of Afghanistan and Iran their excellencies, Mr. Ghani and Mr. Rouhani along with the PM of India, his excellency Mr. Modi, have ultimately succeeded to initiate and sign this huge project in trilateral summit in Tehran, Iran on May 22, 2016, I personally consider this as one of the biggest achievements in the region particularly to our country which has been under of a lot of pressure by the despotic Pakistani government since its creation in 1947. Let's hope and pray that this great achievement is not disrupted or distorted by our enemies, especially Pakistan, the country that has never wanted us to improve or live in peace and stability.