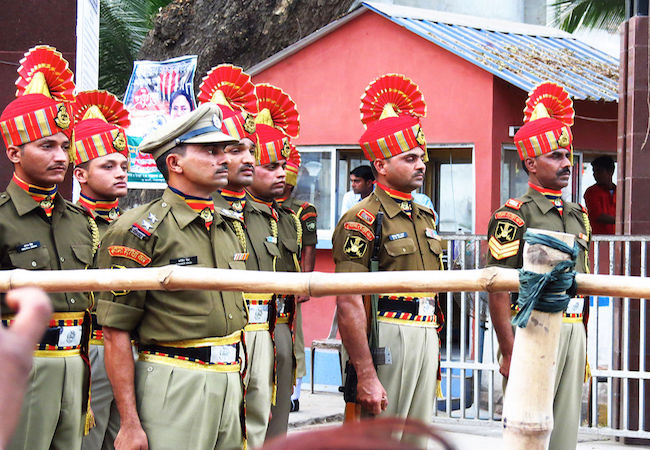 By Ajit Kumar Singh
The Myanmar operation will leave behind no lasting legacy beyond the sorry spectacle of people in high office claiming undeserved victories, seeking undeserved honours… This was a relatively minor operation, and will have only transient tactical and psychological significance. An operational success has been imposed, and the rebels, who have till now had almost undisturbed sanctuary in Myanmar, will lose their sense of impunity. Over time, however, they will adapt and draw deeper into the jungles and take fuller precautions against discovery and neutralization, unless the present operation is followed up by a more sustained and enveloping campaign.
"Covert should remain Covert"
On May 22, 2016, at least six personnel of 29 Assam Rifles (AR), including one Junior Commissioned Officer (JCO), were killed, and another seven personnel were injured in an ambush laid by militants at Hengshi village, near the India-Myanmar border, in the Chakpikarong tehsil (revenue unit) of Chandel District in Manipur. An official Army statement disclosed,
A convoy of Assam Rifles while returning after assessing a landslide area in Holingjang to the Battalion headquarters location at Joupi [a village in Chakpikarong tehsil] in Chandel District of South Manipur had an encounter with suspected valley based insurgent groups… In the ensuing fire fight, one Junior Commissioned Officer and five soldiers were martyred. The troops retaliated but the insurgents managed to get away under thick forest cover and bad weather.
The militants had triggered an Improvised Explosive Device (IED) before opening fire on the AR convoy. The militants also took away four AK-47 rifles, one light machine gun, one INSAS rifle and ammunition from the soldiers. Search operations are still going on at the time of writing.
Just under a year earlier, on June 4, 2015, 18 Army personnel had been killed and another 11 were injured when militants ambushed a convoy of 46 troopers of the 6 Dogra Regiment of the Army at Moltuk village, near the India-Myanmar border, in the Khengjoy tehsil of the Chandel District. Initiating the attack with an IED, the militants subsequently opened fire.
Evidently these incidents are very similar in nature. Moreover, the distance between the two villages, Hengshi and Moltuk, where the attacks were carried out is just about 30 kilometers, falling under the same District, Chandel. The only difference was that, this time, the 29 AR was in the line of fire and not the Army's 6 Dogra Regiment. AR had replaced 6 Dogra in the area in the aftermath of the June 4, 2015, attack.
Significantly, just five days after the June 4, 2015, attack, the Indian Army had carried out 'surgical operations' inside Myanmar on June 9, 2015, to target militant groups believed to be 'responsible' for the killing. According to reports, nearly 20 insurgents were killed in two different camps. Union Minister of State for Information and Broadcasting Rajyavardhan Singh Rathore later on June 10, 2015, boasted, "Our PM [Prime Minister] ordered hot pursuit in which two camps were completely annihilated. While the Army carried out the strike, helicopters were on stand-by… It needed an equally strong leader to take such a bold decision. We will carry out such attacks". Indeed, without naming Pakistan, Rathore held out the 'surgical operation' as a warning to 'others', declaring, "Friendship and zero tolerance will go hand in hand. This is a beginning. India is strong. This message should go to everyone". Again on June 14, 2015, he reiterated, "It was a much-needed decision that was taken by the Prime Minister. This decision was extremely bold in nature. And it involved our Special Forces crossing the border and going deep into another country." Rathore also chose #56inchRocks as hash-tag in his tweets to send out a message that the action was possible only because of the PM Narendra Modi's courage [the Prime Minister had boasted, in the past of his "56 inch chest"]. Similarly, Defence Minister Manohar Parrikar had declared on June 11, 2015, "A simple action against insurgents has changed the mindset of the full security scenario in the country… Those who fear India's new posture have started reacting."
Pakistan dismissed these statements with contempt, and there was much backtracking in by New Delhi as well, as Myanmar denied that any operation had been executed on its soil. National Security Advisor Ajit Doval spent much of his subsequent trip to Naypyidaw soothing ruffled feathers of the Myanmarese authorities. Crucially, subsequent disclosures made it apparent that the 'insurgents' killed in the 'surgical strike' had nothing to do with the June 4 attack, and that the operational capacities of the rebels remained completely unaffected. This relatively minor operation, which was given a completely disproportionate 'spin' by Raisina Hill, had no impact whatsoever on the security scenario in the region.
The May 22, 2016, incident is, indeed, a manifestation of this, and of the fact that the political leadership has failed to learn any lessons. Indeed, according to the South Asia Terrorism Portal (SATP) database, at least 38 fatalities, including 24 militants, nine civilians and five Security Force (SF) personnel, have been reported from the region along India-Myanmar border across three Indian States, between June 5, 2015, and May 21, 2016. Chandel District in particular accounted for 10 of these fatalities, including four SF personnel, four militants and two civilians.
The region along the India-Myanmar border, consequently, remains volatile and insurgent capacities across the border, intact. According to partial data compiled by the Institute for Conflict Management, between January 1, 2000, and May 22, 2016, there have been at least 686 fatalities, including 126 civilians, 129 SF personnel and 431 militants, in 10 Districts, spread across four Northeast Indian States [Arunachal Pradesh, Manipur, Mizoram, and  Nagaland], along the India-Myanmar border. In terms of such fatalities, Chandel District is the worst affected, accounting for 311 fatalities (54 civilians, 67 SF personnel and 190 militants), followed by Churachandpur with 237 fatalities (60 civilians, 38 SF personnel and 139 militants); Ukhrul, with 159 fatalities (40 civilians, 40 SF personnel and 79 militants). The other border Districts which witnessed fatalities include Mon (120), Tirap (72), Tuensang (59), Phek (35), Changlang (23), Longding (4) and Khipre two. There are 15 Districts along the India-Myanmar border in the region, including Phek, Tuensang, Mon and Khipre Districts in Nagaland; Tirap, Changlang, Anjaw and Longding in Arunachal Pradesh; Chandel, Ukhrul and Churachandpur in Manipur; and Champhai, Serchhip, Lunglei and Chhimtuipui in Mizoram. Champhai, Serchhip, Lunglei, Anjaw and Chhimtuipui have not recorded any such fatality so far.
CorCom [Coordination Committee], a conglomerate of six Manipur Valley-based militant outfits – the Kangleipak Communist Party (KCP), Kanglei Yawol Kanna Lup (KYKL), People's Revolutionary Party of Kangleipak (PREPAK), its Progressive faction (PREPAK-Pro), Revolutionary People's Front (RPF, the political wing of the People's Liberation Army– PLA), and United National Liberation Front (UNLF) – has taken responsibility for the May 22, 2016, attack. CorCom was formed in July 2011 with seven members but, in a Press Release issued on February 1, 2013, stated that it had expelled the United Peoples Party of Kangleipak (UPPK) from its membership. CorCom as a group has been involved in at least 32 killings – three civilians, 22 SF personnel and seven militants – since its formation in July 2011.
The June 4, 2015, attack had been claimed by the United National Liberation Front of Western South East Asia (UNLFWESEA). The Khaplang faction of the National Socialist Council for Nagaland (NSCN-K) had joined hands with three of the most active terrorist formations in the Northeast: the United Liberation Front of Asom-Independent (ULFA-I); IK Songbijit faction of the National Democratic Front of Bodoland (NDFB-IKS); and the Kamtapur Liberation Organisation (KLO), to form UNLFWESEA. Worryingly, CorCom is reported to have extended 'moral support' to the Front and agreed to take part in joint operations against 'common enemies'. The latest May 22 incident suggests the consolidation of this common purpose.
There has been visible – indeed, dramatic – improvement in the insurgency situation in the Northeast. Among several factors that contributed was better coordination with the Bangladesh Government which helped India in its fight against the rebel groups operating in the Northeast region by destroying their sanctuaries inside Bangladesh and handing over several of the top insurgent leaders. Earlier, Bhutan had played a similar positive role. Myanmar remains the last sanctuary for the Northeast rebels. It is imperative for New Delhi to abandon its jingoism and take Myanmar on board to fight the residual menace which continues to disturb the border between the two countries and threatens the stability of India's northeastern region.
Ajit Kumar Singh is aResearch Fellow at the Institute for Conflict Management.