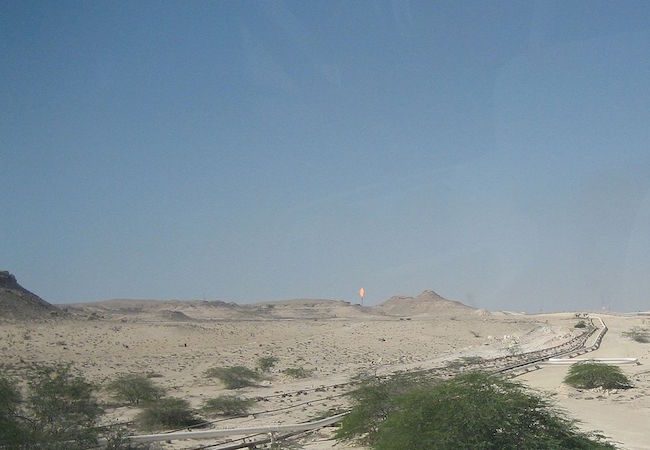 By Dr. Abdul Ruff
Having achieved fair amount of self reliance in military matters, missiles cum nuke arsenals inclusive, India is searching for sources for ensuring complete energy security.
Qatar is the largest supplier of LNG and LPG to India. Qatar is an important trading partner for India in the Gulf region with bilateral trade in 2014-15 standing at $15.67 billion. It is also one of India's key sources of crude oil.
Indian PM Narendra Modi, who has been on what is known as 'world tour' ever since he left chief ministership of Gujarat state and assumed  the high office in 2014 after  his  Hindutva BJP party's historic win in the parliamentary poll on anti-corruption wave of  Arvind-Hazare, is now touring Qatar after his brief visit to Iran and held wide-ranging talks on June 05 with Emir of Qatar Sheikh Tamim bin Hamad Al-Thani and Qatari leaders in Doha.
Like USA and China. India is also focusing on ensuing energy security. Indian visited Iran recently in this regard apart from port issue.
During his visit, Indian leader India evinced interest in joint exploration of new oil and gas fields as well development of discovered assets in the energy-rich Qatar. India also invited the Gulf nation to invest in the country's exploration and production sector by bidding for the blocks under the new 'Hydrocarbon Exploration and Licensing' Policy and take part in disinvestment of Indian PSUs.
The two sides discussed various avenues for Qatari investments in India, particularly in different asset classes and various infrastructure sectors as well as disinvestment of Indian PSUs. The leaders agreed to increase the level of participation in infrastructure projects in both countries.
India "highlighted the interest of its energy companies to pursue opportunities of mutual interest in Qatar, with Qatar Petroleum and other companies, in order to jointly explore new fields as well development of discovered oil and gas assets and exploit the existing resources of natural gas and crude oil in Qatar", a joint statement said after official talks of the two countries.
Besides, an MoU was signed with Qatar Investment Authority for facilitating Qatari investment in the Rs 40,000-crore National Investment and Infrastructure Fund. India invited Qatar to participate in the second phase of the strategic reserves storage facility being created in India.
The leaders deliberated upon the need for strengthening bilateral cooperation in the financial services sector, including banking, insurance and capital markets. "They decided to expand cooperation between the financial institutions of the two countries like Securities and Exchange Board of India and the respective central banks," the statement said.
An MoU was also signed between Qatar Investment Authority and External Affairs Ministry for investment in National Investment and Infrastructure Fund between the two countries that would facilitate foreign investment from the gas-rich Gulf state.
The two countries agreed on regular and timely exchange of information on available investment opportunities. The two sides also agreed to focus on enhancing cooperation in energy, covering the areas of training and human resources development and cooperation in research and development and through promotion of joint ventures in petrochemical complexes and cooperation in joint exploration in India and other countries.
The two leaders agreed to enhance cooperation to strengthen maritime security in the Gulf and the Indian Ocean regions, vital for the security and prosperity of both countries. To promote business-to-business and tourism linkages, they also agreed to put in place appropriate mechanism for expeditious grant of visas to businessmen and tourists of the two countries.
With the two countries being among the top trading partners for each other, both sides agreed upon the need to further strengthen trade ties, particularly through diversifying the trade basket. The statement said Qatari side welcomed the participation of Indian companies in the infrastructure development projects in Qatar in preparation for the FIFA 2022 World Cup and the development plans under "Vision 2030 for Qatar" .
During the meeting, Modi highlighted the major initiatives taken by the government for 'Ease of Doing Business' through simplification and rationalization of existing rules and relaxing of foreign direct investment caps in key areas, including railways, defence and insurance.
Informing about the plans to create world class infrastructure in India through 100 smart cities; metro projects for 50 cities; modern waste management system for 500 cities; and a roof over every head by 2022, Modi invited Qatar to be a partner in India's growth story.
After creating existential problems for India's greatest painter M. F. Husain for expressing his honest displeasure in aesthetic language over the practice of making anything and everything a fanatic subject like mother, etc, Indian regime, then controlled by the Congress party, had dispatched him to Qatar in asylum where he died an unhappy man. India has conveniently forgotten him after that.
Modi and Sheikh Tamim held detailed talks here on a wide range of issues with an intent to give a push to India-Qatar ties.