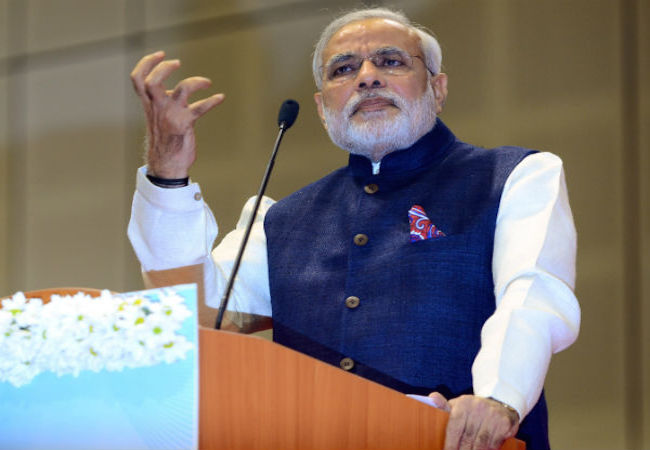 By Dr. Abdul Ruff
Indian PM Modi runs the government by pure foreign gimmicks while promoting Hindutva agenda in a step by step manner. The RSS-BJP led Hindutva government in India, obviously backed by Congress party and Indian president Pranab Mukherjee, has been busy in preparing India to become a Hindu state by some important series of actions.  The agendas like compulsory 'Ghar wapsi', compulsory beef ban, compulsory Yoga, to mention as few, are  being enacted likely to  enable the Modi government to declare India a Hindu state where even Babri Mosque will also belong to Hindus.
Yogification of India is untenable – and hence impossible – unless liquorization is prohibited and implemented at national level. PM Modi who was presented as hero of India in 2014 with a grand agenda for a new India without black money, without corruption, without liquor, etc, has failed to fulfill his poll promises and hence he is resorting to all such hollow gimmicks to keep the Hindutva elements in the country happy.
With  diplomatic passport PM Modi has been touring the world along with big tam of about 300 corporate and media lords, among others  at state expenses to make them anti-Islam, anti-Muslims, anti-Kashmir, anti-Pakistan etc by declaring 'terrorism fights'. It seems PM Modi's extensive global tour program is prompted by the RSS-BJP-Congress design meant for the regime to work along important directions: shore up support for illegal occupation of and crimes in occupied Jammu Kashmir; support against rebuilding the historic Babri Mosque that had been dismantled by the Hindu criminal forces led by BJP; support for future designs like a non-permanent membership on UN as before, foreign investments  and recast the BJP and other Hindutva parties as 'friendly" ones etc.
Apparently, Modi is eager to gain acceptable for Hindutva by introducing yoga as a peaceful exercise so that none will protest if Babri Mosque is handed over to BJP and Congress party to share the lands.
Bihar Chief Minister Nitish Kumar on June 19 took a dig at Narendra Modi's call to celebrate World Yoga Day on June 21, saying that if the Prime Minister is so serious about yoga then he should ban liquor, at least in all the BJP-ruled states and Union territories. .
Liquor, especially cocktail cannot coexist with yoga.  But Prime Minister Modi, who belongs to Gujarat where India's father Mahatma Gandhi was also born and opposed liquor consumption, does not say a word about banning the harmful liquor Mahatma Gandhi's India. Liquor is banned in Gujarat state.
The Modi government makes yoga a big show as if the BJP invented it. Nitish Kumar said that Yoga is not a thing to show-off. "Yoga is a thing to practice. I don't know for how many years the Prime Minister is doing yoga, but I'm practicing yoga this for several years," he said. "But yoga's first principle is to stay away from liquor and you can't have Yoga Day and sale of liquor hand in hand," he added.
"Yoga's fist principle is to abstain from consumption of liquor, so if you (government) are so serious about yoga, then Prime Minister Modi should ban liquor at least in all the BJP ruled states," CM Nitish Kumar said while addressing a rally in Palamu, Bihar.
Whether Modi began Yoga classes after becoming the PM and in two years he may have leant a few things that he wants to tell the world. The Modi government imposes the RSS agenda on Indian states and has introduced yoga in central universities even without informing the state governments where the central universities are located as it does not want to give any scope for criticism.  The comments of the Bihar Chief Minister came after he was targeted for the state government's decision not to observe Yoga Day.
June 21 was declared as the International Day of Yoga by the United Nations General Assembly in December 2014. Over 190 countries, including 40 Islamic capitalist nations that serve the cause of corruption and liquor , supported the move to have a special day for yoga.
Following the prohibition on country made liquor in the state, the Bihar Government banned liquor in April, making it the fourth dry state in the country after Gujarat, Kerala (partial) and Nagaland. Meanwhile, the Modi government is trying to woo Sri Lanka to abandon the economic ties with China, the prime target of USA in its Asia Pivot scheme. The India-renovated Duraiappah sports stadium in the embattled Sri Lankan city of Jaffna had once laid bare the hidden brutalities of the Tamil civil war when at least 23 human skeletons, including those of some disappeared children buried secretly in the playground, were discovered in 1999.
The skeletons, including those of children, were unearthed when the stadium was being refurbished, according to a 2002 report on Sri Lanka child soldiers by Somasundaram, a renowned psychiatrist in northern Sri Lanka. The bodies were believed to be of those arrested by Sri Lanka security forces and later allegedly killed in what activists say were extra-judicial murders.
The stadium, named after a former Jaffna mayor, Tamil-dominated city in northern Sri Lanka, suffered huge damages and remained abandoned during the civil war. Its renovation was started in 1999 when the conflict-ravaged northern areas saw relative bouts of peace and calm. The moves to renovate and reopen the playground were hailed as signs of normalcy in the Jaffna peninsula until it exposed what laid buried deep within.
Leaving the brutally nightmarish past behind, the Sri Lanka government aided by India got the stadium renovated at a cost of Rs 7.1 crore — all borne by New Delhi. The stadium could as well be called yoga centre. The stadium first hosted an event to celebrate the second anniversary of the International Day of Yoga. Some 8,000 people were said to have performed yoga in the presence of at least 1,500 spectators watching from the galleries.
According to Indian officials, the renovated stadium will provide the necessary infrastructure to promote sports and recreational activities, and benefit more than 50,000 students from different schools and educational institutions in the Northern Province.
The secret graveyards unearthed in Sri Lanka  reminds the world about the similar graveyards "discovered" in Kashmir valley, known as the paradise on earth, where the Kashmiri youth fight for sovereignty and Indian occupational forces keep killing them and make them "disappear" permanently. These disappeared youth skeletons keep appearing in Kashmir as the land is being used for some construction purposes
PM Modi has never made any mention of the Babri Mosque issue after becoming the PM but all actions so far directly and through the party wings only indicate he is on the anti-Muslims job and must be working to save Hindutva and criminals who pulled down the Babri Mosque. A man with Islamic blood stained palms in Gujarat cannot be trusted to project the genuine interest of Muslims and let the Muslims rebuild the Mosque where it had stood as a historic monument of Mogul culture and architecture. Meanwhile, the Congress party has been trying to woo Muslims with a 'friendly threat' to accept the Mosque as a temple.
If, however, PM Modi feels liquorization cannot be stopped even yogification of the society is also impossible. There are always some Muslims who seek favors from the government would go all the way to practice yoga in public to show that Islam and yoga are one and the same and practice of yoga would help Muslims get jobs and seats in educational institutions and would also escape the funny tag of "terrorists". If they practise yoga by using all Hindu slogas (rituals) like Om, etc, they can also claim to be patriots.
However, as yoga is not a part of Islamic faith and life, Muslims need to imbibe yoga in place of Islamic worship in mosques.