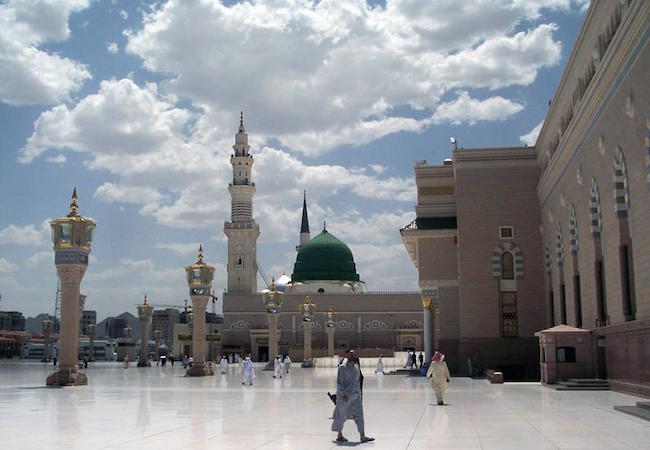 By Dr. Abdul Ruff
Islam does not distinguish between Sunni and Shi'a branches as both are equals except that Islam took birth – and the Holy Mosques are located – in Saudi Kingdom, but Saudi Arabia and Iran – now rich with petrodollars – behave villains in Islam in the face of strong Islamophobic trends as they consider themselves as leaders of their respective branches, viz Sunni and Shi'a, vitiating international Islamic atmosphere, even creating confusing among the general global public about the real problem they are supposed to face.
Every Muslim needs to perform Holy Hajj once in life – as their life achievement. Repeated Hajj pilgrimage by many rich Muslims, both in Sunni and Shi'a, in fact goes against the Prophet Mohammad's life teaching.
Saudi Arabia is duty bound to create conditions conducive for Muslims to take the pilgrimage to Saudi Arabia. Iran says its citizens are deliberately targeted in Saudi Arabia and if that is indeed so, that is not good thing to happen in Islam.
It is unfortunate that the political and economic rivalry has now openly sneaked into religious as well as spiritual domains too with Saudi Arabia harming the Irani pilgrims who come there for performing the annual Hajj.
Unhappy relations
Although Saudi Arabia and Iran are both Muslim-majority nations and follow and rule through Islamic scripture, their relations are fraught with hostility, tension and confrontation, due to differences in political agendas that are strengthened for their differences in faith. Saudi Arabia is a conservative "Wahhabi" Sunni Islamic kingdom with a tradition of close ties with the USA and UK. Iran is a Shi'a Islamic Republic founded in an Islamic revolution to reject Western values.
Bilateral relations between the Islamic Republic of Iran and the Kingdom of Saudi Arabia have been strained over different geo-political issues such as the interpretations of Islam, aspirations for leadership of the Islamic world, oil export policy, relations with the USA and the West. Both Saudi Arabia and Iran are seen to have aspirations for leadership of Islam, and have different visions of stability and regional order.
After the Islamic Revolution, bilateral relations deteriorated considerably after Iran accused Saudi Arabia of being an agent of the US in the Persian Gulf region, representing US interests rather than Islam.
Saudi Arabia is concerned by Iran's consistent desire to dominate the West Asia region by exporting its revolution plus arms across the region to expand its influence within the region — notably in post-Saddam Iraq, the Levant and within further south in addition to Iran's controversial, much debated nuclear program. Tensions between the two countries have waxed and waned.
Saudi Arabia is concerned that Iran does not allow peace in Syria and, worse, it despises Iranian moves towards USA for arms and ammunitions. Saudi is angry that USA refused the Israeli request for an early attack on Iran and destabilizes it.
Relations and tensions at glance
Saudi Arabia and Iran established diplomatic relations in 1929 following the signing of a Saudi-Iranian Friendship Treaty. However, relations were not active until the 1960s mostly due to differences in religious practices and Iran's recognition of Israel.
The relationship between the two countries was not without its tensions in the mid-to-late 1970s. As the Shah attempted to build Iranian security architecture in the region, the Saudis resisted these efforts. Instead, King Khalid attempted to build bilateral security relationships with the smaller neighboring Persian Gulf states which has lasted till today. The Saudis also argued for more modest OPEC price increases in 1976 and 1977 than Iran wanted.
Historically, Iran–Saudi relationships have always been uncertain, something attributed to the different sects that the majority populations in both the countries follow. Saudi Arabia which is a predominantly Sunni society has always been skeptical of Shi'ite Iran's activities in the Persian Gulf region, thus labeling Iranian ambitions to dominate the Muslim worlds a form of Safawid/Safavid rule.
Leading Sunni and Shi'ite Clerics in both the countries deemed each other's religious beliefs as incorrect for decades. An attempt was made by the Sunnis to take the Tomb of Imam Hussein, one of the important religious leaders of Shi'ite theology and the grandson of the Prophet Muhammad whose life is considered the main difference between Sunni and Shi'ite sects, due to Wahhabi focus on the spiritual aspect of Islam rather than the tangible. Since then, tensions between both major sects of Islam, their followers and their affiliates, have increased and this tension is considered unlikely to be resolved any time soon
In 1966 the late King Faisal of Saudi Arabia visited Iran with the aim of further strengthening relationships between both neighboring countries. The Shah of Iran Mohammad-Reza Pahlavi reciprocated by paying an official visit to Saudi Arabia which eventually led to a peaceful resolution of the islands. The Shah supported King Faisal's efforts regarding Islamic solidarity and actively contributed to the establishment of multinational Islamic institutions, including the Organization of the Islamic World Congress, the Muslim World League, and the Organization of the Islamic Conference.
In 1968, Saudi Arabia and Iran signed a demarcation agreement. When the United Kingdom announced to withdraw and vacate from the Persian Gulf in the late 1960s, Iran and Saudi Arabia took the primary responsibility for peace and security in the region.
During the 1970s, Saudi Arabia's main concerns over Iran were firstly, Iran's modernisation of its military and its military dominance all over the region; secondly, Iran's repossession of the islands of Big Tunb, Little Tunb and Abu Moussa in 1971 which challenged the United Arab Emirates claim over the islands. The dispute remains till today. But the relationship between Iran and Saudi Arabia was never as friendly as between the years 1968 and 1979.
Relations between Saudi Arabia and Iran soured particularly after the Iranian Revolution, the nuclear program, the alleged 2011 Iran assassination plot and more recently the execution of Nimr al-Nimr. After the Saudi embassy in Tehran was ransacked by Iranian protesters, Saudi Arabia broke off diplomatic relations with Iran on January 4, 2016.
There have also been numerous attempts to improve the relationship. After the 1991 Gulf war there was a noticeable thaw in relations. In March 2007 President Ahmadinejad of Iran visited Riyadh and was greeted at the airport by King Abdullah, and the two countries were referred to in the press as "brotherly nations". But after March 2011, Iran's financial and military support for Syria during the Syrian Civil War, has been a severe blow to the improvement of relations. On January 3, 2016, Saudi Arabia cut diplomatic ties with Iran following the execution of Saudi-born Shi'a Islam cleric Nimr al-Nimr. The execution prompted widespread condemnation within the Arab World as well as other countries, the European Union and the United Nations, with protests being carried out in cities in Iran, Iraq, India, Lebanon, Pakistan and Turkey. Saudi Arabia's foreign minister asked all Iranian diplomats to leave the country within 48 hours.
The difference of political ideologies and governance has also divided both countries. The Islamic Republic of Iran is based on the principle of Guardianship of the Islamic Jurists, which holds that a faqīh (Islamic jurist) should have custodianship over all Muslim followers, including their governance and regardless of nationality. Iran's Supreme Leader is a Shia faqīh.
The founder of the Iranian revolution in 1979, Ayatollah Khomeini, was ideologically opposed to monarchy and dynasty rule, which he believed to be unIslamic. Saudi Arabia's monarchy, on the other hand, remains consistently conservative, not revolutionary, and politically married to age-old religious leaders of the tribes who support the monarchy and the king (namely the Custodian of the Two Holy Mosques) is given absolute obedience as long as he does not violate Islamic Sharia law.
Saudi Arabia has, however, a Shi'a minority which has recently made bitter complaints of institutional discrimination against it, specifically after the 2007 change in Iraqi governance and particularly after the 2011 Arab Spring events that spanned the region. At some stages it has gone as far as to call for overthrowing the king and the entire system.
Both countries are major oil & gas exporters and have clashed over energy policy. Saudi Arabia, with its large oil reserves and smaller population, has a greater interest in taking a long-term view of the global oil market and incentive to moderate prices. In contrast, Iran is compelled to focus on high prices in the short term due to its low standard of living given recent sanctions after its decade old war with Saddam's Iraq.
Stumping block
Saudi Arabia severed relations with Iran after an attack on its embassy in Tehran Saudi Arabia following the kingdom's execution of Shi'a religious leader Nimr al-Nimr, who was put to death along with 46 mostly Sunni Muslims convicted on terrorism charges. Both Muslim nations have withdrawn their ambassadors from each other's country. Since February, Switzerland has been representing the interests of Saudi Arabia in Iran and those of Iran in Saudi Arabia, delivering basic consular services, such as issuing visas in cases where the two countries agree to it. The Swiss department of foreign affairs said that as a general rule it "does not comment on activities linked to the protecting power mandate exercised by Switzerland," in reference to its role.
In view of the continued tensions on account of loss of Iranian lives, Saudi Arabia should allow the request of Iran to ensure safety and security of its pilgrims and general citizens going to Saudi Arabia. Iran has said the disaster at Hajj killed 464 of its pilgrims.
Ali Jannati, Iran's minister of culture and Islamic guidance, said negotiations that took place over several months between Iran and Saudi Arabia were aimed at trying to "resolve the issue" of security during the Hajj, but failed to make any headway. "We did whatever we could but it was the Saudis who sabotaged" it, Jannati said in comments carried by the state-run IRNA news agency. "Now the time is lost." Jannati said Saudi officials had not accepted Iran's request to facilitate visas to the kingdom through the Swiss Embassy in Tehran, though he did not specify which types of visas the request was referring to.
Since Saudi diplomatic posts remain closed in Iran, Jannati said Saudi officials had said Iranians would need to travel to embassies in other countries to apply for Hajj visas, making the pilgrimage impossible for many. "Iran's proposals regarding visa application, air transport and security of pilgrims were not accepted by the Saudi officials," Jannati said.
Iran called for an independent body to take over planning and administering the five-day Holy Hajj, but the kingdom's ruling Al Saud family has refused any suggestion it would share its role in overseeing the holy sites. That, along with Saudi Arabia's oil wealth, provides it major influence in the Muslim world.
Apparently, Iranians are put to difficulties in Saudi Arabia. Iran has boycotted the Holy Hajj before. In 1987, demonstrating Iranian pilgrims battled Saudi riot police in clashes that killed at least 402 people. Iran claimed 600 of its pilgrims were killed and said police fired machine guns at the crowd. Iran did not send pilgrims to the Hajj in 1988 and 1989, while Saudi officials severed diplomatic ties over the violence and Iranian attacks on shipping in the Persian Gulf.
Saudi Arabia's Council of Ministers said Iran is attempting to politicize the Hajj pilgrimage by refusing to sign an agreement mandatory for all countries seeking to send pilgrims on the holy journey. The Cabinet meeting, chaired by Custodian of the Two Holy Mosques King Salman at Al-Salam Palace in Jeddah last week, was briefed about the controversy arising from a meeting last week between an Iranian Hajj delegation and the Saudi Hajj and Umrah Ministry. The Iranian delegation had refused to sign the agreement outlining the arrangements that would be made for the pilgrims, in reference to accommodation, visa and other issues. This is a requirement for all countries sending pilgrims that there was no question that the Kingdom wanted to refuse entry to Iranian pilgrims.
Saudi Arabia was honored to be hosting all pilgrims from around the world. Saudi Hajj and Umrah Ministry said the Iranian government would now have to face Almighty Allah and the world to explain why its representatives failed to sign the minutes of the meeting with the Hajj and Umrah Ministry. Minister Al-Toraifi said the aim of the Iranian delegation was to politicize the Hajj and try to create the impression that the Kingdom was at fault. The Cabinet rejected these attempts and stated that it has been doing everything in its power to provide quality services for pilgrims.
Saudi Arabia's Deputy Crown Prince Mohammed bin Salman told a British magazine that the kingdom would not go to war with Iran. Dismissing war as an option, a former Iranian diplomat, however, has said that the issue between the two sides can be resolved through diplomacy. King Salman, who is also the defence minister, told The Economist that an Iran-Saudi war would mean catastrophe for the Middle East.
Islamic trust deficit
It is but natural, as it appears the political and trade rivalries would vitiate the religious arena as well one day. The day has arrived. Very recently Iran has announced that it will not send pilgrims to Saudi Arabia this year for the annual Holy Hajj, signaling a latest sign of tensions between the two Mideast powers after a disaster during the pilgrimage last year killed at least 2,426 people.
Saudi Arabia blamed Iranian officials for the decision and suggested it was politically motivated to publicly pressure the kingdom. Iran said it is concerned about the security of Iranians pilgrims and says Saudi "incompetence" caused the crush and stampede in the area of Mina on Sept. 24 during the Hajj, which all able-bodied Muslims are required to perform once in their life.
The disaster in Mina was the deadliest in the history of the annual pilgrimage, according to an Associated Press tally of the dead based on state media reports and officials' comments from 36 of the over 180 countries that sent citizens to the Hajj. The official Saudi toll of 769 people killed and 934 injured has not changed since Sept. 26, and officials have yet to address the discrepancy. Last year's Hajj, which drew 2 million pilgrims, also saw a crane collapse in Mecca kill 111 worshippers.
Arab News reported that the Iranians had sought to have visas issued in Iran for their pilgrims. The Kingdom was not prepared to do this because it had closed it missions in that country after they were attacked. The Kingdom had stated that the visas would be issued from Dubai.
Saudi Arabia blamed Iran for the row and said the kingdom is honored to serve Muslims of all nationalities as guests at holy sites in Mecca and Madina, where pilgrims carry out religious rites and prayers during the Holy Hajj season, as well as year-round.
Dirty politics
Saudi, a predominantly Sunni kingdom, and Shi'a Iran have accused each other of backing proxies in the war in Yemen and Syria. The two countries take opposing stands on politics as they support opposing sides in Syria's civil war and the ongoing conflict in Yemen, the Arab world's poorest country. Tensions between the longtime rivals soared after Saudi Arabia executed a prominent Saudi Shiite cleric on Jan. 2. Nimr al-Nimr was convicted on a string of charges, including sowing dissent and stirring violent anti-government protests in the predominantly Shiite east, something neither denied by his family, who say al-Nimr never advocated violence nor picked up a weapon. Al-Nimr's execution sparked widespread protests in Shiite-led Iran, which views itself as the protector of Shiites around the world. Demonstrations outside of Saudi diplomatic posts in Tehran and Mashhad turned violent and protesters stormed the buildings. Riyadh responded by cutting diplomatic relations with Tehran.
Saudi Arabia's Hajj Ministry said the kingdom ensured Iranian officials obtained visas to meet with Saudi officials in April to discuss arrangements for this year's Holy Hajj, despite the fact the two countries severed diplomatic ties earlier this year. The ministry said that Iranian officials made demands that all visas for Iranian pilgrims be issued from inside Iran; that the transport of pilgrims be divided between Iranian and Saudi air carriers; and that a clause be included in the record to allow Iranian pilgrims to hold a Shiite ritual during the Holy Hajj.
Clearly, there has been trust deficit in the bilateral relations for several reasons as Iranian officials feel the death of Iranian pilgrims were deliberate attempt to insult Iran.
Sunni-led Saudi Arabia said it made clear that Iranians can obtain Hajj visas by applying online in the absence of a Saudi Embassy in Tehran; that allowing Iran's national carrier to transport pilgrims runs contrary to "internationally recognized practice;" and that allowing this ritual would "hinder movements" of other pilgrims from around the world. The ministry added that any decision to bar Iranian pilgrims from the Hajj is being "imposed by the Iranian government as a means to pressure Saudi Arabia."
Can USA protect Saudi or Iran or Islam?
It is no secret, at least any more, that USA cannot protect any Muslim nation, whether Saudi Arabia or Iran, or any other nation with overtly Islamic ideology.
USA wants to sell its terror goods to any nation willing to buy them but huge financial resources in Arab world and Iran make Washington mend conflictual situations and sell its weapons and buy the oil and other energy resources.
US interests in West Asia are purely economic unlike its relations with Israel which many American leaders consider as America's integral part located in West Asia. There is no secrecy about how much USA help Israeli criminal regime, targeting the besieged Palestinians for their blood, flesh and also land.
Saudi Arabia has long looked to the USA for protection against Iran. As far as the relationship between Saudi Arabia and the USA is concerned, both countries have been strategic allies for more than sixty years. Saudi Arabia sees itself as a firm and generous partner of the USA in the cold war and in other international conflicts. The visits by US President George W. Bush to the Kingdom in 2008 reaffirmed these ties.
Saudis have always distanced themselves from American foreign policy, particularly with regards to Iran. Even when there was growing criticism against the former Iranian President, Mahmud Ahmadinejad, for his alleged hostile foreign policy in connection to Israel, Saudi Arabia recognised that Iran was a potential threat, and a regional power that was in position to create trouble within their borders. Therefore, Saudi Arabia's security over time required accommodation and good relations with its geographic neighbors notably Iran.
Saudi National Security advisor Prince Bandar bin Sultan, seen as one of the most pro-American figures in the region, had made a trip to Tehran to voice his government's interest in building harmonious relations with Iran. During Iranian President Ahmadinejad's 3 March 2007 visit, he discussed with King Abdullah the need to protect the Islamic world from enemy conspiracies.
In 2007, President Ahmadinejad attended the first-ever annual summit of the Gulf Cooperation Council (GCC) which was established in 1988 that aimed to contain the ambitions of revolutionary Iran. This visit by the President of Iran was an event which signaled a possible change in relations. Soon after the meeting, Saudi Arabia, the most senior member of the six GCC member states invited Ahmadinejad to Saudi Arabia to take part in the annual Hajj (pilgrimage) to Mecca.
In 2009, Saudi Prince Faisal said in a press conference with Hillary Clinton that the "threat posed by Iran demanded a more immediate solution than sanctions." This statement was condemned by Iranian officials. On 11 October 2011 US Attorney General Eric Holder accused Iran of planning to assassinate the Saudi-Arabian ambassador to the United States Adel Al-Jubbair. In 2013, Saudi Ambassador to Britain Mohammed bin Nawaf bin Abdulaziz Al Saud criticized Saudi Arabia's Western allies for not taking bold enough measures against Syria and Iran, thus destabilizing the Middle East and forcing Saudi Arabia to become more aggressive and assertive in international affairs.
The Obama government continues to reassure the Persian Gulf states that regional security is a US priority, but the Gulf States express skepticism especially after the western powers signed a nuclear treaty with Iran last year.
Observation
Unfortunately, seemingly never ending conflict between Saudi Arabia and Iran puts Islam in strain. The repeatedly failed reconciliation efforts by themselves to bring the awkward Sunni-Shi'a gap make Islam a failed religion as well. That is indeed to childish on the part of top Islamic nations to behave this in front of entire world w making the anti-Islamic forces rejoice at the fall of Prophetic Islam.
All tensions and conflict happened because of a simple reason: Iranian military expansionism across the region. Iran accused Saudi Arabia of "supporting terrorists", adding that the Syrian crisis was the result of Saudi backing of opposition groups with money and weapons. Tehran is a close ally of Syrian President Bashar al-Assad and has backed Damascus through the five years of civil war that has displaced nearly half of the population and killed more than 250,000 people.
One thing is clear. Both Saudi Arabia and Iran have lost the Islamic religious fervor even in the face of emergence of monstrous enemies of Islam through invading Muslim nations for energy and other vital resources, killing Muslims, propagating Islamophobia; They, strengthened by the support of devils and evil imperialist and capitalist empires, also have conveniently deviated from the Holy Prophet's teachings to their forefathers about unity.
The world should be worried about a possible open conflict between Iran and Saudi Arabia.