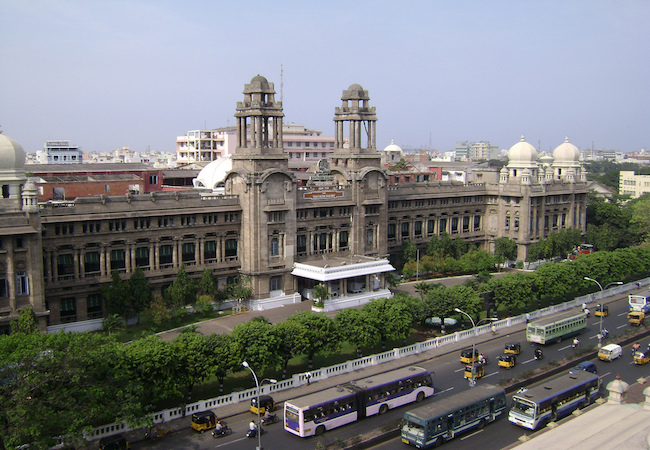 By Dr. Abdul Ruff
Tamil Nadu is soon to face local polls, including the important corporation polls. As the AIADMK which won the assembly poll convincingly has inherent advantages in these polls too, other parties like DMK and Congress are trying to shore up resources to face the poll.
Tamil Nadu Congress Committee President EVKS Elangovan has tendered his resignation owning up responsibility for the party's poor show in assembly elections after Vice-President Rahul Gandhi was claimed to have expressed his displeasure over the drubbing. "Our party's state unit chief submitted his resignation on 15 June itself as electoral results were not on expected lines," party functionary V R Sivaraman, a confidant of Elangovan, told reporters.
Factionalism in the party surfaced in the backdrop of the resignation of Elangovan with aspirants lobbying for the top state unit post. It is not yet known whether Elangovan's resignation has been accepted or not. However, the Congress party has gained in acceptance and popularity in the state assembly poll held recently in which it contested along with the DMK winning good number of seats. Congress, which contested 41 seats as part of the DMK-led alliance, could manage eight of them while the other faction Tamil Manila Congress (TMC), in November 2014, led by Vasan could not win even a single seat.
The split had thrown the Congress into a deep crisis with its already-shrinking cadre base and less than 4.5 per cent vote share in the state. However, Vasan had not only failed to split the party as he had initially planned but could not lure in top leaders except a few like Peter Alphonse, who was back on the home turf ahead of assembly elections last month. Yet, the vote share of the Congress party, despite the defeat of the DMK alliance and the split a year ago, stood at 6.47 per cent, with wins in eight seats.
While factions opposed to Elangovan claimed that he put in his papers after Rahul Gandhi expressed displeasure over the party's poll performance, Sivaraman rejected it. However, Elangovan's supporters dismissed the charges saying "all state leaders were taken onboard."Sivaraman said Elangovan quit owning moral responsibility for the party's performance. Elangovan had submitted his resignation in the office of party chief Sonia Gandhi in Delhi on 15 June, a day after he called on Rahul Gandhi. " Rahul only told Elangovan that the party could have done better, and our chief answered that he did his best and also indicated that he was not averse to the idea of the party being led by someone with better abilities in TN," he told PTI.
Elangovan's resignation also comes against the background of a long-running feud among rival leaders including loyalists of former union minister P Chidambaram. A loyalist of Chidambaram said "the choice of seats and the method of selecting them (for Assembly election) were incorrect. For example, constituencies where Congress had a winning chance were not given by the DMK. Rahul Gandhi expressed his strong displeasure with the election outcome. Elangovan resigned after that. Also, Elangovan did not coordinate with other leaders for the poll campaign," he said adding all such "inputs" had reached the office of Rahul Gandhi.
In April, ahead of the Assembly election, Chidambaram had expressed dissatisfaction over seat-sharing with DMK, saying his party was allotted "seats which we do not need." The seat-sharing talks were steered by Elangovan in the presence of party senior leaders including Mukul Wasnik.
After the fall of the then ruling party in 1967 in Tamil Nadu, the state Congress Committee (TNCC) had been facing a slow death. Congress has been playing a minor role in Tamil Nadu politics. It was in 2014 that the party saw the first rays of hope when it elected EVKS Elangovan as the state chief, a leader who stayed away from all powerful groups that had been ruining the state unit for decades. He had taken up the role at a most troubled time when the Congress was decimated across the state and the country in the Lok Sabha elections. It was a time when senior leaders had almost abandoned the party in the wake of the 2G scam.
Today, after almost two years in the position, sources close to Elangovan confirmed that he resigned as the TNCC chief although the All India Congress Committee (AICC) is yet to take a decision on it.
Poor performance of the party in the assembly elections, improper candidate selection, allegations of unilateral decision-making are all being reported as reasons raised by his rivals in the party before the AICC. However, what Elangovan had achieved in the last one and a half years as the TNCC chief could not be ignored as he took up the role at a time when all senior leaders had abandoned the party including Jayanthi Natarajan, following the defeat in the 2014 elections. "Elangovan took up the role in style," said a senior leader who stood against his appointment in 2014, "at a time when party had seen yet another split engineered by his predecessor B S Gnanadesikan and senior leader G K Vasan. Elangovan was actually taking the responsibility of a party that was no more in Tamil Nadu," he added.
Elangovan was the only one who always stood alone, like V M Sudheeran in Kerala, but a man with more political integrity than Sudheeran. Son of EVK Sampath, veteran Congress leader and nephew of social reformist Periyar, Elangovan's nomination as the TNCC president was considered a smart move by the Congress high command as he was neither a G K Vasan nor a P Chidambaram.
Known for his scathing attacks on both J Jayalalithaa and M Karunanidhi, Elangovan was considered a leader with his own set of followers in his political career. "He is very outspoken. But he was also a leader who never bothered to flatter people, an essential talent that he lacks to ensures your existence in Congress," said a leader pointing at his 'weak point.' During the recent assembly poll he blamed the TN CM Jayalalithaa and governor Rosaiah of taking bribes to appoint Vice Chancellors in the state.
Reviving his old party, Tamil Manila Congress (TMC), in November 2014, Vasan said: "We'll rise to the expectations of the people of Tamil Nadu. I can clearly say that we are following the new path to achieve our goal." Elangovan's response was "We will wait and see." Not only did Vasan lose all the seats his party contested but he also lost leaders like Alphonse, who is now the right-hand man of Elangovan in southern Tamil Nadu, once a Congress bastion, where the party made a come-back this time.
In a state where people had always seen a lazy opposition after each election, things have changed after Elangovan took over the Congress. A visibly restless Elangovan was seen running around the state and meeting people to revive his party. Take any significant political controversy in the last two years, whether it was the suicide of a Tamil Nadu government engineer allegedly under the pressure of a cabinet minister or taking up corruption charges against Jayalalithaa or attacking the BJP, it was Elangovan who was at the forefront of all these protests. Leaders like M K Stalin, Vijayakanth or even Vaiko were not seen much before the announcement of elections. .
P Ramajayam, a senior political analyst with the Centre for Study of Social Exclusion and Inclusive Policy, Trichy, says this could be viewed in the context of becoming the Rajya Sabha MP and increasing his influence over TNCC from Delhi.
"During the election, many of is loyalists of P Chidambaram were denied seats. Chidamabaram's articulation would have helped to strengthen the anti-incumbency that could have helped Congress to secure more seats. But except a few, Chidamabaram didn't even come for the crucial poll rallies of Congress leaders.
Critics say that it would be a real crisis for the state Congress if Elangovan resigns. "His outspoken nature and criticism of rivals gained so much attention for the party which was invisible in the state for decades. Take any Congress leader from Tamil Nadu in the recent past, none of them had dared to take on Jayalalithaa or other opponents like Elangovan. Moreover his leadership is very crucial for the party in the southern and Kongu region, which were traditional bastions of the party.
Unlike other veterans of Congress party in Tamil Nadu, Elangovan is not a mediocre. That makes him the most powerful leader of Tamil Nadu, a leader without any vested interests, one who never lobbied with DMK or AIADMK for personal gains. If all those turf wars between leaders such as Vasan or Chidambaram or former TNCC Chief K V Thangabalu were for personal gains or to capture the power, Elangovan stayed away from those games knowing that it was killing a party that is already dead. And for obvious reasons, after he became the TNCC Chief, Elangovan became the target of everyone including Chidambaram and his son Karti Chidambaram, who first sent the signals of a mutiny against Elangovan.
Soon Tamil Nadu is going to local polls and the need of the hour is a leader who could articulate issues, and a new system of indirect election of Mayors. The question that remains is whether the decision from the high command would be suicidal or not.
Meanwhile, several names have begun doing the rounds for the TNCC chief post. They include Chidambaram-loyalist and former Chennai Deputy Mayor Karate Thiagarajan, former state minister in the MGR cabinet Su Thirunavukarasar and former Lok Sabha MP Manicka Tagore. There is also a suggestion that P Chidambaram should take over the post and boost the image of the party further.