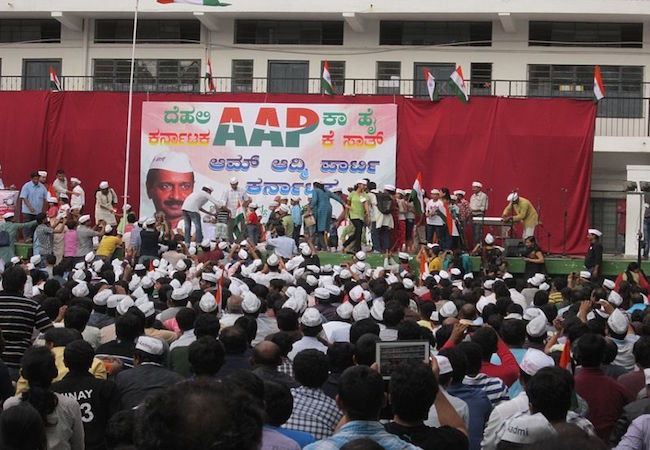 By Dr. Abdul Ruff
Aam Aadmi Party (Common Man's Party) which now rules Delhi state is trying to extent its popularity and influence in other states as well.  The AAP party is popular in Punjab state where it won four parliamentary seats.   There are some zones of support for the new politics of AAP in Maharashtra, Karnataka and Goa, to mention a few.
Aam Aadmi Party (AAP) national convenor and Delhi state Chef Minister Arvind Kejriwal is in Goa state on a three day state visit from June 28 to shore up support for his party in the forthcoming state poll early next year to serve the people of Goa.
In Goan capital Panaji Arvind Kejriwal claimed his party will repeat in Goa its electoral performance of Delhi and win at least 35 out of 40 seats in the state in upcoming Assembly election. "AAP will spoil the prospects of both the parties (Congress and BJP). Out of the 40, we will win over minimum 35 seats (in Goa Assembly elections)," Kejriwal told reporters in Vasco town after interacting with fishermen community.
Responding to a question on chief ministerial face of the party in Goa, he said AAP will give this responsibility to someone from the state.
"There are 20 lakh people living in the state. Goans have leadership capabilities. I am a small person here. I can't do much sitting in Delhi," he said. "Kejriwal is not important, the party is important and people are important ," he said reacting to the question whether his image is becoming larger than AAP. Arvind Kejriwal said AAP repeat in Goa the history created in Delhi as people will go for the party and reject Congress and BJP. "We will repeat the history. The reason is that people in Goa have witnessed that BJP and Congress are two sides of the same coin, they just fight on the face, but behind that they hold secret meetings with each other. They go along very well, but people suffer," he commented.
The AAP supremo alleged that both Congress and BJP are "completely corrupt parties". "People have realized that. Earlier, they had no option in the past. Now there is an option in the form of AAP," he claimed.
Kejriwal said, "AAP is not a party, it is a revolution… a revolution against corruption." Equating problems of fishermen in Goa to that of poor people in Delhi, he said the fight of the people is for the livelihood, which is being snatched by government. "Similar situation prevailed in Delhi when our government was formed. Poor people were fighting for their livelihood. Before the election, we had promised that we will not allow anyone's livelihood to be affected or homes to be demolished. We are fulfilling the promise. We are constructing houses for the people living in huts," he claimed.
Kejriwal is scheduled to hold interactions with small hoteliers at Calangute before he leaves for Delhi. The anti-corruption agitator Kejriwal, who along with Anna Hazare successfully undertook  explained to the people that corruption the harming the interests of common people. Ending corruption will eliminate proliferation of drugs in Goa, accusing both the Congress and the BJP of corruption. "Drugs are there because of corruption. Someone somewhere is accepting bribes to allow drugs being sold. Once corruption is eradicated, we will take strong action against drugs," Kejriwal said, claiming the AAP would win as many as 35 of the 40 assembly seats in the upcoming polls.
After interacting with the fisherfolk community in Goa, Kejriwal also said that eradicating corruption and saving Goa's cultural identity were two most crucial needs of the state which goes to polls in early 2017. "There are two important issues in Goa. One is to eradicate corruption and the next is to save Goa's cultural needs. It is most the important thing," he said.
Kejriwal, who is on a three-day visit to the state, also said that like in Delhi, an Aam Aadmi Party government in Goa would try to regularize slums and provide permanent housing for slum dwellers. "God and not human beings provide a roof over the head and daily bread. No human being has the right to snatch it. A government's job is to provide daily bread. But if you cannot provide it, it also has no right to snatch it. The AAP government will be a government of the poor," he said.
The AAP leader said both the Congress as well as the Bharatiya Janata Party were working in tandem and accused both parties of cheating people. "They both fool people together. Both are completely corrupt parties who have looted the people. People know this now. Earlier they did not have an option. They have it now. And in Delhi, people have seen. It has been a year and a half and the works we had promised, we are executing them one by one, whether it is in power, slums… We have given proper (pucca) houses for slum dwellers," Kejriwal added.
Arvind Kejriwal is very shrewd and plays his role very tactfully as he is facing two top national parties Congress party and BJP that have lost to AAP in Delhi.  Kejriwal is very careful not to intervene in state polls by fielding the party candidates that would give undue advantage to the Congress or BJP or their allies. That could be the reason why refused his party in Kerala and Tamil Nadu to field candidates.
In this context, Arvind Kejriwal's decision to contest the Goa poll is significant.