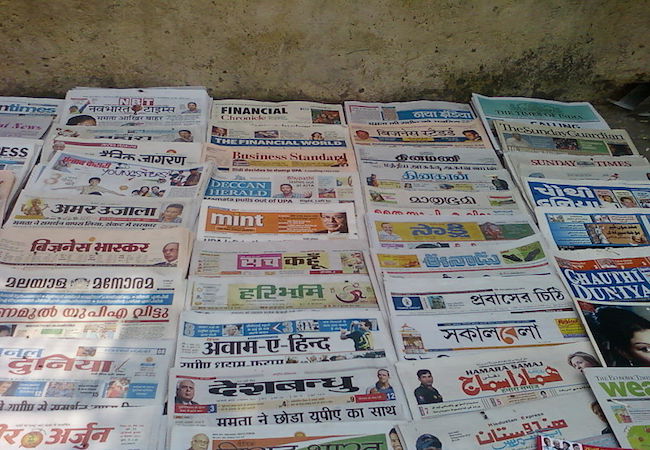 By Areeja Syed
Media can be called as the channels of information by which we can communicate through newspapers, television or social media. The purpose of this communication is to provide information to public and to create awareness regarding a particular issue. Through this media, journalist can convey their messages or news to a layman and it has also the capability to change the perceptions of viewers as well (Agenda setting theory). There are many news that a journalist submits for publications or to broadcast that actual news, ideas and information in print and electronic media but by doing gate keeping process, editor of a particular news agency filter the news and when the story is done through filtration process, they published and broadcast that filtered news. During the gate keeping process editor can remove that kind of unethical news, photos or harsh words which can disturb the peace or can create violence and harmony in the community e.g. the editor can remove that news which can disturb the emotions of a particular ethnic group. That is why we can say that Media can be one of the principal tools for the development of the society and to build peace in that society. If we talk about the social media particularly, it is one of the strongest media now a day's which can fulfill all the elements of communication in 21st century.
According to the father of 'Peace' Johan Galtung there are two types of journalism, which are peace journalism and war journalism. Peace media/journalism can be defined as the use of media for the promotion of peace, and to alter the viewpoints that could change public views and sentiment toward peaceful resolution of conflict, they can promote peace initiatives, they can also support and promote those individuals and groups who are involve in that peace initiatives.
South Asia is that region that needs media's peaceful involvement for bringing peace. The most critical conflict in south Asia is the India and Pakistan rivalry. This dispute has a long history and is still going on and has very deep influence on political, economic as well as societal disturbance in sub-continent. In the past, many peace groups have emerged with the objective to work for reduction of India-Pakistan tensions by increasing people-to people interaction, by public diplomacy and searching for solutions of these conflicts. There are many peace workers who are working for easing India-Pakistan rivalry but the problem which the both countries are facing is 'nationalism'. Nationalism is the love for own country, but both nations are unable to comprehend the true meaning of nationalism, loving one's country is indeed a valuable notion, but hating other nations and states is not part of nationalism and by no means it will effect or reduce the love for their own nation. The people from across the boarders should segregate both feelings of love and hatred. In this regard media can play an effect role in bringing both the nations closer.
There are a number of cross border initiatives which are going on in this sub-continent, the objectives of their agenda is to eliminate negative perceptions, to build trust between these conflicting states and to create awareness regarding each other. There is also a peace journalism campaign named as 'Aman Ki Asha' which means that 'hope for peace' and it is a combination of two words, 'Aman' from Urdu which means peace and 'Asha' from Hindi which means 'Hope'. The idea of this campaign was to create and build friendly relationships between these countries, to build a pleasant environment by facilitating dialogue between the countries government, to do public diplomacy, and to spread peace in respective countries. These campaigns also arrange several seminars, cultural festivals, conferences and such type of different platforms in which there can be people to people contact, it is the first time by the print media that it launches first time this type of platform in the sub-continent. Peace media can also be learning programs or entertainment as well that can promote peace e.g. the Indian movie 'bajrangi bhaijaan'' can be a very valid example of promoting peace between India and Pakistan through entertainment sector. Social media is also playing a very vital role in easing indo-Pakistan rivalry; there are a number of pages, blogs named as 'Aman ki asha' 'milny do' and many more created by the peace activist and youth from both countries on facebook and other social media forums. There are various taglines made by youngsters like' I fought for peace between India and Pakistan, and post such type of statements on social media by using the soft power.
Positive use of print media that can spread peace is one of the main objective of this movement and it helps to listen each other's point of view in the issue of dispute. It also organized music festivals, musharies, and editor's conferences to realize its vision. The project website has blogs for discussions, videos with messages from celebrities and even an anthem 'Aman Ki Asha'. Numerous celebrities of the world, politicians and high profile diplomats have endorsed the project as well. In the past we can notice that subcontinent media's role by and large was negative, example can be the kargil war (1999) in which they portrayed and showed stereotyped images and messages in both the countries that fanned the flame of hatred  but now aman ki asha has a different perspective on this.
Aman ki asha is also a lobby for discussing various disputes between India and Pakistan. Representative from both countries sit together for discussing conflicting disputes between these states. The issues which mainly discussed are water issues, strategic issues, humanitarian issues and many more. A program 'Common Destiny' was devised in 2010 to resolve the strategic issues, in which many armed forces officers, academics, foreign services officers and people from various walks of life also participated in this program, the discussion issues in this program mainly were Kashmir dispute, visa restriction problems and a lot more.
There was another program arranged by Aman ki asha campaign, for discussing water issues, named as 'water is life' in which water management experts from both sides discussed about water disputes and the ways to resolve this issue. They share up to date data in order to remove the misperceptions for humanitarian issues. There was a successfully organized program 'heart to heart' for saving the lives of fisherman. Boarder violations problem was also discussed, but the problem is still unresolved and on the negotiating table.
Changing the stereotypical mind-sets of the society, states and individuals is quite a difficult task, change cannot take place easily, but various peaceful steps can be taken by higher authorities that may help in changing the typical mind-sets. The peace initiative Aman ki asha offers golden opportunities to different segments of the civil society to interact successfully, particularly the media, business communities and political leaders can contribute satisfactorily in generating awareness among masses the need and significance of peace to bring prosperity in this region. Such platforms help providing common grounds for building a shared vision for peace. Pakistan-India narratives are chiefly diametrically opposed especially when so many noticeable disputes remain unresolved. The salient objective of Aman ki asha was to disintegrate the conventional mind-sets across the borders by floating fresh ideas to resolve the issues leading towards trust deficit and long term hostility. The effort is also to initiate debates on issues that divide them and build on the common agenda that can help both sides to develop a shared vision for a common future and sustainable peace. Aman ki asha should also promote the true meaning of nationalism as well in order to build peace.
Areeja Syed holds a Master's degree in Defence and Diplomatic Studies from Fatima Jinnah Women University Rawalpindi. She is keen observer of Defence and Strategic issues of Pakistan.