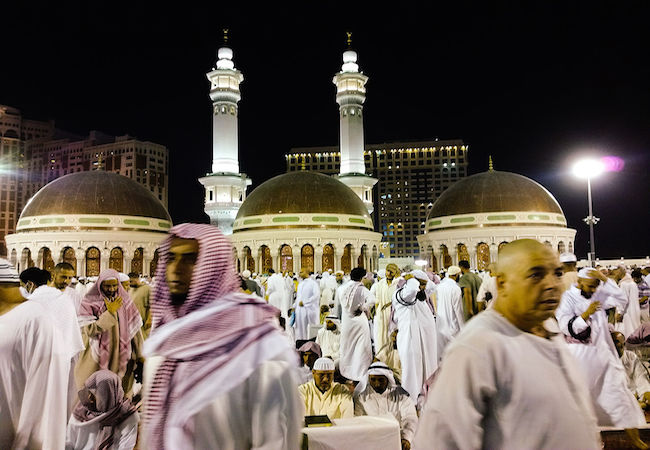 By Dr. Abdul Ruff
Eid al-Fitr or Ramazan is marked on June 06 this year. Eid Mubarak!
Regarded as one of the Five Pillars of Islam, Ramadan fasting is the period when Muslims fast every day from sunrise to sunset. They refrain from consuming food, drink and engaging in sexual relations. It also includes the increased offering of prayers and recitation of the Holy Quran – God's book for guidance for the entire humanity.
Eid Mubarak, meaning 'Blessed Eid', is a traditional greeting used at Eid al-Fitr the concluding day of Holy Ramadan fasting with a day of celebration as a mark of gratitude to Allah almighty. Allah is Arab word for God.
Eid is the short name for what's properly called Eid al-Fitr, the festival of the breaking of the Holy Ramadan fast for a month.
Muslims say to each other "Eid Mubarak" after saying the Eid prayer, and may also hug each other three times.
Generally, Eid is a three-day long celebration that reaffirms the ideals of piety, empathy, charity and solidarity among Muslims all over the world. It is celebrated with tremendous enthusiasm and affection.
Eid is indeed a public holiday in Muslim-majority countries. Saudi Arabia is holding an 11-day holiday from June 30 to July 10 inclusive. Al Jazeera reports that the holiday in Qatar is also 11 days but from July 1 to 11. It adds that Turkey has a nine-day Eid holiday (July 2 to 10), United Arab Emirates and Bangladesh have a holiday of the same length, but from July 1 to 9, while Oman and Pakistan have a five-day break from July 5 to July 9. Eid is not a public holiday in the so-called secular and democratic UK despite a campaign in 2014 for it to be recognised as such.
Eid el-Fitr should be distinguished from Eid al-Adha, which is considered the holiest of the two main Muslim festivals. It's also said at Eid al-Adha, the feast of the sacrifice. That particular festival takes place in Dhu al-Hijjah, the 12th and final month of the Islamic calendar. Taking place this year on 11 September, it marks the willingness of Ibrahim to sacrifice his son as an act of submission to Allah's command, before Allah intervened through his angel Jibra'il and informed him the sacrifice had already been accepted.
Islamic happiness
Eid al-Fitr is a joyous day for Muslims all over the world after Ramadan month long rigorous fasting from dawn to dusk. Among Muslim festivals, Eid-ul-Fitr, the 'fast-breaking' festival stands out in its popularity and religious significance. Eid-ul-Fitr is a celebratory day that generates the deep devotion and surrender to Allah during Ramadan. It refers to the breaking of the month-long routine of fasting from sunrise to sunset. 'Eid' itself implies a 'festive' occasion that spreads joy and happiness all around.
Following the successful completion of the month of Ramadan, Eid-ul-Fitr becomes a great occasion to thank Allah for giving believers the will-power and endurance to observe the month-long fast and follow rules in personal conduct. It is also a time to renew one's faith in Allah and seek his blessings.
The festival has no connection with any historical event but is a day where Muslims thank Allah for the strength, the will and the endurance he gives them, especially during Ramadan.
The Islamic month begins on June 6 and will run through to July 5. During this time healthy, adult Muslims are expected not to eat or drink during daylight hours. At the end of the month there is a feast known as Eid al-Fitr.
Organizers of Eid celebrations are waiting until July 4 before announcing the date of the city's massive event in Small Heath Park, but expected it to be July 5 or 6. The Muslim Council of Britain represents more than 500 national, regional and local organisations, mosques, charities and schools: The day on which Eid will fall is determined the night before, and is announced by Saudi Arabia. This year, Eid al-Fitr will either be on Tuesday, July 5, or Wednesday, July 6.
Now it has been decided in India that Eid would be celebrated on June 06. In the Islamic calendar, the months are based on the lunar cycle. Muslims look out for the very first crescent of the new moon, but it can be tricky to spot if the night sky is cloudy.
On this fortunate day of Eid-ul-Fitr festival, morning prayers are followed by a sermon and a congregational prayer at the mosque. On the first morning of the celebration, many gather in local mosques or open-air locations for special prayers called Salat al-Eid, and have breakfast.
Muslims put on their finest clothes for what will be their first daylight meal in a month. Some will exchange gifts, greeting cards and prepare special foods. Men typically wear white clothes that stand for purity while women and children are attired in especially tailored, bright-colored clothes. Muslims offer Eid prayer 'Two Rakat Namaz' on this day. Then, dressed in new clothes they proceed to greet their family, relatives and friends 'Eid Mubarak'. This is done through friendly embraces and handshakes, as good gestures of unity.
The Islamic practice of giving 'zakat' is also upheld during this time. The ritual of distributing alms on this day is observed throughout the ongoing celebrations. Just before Eid, Muslims part with some portion of their earnings and grains for the poor, so that they too can celebrate Eid with full fervor. Children also receive gifts or money by relatives.
Muslim families host gatherings of and relatives, friends and neighbors and serve them sumptuous meals. The festive meals comprise a lavish spread of tasty and most favored dishes along with the popular milk-based sweet preparation called 'seviyan'. The spirit of Eid transcends community and religious barriers, and the sight of even non-Muslims partaking of Eid celebrations is a common one.
Muslim astronomy site Crescentwatch urged everyone to look for the new crescent moon (known in Islam as hilal). But it said forecasts indicated that on July 4, a naked-eye sighting of the new crescent moon would be "extremely improbable in all global regions, except in the remote South Pacific where sightings are possible but also highly unlikely." This would then mean Eid would be taken as July 6.
Ramadan, the ninth month in the Islamic calendar, is marked with daily fasting. At times, Ramadan involves fasting from early in the morning – a couple of hours before sunrise – right through to sunset and so it's been particularly tough in 2016 because it's fallen during the period leading up to and including the longest day of the year. That's led to fasting for 19 hours a day at a hot time of year when going without water would be especially difficult. Muslims will no doubt be looking forward to ending their fast with Eid (Ramzan).
In some countries this year it took in the longest day of the year on June 20, when the sun rose at 04:44 and set at 21:34, giving 16 hours and 50 minutes of daylight. And fasting actually began a couple of hours before dawn, following an early prayer called fijr at 2.30am. That means no food or drink for around 19 hours a day. In the USA, the Fiqh Council of North America (FCNA) already announced that Eid will be observed on July 6 as it is basing it on astronomical calculations rather than sightings. In London Eid is expected to be on July 6 – subject to the sighting of the crescent moon.
Holy Quran and Ramadan 
The Holy Quran was first revealed to the prophet Muhammad (SAS) during Ramadan and that observing the fast is a time to reflect spiritually. The importance of Eid-ul-Fitr is associated with an actual event in the history of Islam. Allah sent an angel to reveal his words over a period of 23 years. These teachings formed the Holy Quran.
In fact, Holy Quran, Ramadan and Eid al-Fitr are interrelated with holy Quran playing the binding force to connect Muslims with them.
Eid al-Fitr is one of the most important days in the Muslim calendar, although its significance is purely spiritual. Literally translated from Arabic as the 'festival of breaking the fast', the religious holiday tends to last for a number of days. The celebrations involve a range of traditions, generally including the gathering of family and friends to eat and pray together.
On the auspicious day of Eid al-Fitr none shall fast. Muslims would be happy to welcome a new life gifted by the Ramadan fasting era.
For Muslims around the world, it will very soon be the end of Ramadan month and the start of Shawwal. Shawwal begins with a feast to celebrate the end of that fasting. This celebration is called Eid al-Fitr and is commonly known just as Eid, even though there are other festivals with Eid in their name.
Like in Pakistan and Bangladesh, great importance is attached to Eid-ul-Fitr in India, as it is an important public holiday as there exists a considerably large population of the Muslim minority (second largest population after Hindus), which adds to the cultural demographics of India. All schools, colleges and public institutions remain closed to mark the significance of this day. With time, these traditions have strengthened their interaction and intermingling with the Indian culture. Eid-ul-Fitr has, thus, seeped into India's cultural milieu and is looked forward to by everyone.
Observation
Muslims and others eager await the Eid al-Fitr to witness happy mood of the people. Eid al-Fitr is to celebrate "the happiness which man feels after successfully completing an important task," according to Al-Islam. Eid al-Fitr is expected to be on July 5 or 6. If the crescent moon is seen on Monday, July 4, then Ramadan will have ended after 29 days and Eid al-Fitr will be on the next day, July 5. If the moon is not seen, then Ramadan will be assumed to have lasted 30 days and Eid will be celebrated on Wednesday, July 6.
Eid al-Fitr stands for joy and greetings. Eid al-Fitr reflects happy mood of global Muslims having fulfilled one of the fundamental pillars of Islam in the service to Allah, the almighty. God's full satisfaction is the motto of Muslims fasting for a month- a significant achievement of Islam.
Muslims, for whom Eid is the most important festival to celebrate even while facing anti-Islamic attacks on them by the enemies of Islam, seek Allah's blessings and guidance during and after the Ramadan and always.
Eid al-Fitr as a very joyous day for Muslims should be the beginning of our lives as the fasting would strengthen our minds to continue with what we have achieved though fasting. Muslims would not revert back to old way of life after the Ramadan fasting and Eid al-Fitr
Hopefully, Muslims will continue the virtues they have imbibed during the patient Ramadan fasting all the time in future and emerge stronger and victorious next year to welcome the Ramadan. Spiritual gains Muslims have obtained during the month long fasting cum prayers would help Muslims lead a more fruitful and happy life.
Eid Mubarak!