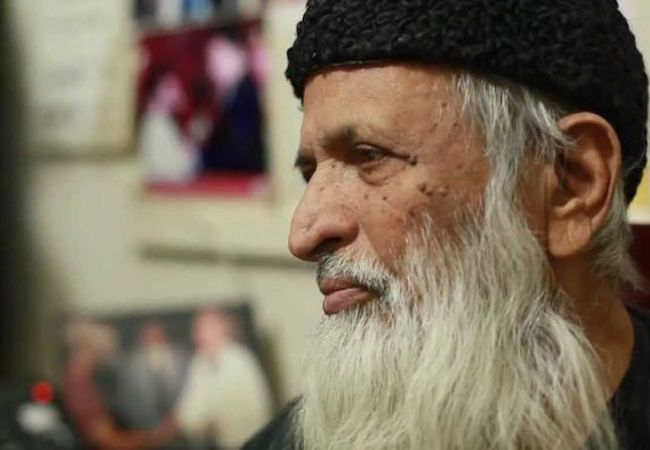 By Zahid Khan
Abdul Sattar Edhi was a prominent philanthropist and social activist of Pakistan. He was known as Angel of Mercy and most honorable personality of Pakistan.  In 2013, The Huffington said that he might be "the world's greatest living humanitarian —the founder and organizer of the gigantic and philanthropic Edhi Foundation in Pakistan, established in 1951. The foundation currently runs orphanages, hospitals, morgues, centers, legal aid offices, and drug-addicted, and has almost 2,000 ambulances—provides emergency services particularly in earthquakes and the terrorist attacks that occur with alarming incidence across the country. Max Bearak reported to the Washington post that, Edhi was famous for his simple lifestyle. He reportedly had only two pairs of shalwar kameez an eastern dress. He collected much of the costs for Edhi foundation through donations contributed by middle-class people. He would sit cross legged and they would leave rupees notes [Pakistani currency] near his lap. He slept in a room close to his foundation's office for most of his life.
BBC reported that Edhi was contemplating Pakistan's most respected figure and was seen by some as almost a saint. He was impressed by M. Ali Jinnah and Mother Teresa. He was cited as Pakistan's version of Mother Teresa. Edhi Foundation has rescued over twenty thousand infants, rehabilitates over fifty thousand orphans and has trained over forty thousand nurses—operating more than 330 welfare centers in various regions of Pakistan, providing the facilities of food kitchens, protection and shelters for homeless and vagrant women and children and built clinics for the mentally handicapped, rehabilitation of homes etc. The Edhi Foundation offers 24-hours emergency services. It also operates free orphanages, nursing homes, women's shelters, rehab centers for drug addicts, clinics etc. It has executed relief-operations in Middle East, Africa Eastern Europe, the Caucasus regions and United States where it provided aid, Hurricane Katrina said.
Craig Glenday said, the foundation has an education scheme, vocational activities such as pharmacy, driving, and Para medical training— it has branches in numerous countries where they endow with relief to the refugees in the Bangladesh, Japan, UK, USA and Canada. In 1991, the Foundation provided aid to victims of the Gulf-war and earth-quake sufferers in Egypt and Iran. The organization has held the Guiness record, 2010 for the world's largest volunteer ambulance organization. The organization operates several private out-patient hospitals situated in Pakistan—Supplementary medical privileges include a diabetic-center, blood banks, a nurse training center, immunization centers, and including emergency banks during times of natural- disasters or tragedies.
Edhi received the prestigious accolade of Nishan-e-Imtiaz from the government of Pakistan in recognition of his services in 1985, Express Tribune reported. The most significant award of Magsayay award given to the Abdulsatar Edhi and his wife Bilquees by the Government of Philippines—In 2006, he received a honorary degree of doctorate in recognition to his remarkable services to the mankind and indiscriminate prolong work towards the amelioration and welfare of humanity across the world. In September 2010, Edhi was also awarded a honorary degree of doctorate by the University of Bedfordshire, The Dawn newspaper reported. He was recommended for the Nobel Peace prize by the Prime Minister of Pakistan.
According to the UNESCO, Edhi obtained plenty of prestigious international accolades for his philanthropic endeavors'—Ramon Magsaysay Award [RMA] for public services in 1986, Lenin Peace Prize in 1988, Paul Harris Fellow from Rotary International  in 1993, Peace prize during Armenian Earthquake and disaster in 1998, Hamdan Award in 2000, International Balzan prize for humanity, peace and brotherhood in the year of 2000, Peace and Harmony award, Delhi in 2001,Wolf of Bhogio Peace Award [WBPA] and Peace award, Hyderabad Deccan in 2005, Gandhi Peace Award in 2007, Peace award [2008] in Seoul, UNESCO-Mandanjeet Singh Prize in 2009 and Ahmadiyyah Muslim Peace Prize in 2010.
The foremost humanitarian in the country, Abdul Sattar Edhi passed away at the age of 88 [1928-2016] on Friday. Edhi had been distress from kidney collapse since 2013 and was on treatment of dialysis. Dr Abhay—a medical officer at the ICU ward of the Sindh Institute of Urology and Transplantation [SIUT] stated that Edhi has passed away at 11 pm. The Wall Street Journal said, An eminently austere figure, always dressed in simple clothes, Edhi said he had no desire for matters and worldly-belongings and fascinated about serving humanity, noting that his ultimate wish was to be buried in the clothes he wore when he died and for any of his usable organs to be donated. His eyes donated to the eyes-patient after his death. PM Nawaz Sharif rewarded a honor to him as a great servant of humanity, In view of the vast charity and services of humanity, the central government proclaimed one-day mourning. Khyber-Pakhtunkhwa, Sindh and Balochistan governments also embodied their deep grief and announced 03 days of mourning. PM Nawaz also announced that Edhi would be awarded Nishan-e-Imtiaz posthumously.