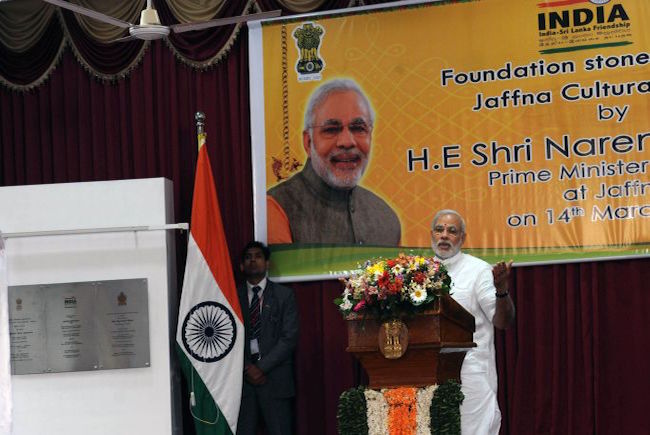 By Dr. Abdul Ruff
At long last, more than 2 years after becoming prime minister of secular India, Hindutva ideologue Narendra Modi has come out with criticism of Indian communal hatred politics in which his own BJP and related Hindutva outfits fully immersed and reaped gains in terms of government formations both at centre and in many states,
And PM Modi criticized the hatred trend in India while enjoying his life abroad in an African country Kenya. He is badly disturbed by the crisis in Kashmir where people are agitating against military terrorism in targeting Muslims there. . The claim of both Congress and  its secret ally on Hindutva agenda for India that Kashmir is an "integral part" of India  – a bogus claim indeed – has been dismantled by the  Kashmiri Youth that now seeks sovereignty form India military yoke for  decades after 1947 when a newly freed India conquered its neighbor Jammu Kashmir and annexed it to make India look bigger on the map. .
Modi criticised not the RSS or BHO or any Hindutva hate politics but chose a well known Muslim preacher Naik who also runs the Peace TV channel to peacefully educate the masses about Islam and its virtues. BJP views as an this attack on Hindutva criminal politics, hence Modi , obviously on instructions from RSS headquarters, condemned him as a threat o nation- a usual mischief Indian government commits against any voice of resent . . Addressing students at the University of Nairobi in Kenya, PM Narendra Modi Monday said "preachers of hate and violence are threatening the fabric of our society".
In an apparent reference to Islamic preacher Zakir Naik, PM Modi urged youth to play an important role in building a counter narrative to "extremist ideologies". In another purported reference to Pakistan –which the Hindutva forces employ to garner Hindu votes to win polls – the prime minister added that those who provide shelter to terrorists and use them as political instruments must be condemned. "We must condemn those who give shelter to terrorists and use them as political instruments," said PM Modi who has no ideas about how to solve the Kashmir revolt. Congress party also fuels the crisis by supporting the BJP stand and criticising the genuine freedom movement for sovereignty. .  .
Indian constitution guarantees freedom of religious belief and propagation of their religion no matter who rules India.  Islamic scholar and preacher Zakir Naik expressed shock over the alleged "media trial" against him after the recent terrorist attack in Dhaka where 22 were killed. "I do not support terrorism or violence in any form whatsoever. I have never supported any terrorist organisations," Naik said. He strongly condemned those taking his comments "out of context" and using it for expressing his anger over military atrocities in Kashmir.
Congress and BJP play a joint game against Muslims. BJP knows Congress and all other national parties would support any anti-Muslim program of the government. Even while  opposing reconstruction of Historic Babri Mosque after getting it pulled  down by the Hindutva criminal elements under BJP banner,  Congress party also clams  wholesale custodianship of all Muslims in the country and very tactfully uses communal BJP to bully them so that  they fear BJP and remain under Congress hold. Worse, the Congress even uses Muslim members of the party to spread the false propaganda against Babri Mosque and arguing for a Hindu structure on the site where Babri Mosque stood, saying that alone would be safe for Muslims to live in India.   
Nationally invisible Hindutva allies BJP and Congress, have no love for Muslims either in India or Kashmir or Pakistan or Bangladesh or Maldives as they promote Hindu/Hindutva interests in India and across the globe.  They want all Muslims to oppose Kashmir freedom movement and support military terrorism in order earn the status of "patriots".
As Indian government and BJP media target him for sympathizing with Kashmiris being attacked violently by military forces, Naik also said he would readily cooperate with any Indian investigation agency. "Most of clips shown on TV of myself are either out of context, half statements or doctored. So are my statements," he said.
Earlier today, Pakistani Prime Minister Nawaz Sharif condemned the alleged "oppressive action" against Kashmiris protesting over the killing of Indian Mujahideen commander Burhan Wani.
Pakistani premier  has expressed his deep shock at the killing of Kashmiri leader Burhan Wani and many other civilians by the Indian military and paramilitary forces," Sharif's office said in the statement.
Sharif and many others asked Indian regime to end state terror operations in Kashmir targeting Muslims.
It is high time the UN and UNSC stepped in to arrest the mounting state terror operations in Kashmir to silence the Kashmiris.  One wonders why not the ICJ and ICC initiate punitive measures on their own against state criminals for their genocides in Kashmiris valley which has now been converted into secret graveyards.
Hate politics belongs to Hindutva lords alone as they fight with Congress for power. Now BJP has mange dot grab power from Congress thanks o to Arvind Kejriwal-Anna Hazare led anti-corruption movement. After Delhi state, now Tamil Nadu has driven BJP out of  the state in the recent assembly poll.  As the BJP is gradually losing their place in Indian politics it wants Muslims and Pakistan, again, to regain the lost ground. .
Quickly PM Modi should instruct all BJP people, both men and women to end hate speeches from the public platforms just because they enjoy freedom to attack other religions with state-judiciary-media backing.
Meanwhile PM Modi should clear the doubts in most Indians, if the hate politics of RSS-BJP plus Hindutva allies is not a serious deadly threat to Indian society, Indian Constitution and secular fabric of Indian system.
Will you, Mr. Prime Minister?