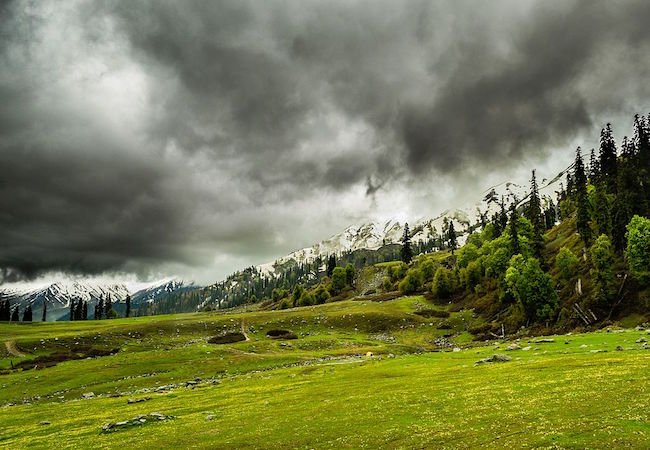 By Dr. Abdul Ruff
Kashmir has been bleeding for years now as the occupation forces from India continue to kill the youth of Kashmir with a view to silencing them from their struggle for sovereignty from Indian yoke. India officially invaded and brutally occupied Jammu Kashmir since 1947 soon after it obtained sovereignty from Great Britain.
Like blood thirsty beasts in deep forests, Indian soldiers, having obtained blanket approval of the federal government in New Delhi for killing as many Muslims in Kashmir valley as they could, keep pouncing upon the Kashmiri Muslims for their blood and flesh. At least 100, 000 innocent Kashmir Muslims have been slaughtered and butchered by Indian military by using the special powers granted by New Delhi, while the UN still pretends nothing very serious has happened in Indian occupied Kashmir.
Whenever Kashmiris, separated by the artificial LOC maintained by Indian military, come to meet their relatives in Kashmir, India calls them "terrorists" and "infiltrations" and kills them like solders kill birds. Kashmiris want the LOC removed so that they can live together. Occupation of nature at Siachen glaciers is not good for India. Unless the USA makes India realize the impending nuclear dangers to the region as well as entire world by occupation of Kashmir, there is no way India would ever free the Kashmiri nation. Of course meanwhile bilateral and multilateral dialogs on sovereignty for Kashmiris should continue. Both the imperialist USA and its ally fascist Israel assist Indian terror strategy with advanced technological help, targeting the Muslims of Kashmir valley making it a place of secret grave yards.
When, therefore, Indian president and PM, among other Indian leaders who share the guilt of state crimes in Kashmir, keep announcing that Kashmir is an "integral part" of India they must be meaning these secret grave yards being a integral part of Indian Union. Indian foreign minister Sushma Swaraj has made it clear that world listens to what India says which would mean world won't listen to what Kashmiris complaint against India mainly because it regularly conducts fake polls under military "supervision" to claim legitimacy for its misrule of Kashmir and justification for all its crimes against humanity.
Like Israel that employs oppressive methods and terror attacks even on children to silence the Palestinians. India also has been extra ruthless in attacking Kashmiri Muslims, by employing its favorite fake encounters. Recently, two BSF terror personnel and a Kashmiri activist were killed, while at least three BSF personnel sustained injuries in the gunfight in an encounter near the Line of Control in Machhil Sector in Kupwara district.
Following that, Indian Union Home Minister Rajnath Singh chaired a meeting to review the situation in the Kashmir Valley arising after killing of a Hizb-ul-Mujahideen activist Burhan Wani on July 8 at Kokernag by Indian occupation forces that kill Kashmiris to quench their sadist thirst, though Indian government supplies liquor almost free of cost to them to drink and enjoy life. Military Minister Manohar Parrikar, Minister of State for Prime Minister's Office (PMO) Jitendra Singh and Jammu and Kashmir Chief Minister Mehbooba Mufti also attended the meeting.
Jammu & Kashmir CM Mehbooba Mufti said that India must assure Kashmiris of their right to live in India and added that resuming dialogue with Pakistan on Kashmir issue could act as a bridge between the two nations. Talking to reporters after the two-hour review meeting, CM Mehbooba also hinted at resuming a dialogue with Pakistan on Kashmir issue saying the state could act as a "bridge" between the two nations. "I believe there is a need to heal the wounds of people, to initiate dialogue with the people of Jammu Kashmir. These are our own people. If process of dialogue with the people of Jammu and Kashmir can improve the situation in valley, we should do it…There is a need to apply balm to the wounds of Kashmiri people," she said.
The JK Chief Minister said during the one month of unrest, which started after the killing of popular Kashmir youth Wani, 55 people lost their lives and referred the deceased as "our own boys". "People will keep dying if we don't take initiative to bring normalcy. We want peace. There is an opportunity for dialogue and we should avail it. We have seen agitations in the past like in 2008 (Amarnath land row) and 2010 (over fake encounters by army). Our children have been killed. Our families have suffered. I don't wish to see any more killing.
Mehbooba said Indian PM has a huge mandate in the present Lok Sabha and he should seize the opportunity created by the unrest to win the hearts of the people and solve their problems, the way former Prime Minister Atal Bihari Vajpayee did," she said. "I am hopeful that the Prime Minister will take this as an opportunity to initiate dialogue with people to address their problems. There is a need to take the same initiative of winning hearts of people, which was taken during Vajpayee ji's tenure," she added.
Opposition members in the Parliament (Upper House) Rajya Sabha urged the government to call an all-party meeting to discuss the Kashmir issue. They also suggested sending an all-party delegation to Srinagar to take stock of the situation. Raising the issue in the Zero Hour, leader of opposition Ghulam Nabi Azad expressed concern over curfew imposed in some parts of the Valley. He said the curfew is continuing for the first time for a longer period. He said more than eight thousand people were injured in the violent incidents. Sitaram Yechury of CPI (M) said everything is paralyzed in the Kashmir Valley which is a paradise on earth where great profits lived and dies, and suggested use of pellet guns should be withdrawn. D. Raja of CPI demanded withdrawal of armed forces and urged the government to initiate the political process. Sharad Yadav of JD (U) demanded a discussion on Kashmir issue in the House.
Minister of State for Parliamentary Affairs Mukhtar Abbas Naqvi, the only Muslim face in the Modi government, said the government is ready for the discussion and he will convey the feelings of the members to the Home Minister.
India possibly is eager to resolve the Kashmir issue not by dialog but by a devastating nuclear war so that entire region is destroyed. Knowing the Indian arrogant mindset, Pakistan has also used its rare resources to ensure a credible counter defense mechanism by opting for nuclear weapons, making South Asia a deadly flash point. Indo-Pakistani tensions are fueled by global arms merchants, especially American and Israeli that are thriving today on sale of terror goods to third world fighting each other at times without any reason. Armed with huge arms arsenals, including nukes, bought from every possible region, India has already murdered over 100,000 Kashmiri Muslims since it considers its prerogative to deal with those sections of Kashmir population that still refuse to accept Indian occupational tactics. Yet, Kashmiris could not be silenced by military brutalities. They seek complete sovereignty. India thinks since Pakistan also has been occupying a part of Kashmir as Azad Kashmir and it does not talk about its own plan for an independent Kashmir, it also will not have to vacate Kashmir at all. Earlier, USA had supported the Kashmiri corporates closer to India by huge investments in USA, but later with Indian diplomatic tactics, bringing American corporates closer to Indian cause through huge investments in USA and purchases of US-Israeli terror goods, Washington began taking a neutral position.
In an effort to totally conquer nature and militarize it, India and Pakistan jointly also occupy the Siachen glaciers of Kashmir. India occupies the highest point in Siachen glaciers, the Saltoro Ridge which is located at 23,000 feet, he said. "If we vacate the position, the Pakistan enemy can occupy the position and they would have the strategic advantage. We know the experience of 1984 (Siachen conflict). "The position is very important from the strategic point. I don't think anyone in this House can take Pakistan's words for granted," Parrikar said during Question Hour. The statement comes few weeks after ten soldiers were buried alive under snow after their camp in the northern part of the Siachen glacier is being hit by avalanches. India has declared it will not vacate Kashmir or the Siachen glaciers, come what may, as it does not trust and it may occupy the strategic location once India vacates.
Kashmir don't need just lip sympathy from UN but promptly proper action to end India occupation of Kashmir and return Jammu Kashmir to its rightful owners- the Kashmiris,- most of them are Muslims by faith. Indian soldiers have no right to kill Kashmir Muslims just because they have got plenty of terror goods in its colonialist arsenals.
South Asia requires peace and a free and sovereign Kashmir is the key to regional peace.