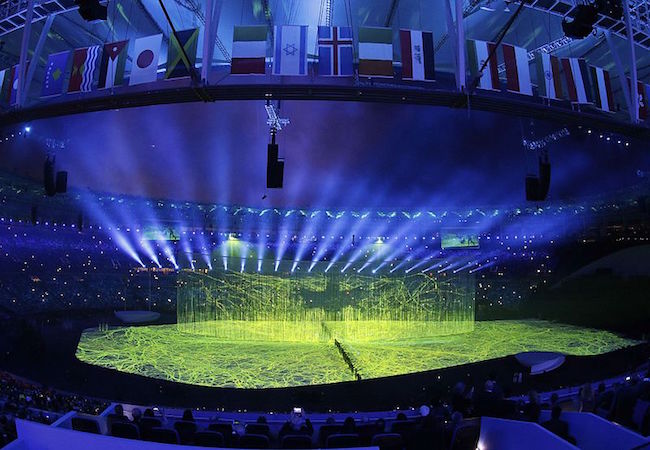 By Dr. Abdul Ruff
The 31st Olympics Games held in Rio of Brazil from 5 August to 21 August 2016 ended after 16 days of healthy competition, featuring 11,303 athletes from 206 nations and a refugee team.
The 2016 Summer Olympics, officially known as the Games of the XXXI Olympiad and commonly known as Rio 2016, was a major international multi-sport event held in Rio de Janeiro, Brazil in Latin America on 5-21 August 2016. More than 11,000 athletes from 207 National Olympic Committees, including first time entrants Kosovo, South Sudan, and the Refugee Olympic Team, took part. With 306 sets of medals, the games featured 28 Olympic sports, including rugby sevens and golf, which were added to the Olympic program in 2009. These sporting events took place at 33 venues in the host city, and at five in São Paulo, Belo Horizonte, Salvador, Brasília, and Manaus.
These were the first Summer Olympic Games under the IOC presidency of Thomas Bach. The host city Rio de Janeiro was announced at the 121st IOC Session in Copenhagen, Denmark, on 2 October 2009. Rio became the first South American city to host the Summer Olympics. These were the first games to be held in a Portuguese-speaking country, the first to be held entirely in winter, the first since 1968 to be held in Latin America, and the first since 2000 to be held in the Southern Hemisphere.
The USA topped the medal table for the fifth time in the past six Summer Olympics, winning the most golds (46) and most medals overall (121). Great Britain (27 golds) and China (26 golds) finished in second and third respectively. Host country Brazil won seven gold medals, their most at any single Summer Olympics. Even with doping charges, Russia could come forth in the tally of medals
The Rio Olympics concluded on August 21 with a spectacular carnival-inspired closing ceremony, and the official handover to 2020 hosts Tokyo. The colorful closing ceremony, lasting almost three hours on 21 August, celebrated Brazil's arts and was held in a wet Maracana. The ceremony, watched by billions around the world, featured the parade of athletes and a dramatic extinguishing of the Olympic flame. Among the highlights were Tokyo's impressive showcase and a vibrant carnival parade. "These were a marvelous Olympics, in a marvelous city," said International Olympic Committee chief Thomas Bach. "Over the last 16 days a united Brazil inspired the world, in difficult times for all of us, with its irresistible joy for life." Bach officially closed the highest profile international sport event.
The Rio carnival anthem 'Cidade Maravilhosa' played as the party reached a crescendo. Brazilian model Izabel Goulart led a parade of 50 women and 200 dancers, who were joined by a sound truck containing 12 carnival queens. The ceremony concluded with a confetti and firework show. These Games demonstrated that diversity is enrichment for everyone. These Games were a celebration of diversity.
One of the biggest cheers of the night came when  Prime Minister Shinzo Abe of Japan, the  venue of next Olympics in 2020,  appeared dressed as computer game character Super Mario, rising out of a huge green pipe in the stadium. The Maracana was turned into a street carnival as the ceremony celebrated Brazil's art, music and dance. Highlights included human formations of iconic Rio landmarks Christ the Redeemer and Sugarloaf Mountain. The ceremony featured the symbolic handover of the Olympic flag. Rio mayor Eduardo Paes returned it to IOC president Bach, before it was passed to Tokyo governor Yuriko Koike. That was followed by an impressive 12-minute showcase of Tokyo, which included Prime Minister Abe's star turn. The Olympic flame was extinguished by a rain shower, which then gave life to a large tree sculpture to symbolize rebirth.
Baring a few completions, the Olympics events were genuinely successful. The Games were not affected by any major incidents, but they did not pass without some hitches: The diving pool turned green. There were scores of empty seats at venues. Controversial decisions marred the boxing tournament. There were security problems, including a bullet shot into the media tent at the equestrian venue and a media bus being attacked. The layout of the cycling road race course was criticised. Russian swimmer Yuliya Efimova, who had been banned for doping, was repeatedly booed.
Some interesting facts
Jamaican sprinter Usain Bolt said goodbye to the Olympics by winning an unprecedented 'triple triple'. The 30-year-old Jamaican won his seventh, eighth and ninth gold medals by claiming the 100m, 200m and 4x100m relay titles for the third Games in succession. US swimmer Michael Phelps, meanwhile, took his medal tally to 28 from five Olympics by winning six in Rio – five of which were golds. The 31-year-old's efforts helped the US top the medal table with 121, their most successful 'away' Games.
The Rio Games brought first medals for Fiji, Jordan and Kosovo – and all three opened their accounts with gold, Fiji in the first Olympic rugby sevens competition. Competitors from Bahrain, Puerto Rico, Singapore, Vietnam and Tajikistan, too, won their first Olympic titles. Twenty-seven world records were set in Rio within the seven Olympic sports that recognize them – archery, athletics, modern pentathlon, track cycling, shooting, swimming and weightlifting.
The IOC announced in June that a group of 10 refugee athletes would compete in an Olympic Games for the first time. The team of swimmers, judokas and runners competed under the flag of the IOC. "We are equal now," said marathon runner Yonas Kinde, who is originally from Ethiopia. "We compete like human beings, like the others."
Brazil wins gold in football beating Germany on penalties. Neymar scored the winning penalty as hosts Brazil beat Germany 5-4 on penalties in Rio to win their first men's Olympic football gold medal. The game finished 1-1 after extra time, with Neymar's first-half free-kick cancelled out by Max Meyer's strike. In front of 78,000 at the Maracana, Brazil got a measure of revenge as they finally won the Olympic title after losing in the finals in 1984, 1988 and 2012. Two years ago, World Cup hosts and tournament favourites Brazil suffered their heaviest ever World Cup defeat as they fell 5-0 behind inside 29 minutes on their way to that 7-1 thrashing by the Germans. The capacity crowd created a fantastic atmosphere in the Maracana and got the result they desperately craved.
Rio 2016: Fencing: Ibtihaj Muhammad becomes 1st Muslim African-American woman to win Olympic medal Ibtihaj Muhammad, the first American Olympian to compete in a hijab, exploded for 10 points in her last bout of the match. Russia's biggest scare of the competition was a narrow semi-final win over the United States, who briefly took the lead when Ibtihaj Muhammad, the first American Olympian to compete in a hijab, exploded for 10 points in her last bout of the match. The Americans fell just short against Russia, but earned the bronze with a clinical win over the Italians, following the example of the U.S. men's foil team on Friday. The women painted a diverse picture on the podium with pink, blonde and purple hair, plus Muhammad's Muslim headscarf.
"This is sport. It doesn't matter what hair color you have, what religion you are. The point is to go out there and be the best athlete you can be," said Polish-born Dagmara Wozniak of Team USA. "We're the best explanation of what America is: a mix of so many different cultures and races and everything all together."
The four fencing medals for the United States are second only to Russia so far, a testament to the growing American presence in a sport long dominated by Europeans. American anchor Mariel Zagunis took her fourth Olympic medal and has now medaled at three Games, a new U.S. fencing record.
'I feel like it's a blessing to be able to represent so many people who don't have voices, who don't speak up''. Ibtihaj Muhammad, ranked eighth in the world in sabre, beat Ukranian Olena Kravatska 15-13 in her first match before falling to France's Cecilia Berder 15-12 in the round of 16.
The third day of the Rio Games featured a couple of notable firsts — Rafaela Silva captured host Brazil's first gold medal of the Rio Games and fencer Ibtihaj Muhammad became the only American ever to compete in the Olympics wearing ahijab (a veil that covers the head and chest). In the women's sabre tournament, Ibtihaj Muhammad, sporting a hijab, was a winner in her opening bout before bowing out. A New Jersey native, who started fencing in part because the uniform allowed her to adhere to the tenets of her faith, Ibtihaj Muhammad also competes in the team event later this week.
Ibtihaj Muhammad, ranked eighth in the world in sabre, beat Ukrainian Olena Kravatska 15-13 in her first match before falling to France's Cecilia Berder 15-12 in the round of 16. "I feel like it's a blessing to be able to represent so many people who don't have voices, who don't speak up," Muhammad said. "It's just been a really remarkable experience."
She became an instant star when she qualified for her first Olympics earlier this year. And she embraced the spotlight, which helped make her an unlikely face of the U.S. team given how little publicity fencing typically receives. Brave Ibtihaj Muhammad's example can help and encourage Muslim women to come out to participate in sport events and whether they get medals oar not they should continue to be active in sport life but in Islamic way.
Earlier an Irani origin girl representing France was playing tennis by covering her legs and thighs but alter the Tennis association banned her from playing tennis in Islamic way.
That is cruelly sad.
Shooter Kim Rhode becomes first sportswoman to win six medals in six consecutive Games
American shooter Kim Rhode won the bronze medal in women's skeet shooting on Friday, an honor that put her in an elite record-holding group of just five other athletes who have won a medal in six different Olympic Games. The Californian and three-time shooting gold medalist also became the first sportswoman in history to win medals in six consecutive Games.
And she may not stop at six. Regardless of her health challenges, Rhode vowed to be back for the 2020 Games in Tokyo and if her hometown of Los Angeles wins the bid to host in 2024, she said she would have to compete there too. Despite all the cheer, she came perilously close to falling short of the sixth medal in tough conditions at the Olympic Shooting Centre in the hills outside Rio de Janeiro. After a tense shoot-off for the bronze with China's Wei Meng, Rhode was overcome with emotion, as her husband and young son shouted from the stands.
Rhode has suffered from a string of health setbacks over her 27 years in competition, including shoulder problems, complications from pregnancy and most recently a bad hip. Three doctors told her to give up shooting as a teenager. She reveled in the presence of her son, Carter, holding him during interviews with her sixth medal around her neck. The American won gold medals in double trap in her first Olympics in Atlanta in 1996 and in 2004 and in skeet in 2012, the most in women's shooting at the Games. She added bronze in women's double trap in 2000 and silver in women's skeet in 2008.
The Rio Games, the first in South America, also mean that Rhode has won a medal on five continents. Rhode often fields questions about gun control and the powerful pro-gun lobby, the National Rifle Association, with whom she started competing in rifle shooting at the age of 10.
Strong Chinese Badminton Wall at Rio Olympics
China is back with a big bang. China's CHEN Long [2] defeats Malaysia's LEE Chong Wei [1] in a convincing manner in direct sets. Score: 21-18, 21-18.
LEE Chong Wei has been playing extremely well these days and has own literally every tournament he participated. He returned to courts after completing his ban for some itme  for doping  charges and he had lost his ranking but after his return he has been consistently  improving his  standing and he was sure to get the  Olympics gold this time but the Chinese player with his effective hits thwarted his legitimate ambition.
LEE Chong Wei is involved in Indian joint badminton exercises like the IPL and has been the star player thee where China has refused to take part, thereby refusing to share its techniques with other players. However, the women players, who have been reigning for years, clinching the top medals   performed not fairly  well at Rio. .
In fact, the China's CHEN Long -Malaysia's LEE Chong Wei was the last match in badminton which China won, putting at rest all fancies of others about an end of Chinese domination in Badminton because woman title has been won by Spaniard Marlin Carolina. .
A great tournament to watch!  Strong Chinese Wall. Even real sports, America's Asia pivot sinks in Rio. Strong Chinese Wall. America's Asia pivot sinks in Rio.
Some bitter issues 
Russian athletes banned
Many Russian athletes were banned owning to doping results and the cases are still pending about a few fake charges.  The ban affected the fortunes of Russia and that showed in the medal tally where Russia fell not only behind USA but also below UK and China.
IOC bans Egyptian judoka Islam El Shehaby for not shaking the blood stained hand of Israeli player
El Shehaby, who was sent home by his own team, lost the fight on Friday and was reprimanded by the IOC for his actions. Egyptian judoka Islam El Shehaby has been sent home from the Rio Olympics after refusing to shake the hand of Israeli Or Sasson following the end of their bout, the International Olympic Committee said. El Shehaby, who was sent home, he lost the fight on Friday and was reprimanded by the IOC for his actions. The athlete said he did not want to shake hands with an Israeli, nor was he obliged to do so under judo rules, but the IOC said his behavior went against the rules and spirit of the Olympic Games and the rules of fair play. "The President of the National Olympic Committee issued a statement saying they respected all athletes and all nations at the Olympic Games," the IOC said in a statement. After Sasson defeated El Shehaby and the pair retook their places in front of the referee, the Egyptian backed away when Sasson bowed and approached him to shake hands.
When called back by the referee to bow, El Shehaby gave a quick nod before walking off amid loud boos from the crowd. "The Disciplinary Commission (DC) considered that his behaviour at the end of the competition was contrary to the rules of fair play and against the spirit of friendship embodied in the Olympic Values," the IOC said. "The DC issued a 'severe reprimand for inappropriate behaviour' to the athlete. It noted … the shaking of hands after a match is not in the competition rules of the International Judo Federation." "As well as a severe reprimand, the DC has asked the Egyptian Olympic Committee to ensure in future that all their athletes receive proper education on the Olympic Values before coming to the Olympic Games," the IOC said.
El Shehaby, 32, had reportedly been pressured by fans on social media not to show up for the match with his Israeli opponent, who went on to win bronze in the +100kg category, because it would shame Islam. This is not the first time athletes from Arab nations or Iran refuse to compete with Israeli athletes in Olympics or other international competitions.
At the 2004 Athens Olympics then Iranian world champion Arash Mirasmaeili refused to fight Israeli judoka Ehud Vaks, earning praise back home. "Shaking the hand of your opponent is not an obligation written in the judo rules. It happens between friends and he's not my friend," El Shehaby said after his bout."I have no problem with Jewish people or any other religion or different beliefs. But for personal reasons, you can't ask me to shake the hand of anyone from this State, especially in front of the whole world," he said. Egypt was the first Arab power to make peace with Israel, in 1979, but the treaty remains unpopular among many Egyptians.
Badminton RIO: Why did Marlin Carolina lose first set?
Marlin Carolina, world number one in badminton, played well and was ahead of her opponent sindu in the first set in the first half and throughout but it appears she suddenly she loosened her grip and let sindu take the first set because she knows she could get other two sets and win the title
Over confident Marlin but she has a valid point. Maybe, Marlin thought of not to hurt Indians who take her in the IPL badminton, and let saindu win the eifrst set. Or she did not want to lose but only tried to let her make some points and wanted to take the first set by attacking aggressively towards the end but that did not happen and Marlin Caronin she lost.
India is going according to its strategy of wooing world players in joint sport exercises like IPL to make adjustments in tournaments. Ok. It is working well for India. While India is making strenuous effort to get some medals by spending huge resources and on players and others, Pakistan and Bangladesh are not to be seen anywhere in Rio. What a shame! Now Indian governments will have to somehow celebrate the two medals they have managed at Rio as their own by offering all awards and huge money perhaps including Bharatratna to them. Indian media lords think they have finally managed two medals.
But world powers would continue to ignore India. How can USA consider India strategic partner even if that means US agent in promoting American interests. However, USA would not ask Indi and Pakistan to quit Kashmir. How would Kashmir and Muslims matter to Washington when Muslims and energy rich Arab nations are being targeted d for their resources? Kashmir has no oil or gas or any other valuable "deposits" which could impress the Americans. .
Marlin took the second and third sets very easily and rather calmly, happily and it would not have been difficult for Marli to take the first set as well and win it without going for the third set. OK she won it as she deserves it more than anybody else in badminton.
Why this India's color hypocrisy?
India uses all possible colors and combinations except blue in order to win sport points but when they win once they quickly use the blue color dress to wrap themselves in to show that blue they cannot shed permanently. If they lose they become too small and look totally depressed. At times, they behave well if they lose.
Why this hypocrisy, India? Shutter sindu won a medal on Aug 19 ar Rio by using yellow color ( of Australia) but when she won it she quickly wrapped herself in blue color for a photo shoot. Why this hypocrisy? Please shed hypocrisy and arrogance on the court. Be normal and cultured.
Indian shutter became normal and nice only when she lost to world number one Spaniard Marin Caterine who has driven the deadly witch off the possessed Sinddu. When she lost the final she became normal. Height is her advantage and the cause for the Chinese and Taipei players who took the Indian lightly. they lost because they did not realize they neglect playing with the required seriousness against a possessed and charged Indian player who out of blue became strong ( what was the secret? bribed gods?) .
Sindu is likely to fail hereafter. Her tricks are exposed.
Of course now they all know the secret as Carolina Marlin trimmed Sindu's problem, making her become normal. For this special treatment service, Carolina Marin should be given an award by India. Not necessarily Bharatratna or next best award but at least a Khelratna. Why a few Rio players develop fits if they win? And they become totally demoralized and silent if they lose. Stupidity!
A couple of participants behave rude and arrogant as they keep winning games in tennis and badminton, etc, Players like Nadal and many Indian players like Sindu top that list of funny characters. Maybe that is just a funny and non-sensical strategy meant for whatever reasons upset strong opponents. But that looks very ugly, immature and dirty from international players if they behave like little kids.  Look at the way Sindu behaves, She even gets fits and roams like a wounded animal when she gets a point. She was more interested in cash prizes and awards than really winning a medal. But that strategy failed when the opponent plays sensibly. In Olympics she is too ugly.
There are too many players who show humility and pleasantness as they win pints. Why can't Indians learn from the positive players m instead of unruly likes of Nadal who, if wins a pint, becomes arrogant and beasty?
Too bad for Olympics 
But for India, spending huge rare resources on sports and entertainments like cricket in order dominate the world scene,  had expected as many gold medals as possible but could not get even one, she, defeated by Spaniard player finally,  is too big- bigger than even PM and President of India.
So, neither the strategic partnership with USA nor strenuous efforts to dominate world sports have made any real progress. Third world cannot become super power; howsoever it tries shuttle diplomacy all the time.
However, India, with wounded feelings, being fueled by the media lords, would never learn anything. Bu tone of the positive outcomes of the Rio defeat is  its decision to discuss the Kashmir issue seriously and try to solve it sincerely. Agitation in Kashmir has forced India Home Minister Rajnath to visit Sri Nagar to discuss with leaders there.
The IOC needs to put in place the ethical behavior code while playing for every player and without leaving the matter to individual organization of sports, like tennis and badminton, etc to allow misbehavior.
Also, since Olympics is considered to be the most important sport event to establish merits of players and nations,  IOC needs to check if schedule of any sport event or during the competitions is controlled by any country for its own advantages. IOC needs tie sure fair play and genuinity in competitions.