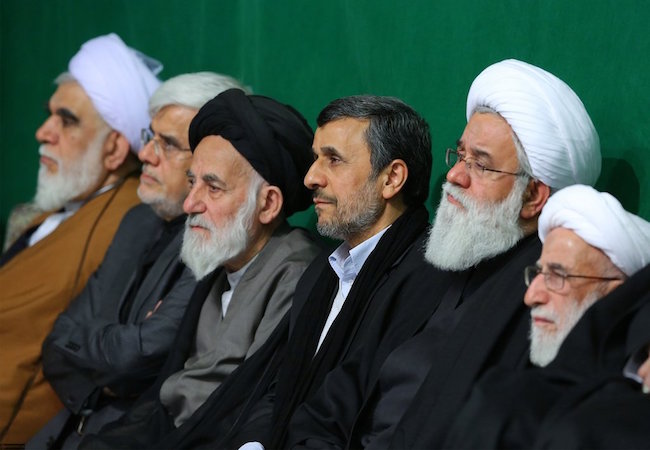 By Dr. Abdul Ruff
Iran is going to presidential poll in May 2017. Former Iranian hardline president Mahmoud Ahmadinejad who held office from 2005 to 2013, has announced that he will run in the spring 2017 presidential election, is expected to launch his comeback campaign. He
Mahmoud Ahmadinejad, who is trying to make a political comeback, signaled his desire to return to politics in April and attacked current Iranian President Hassan Rouhani as incompetent.
While French leaders Sarkozy may not face stiff resistance from the party and inner circle, Ahmadinejad might find his fight for presidency this time may not be easy as Iran has signed nuclear deal with USA and now seeks a "soft" diplomacy to reshape its economy. And strengthen security to repel the challenges from Tel Aviv regime. Moreover the Guardian Council in Tehran, according to those who oppose him, may not approve his candidacy for presidency again.
Senior conservative cleric Gholamreza Mesbahi-Moghadam has said that Ahmadinejad lacks the qualifications needed to make a comeback, claiming, "Ahmadinejad is not competent enough to return to power. He has ruined his image among many distinguished figures and this has pushed him to the sidelines."
This is just a hind but cannot stand for close scrutiny as former strongman has closely knit links everywhere since his assertive diplomacy and defiance to US-Israeli tactics and dictates gave Iran positive image and foes tough challenge.
Following the drubbing they received in February's parliamentary elections, the hardliners are now pinning their hopes on Ahmadinejad, convinced that only he can prevent reformist Rouhani's re-election.
While it is still speculative if the incumbent Prescient Rouhani would stake his claims to contest again, Ahmadinejad arrival would make him rethink his intent, if any, of contesting for the Presidency again. – .
Ahmadinejad appears to be more active by the day. His many provincial visits and speeches have even prompted objections from some officials within the government of President Hassan Rouhani. Thus, it seems that Ahmadinejad has not given up on pursuing his goal of a political comeback — especially since some of his comments point to hopes for the early demise of the Rouhani era. Speaking recently at a gathering of his student supporters, Ahmadinejad said, "In the coming months, the pressures of public opinion and inefficiency will rise so much that Rouhani will leave the Cabinet before the month of May."
But the Interior Minister Abdolreza Rahmani Fazli stated, "Ahmadinejad has been warned that the launch of any political campaign before the official election period is illegal. He needs to have legal permits for his gatherings, not to mention that the content of his speeches is controversial and has the tone of an election campaign. Still, Ahmadinejad continues to ignore these warnings and suggestions and is forging ahead with his activities, just as he did during his time in office.
Competition
Despite presidential elections still eight months away in Iran, potential candidates have been making their moves early as they take on the challenge to deseat the country's incumbent Hassan Rouhani. Top military commander and head of Iran's Revolutionary Guards Quds forces Qassem Soleimani and former President Mahmoud Ahmadinejad were among the more familiar names.
Denying the rumors, Soleimani has ruled out a run for the presidency. In a statement to Iranian media this week, he accused Iran's enemies of spreading propaganda and attempting to sow seeds of discord among the nation of Iran. "I am a soldier of Velayat (the guardian referring to Supreme leader Ayatollah Khamenei) and the Islamic Republic regime and the brave population, which I value more than my own life. God willing, I will remain in this role of soldier until the end of my life," a statement published by Iran's semi-official Tasnim News said.
Referred to as the "Shadow Commander" by the West, Soleimani has emerged as 'the face' of Iran's military efforts in Iraq and Syria, as photographs emerged of him on the front lines of the battle against ISIS. Footage of him appearing with Shiite militia in Iraq and Hezbollah units in Syria have spread virally on social media among his fans. Iranians credit Soleimani for saving Baghdad from falling into the hands of ISIS, and he recently has spoken out on several social and domestic issues, beyond the scope of his military responsibilities, leading some to believe he is laying down the seeds of a political campaign,
Despite the lifting of international sanctions following the landmark nuclear deal between world powers and Iran last July, Soleimani remains under a UN-mandated international travel ban, while the USA has maintained its terror designation of Iran's IRGC Quds Forces.
Choice
Considering that Rouhani would be in the fray again, Ahmadinejad knows that he is the only person who can challenge Rouhani. He also knows that the Principlists have no other candidate except him. Former nuclear negotiator Saeed Jalili and Tehran Mayor Mohammad Bagher Ghalibaf have already faced defeat against Rouhani in the previous vote. They do not have the ability to compete against Rouhani. Also, Ahmadinejad hopes that as the 2017 election nears, he can convince the Principlists to support him
US strategists are obviously deeply worried now with perspective of Ahmadinejad returning to power and ask how can Ahmadinejad who won two presidential elections by relying on Principlist support possibly hope to make a comeback amid blunt criticism from the Principlists? Former conservative lawmaker Ahmad Tavakoli wrote over Telegram back in April, "There are sufficient religious and legal reasons to disqualify Ahmadinejad." Beyond the Principlist opposition, Ahmadinejad also faces the challenge of getting past the Guardian Council's vetting of presidential candidates.
Saeed Laylaz, the deputy head of the moderate Executives of Construction Party, said they hope Ahmadinejad and everyone else are qualified for the election because we are principally against the disqualifying of candidates. His foes argue that Ahmadinejad's presence would l cause division within the Principlist camp and remove the chance of a Principlist consensus; while it will strengthen solidarity among the Reformists surrounding Rouhani.
Indeed, speculation within Principlist circles points to the absence of a new and powerful candidate who can compete against Rouhani in the May 2017 presidential vote. In past elections, the conservatives sent all their other potential candidates to the field — and all have met defeat. Ghalibaf has run for president twice: against Ahmadinejad in 2009 and against Rouhani in 2013. Jalili, the favored candidate of radical Principlists, secured only 11.3% of the vote in 2013, coming in third. Meanwhile, parliament Speaker Ali Larijani ran in the 2005 presidential race, but opted for a seat in parliament after receiving less than 6% of votes. Notably, Larijani has close ties with Rouhani and is unlikely to challenge him in the next presidential vote.
It may be that the Principlists' main problem with Ahmadinejad is his former chief of staff, Esfandiar Rahim Mashaei, a man whose religious beliefs have come under harsh criticism by the more traditional members of the Principlist camp. Mashaei's divergent viewpoints have been so persistent and prominent that when Ahmadinejad appointed him as his chief of staff for the second term of his presidency, the supreme leader officially objected to the move. The supreme leader once reportedly gave Ahmadinejad a letter asking him to remove Mashaei from the post.
But Ahmadinejad did not abide and thus forced the supreme leader to make the letter public." But Ahmadinejad's response was to give Mashaei 18 new posts and make him even more powerful than chief of staff."
Ahmadinejad
Former President Mahmoud Ahmadinejad, sure of support of Iranians and Spiritual leader is pressing on with his attempts at a political comeback as he aims to upset the country's so called 'moderate' regime responsible for the landmark nuclear agreement with the West.
Ahmadinejad, who led Iran from 2005-2013, was criticized domestically for his economic policies and left Iranian politics with record low ratings after serving two consecutive terms, the maximum permitted under Iran's constitution. Internationally, Ahmadinejad's policies have been described as isolationist, as a vociferous supporter of Iran's controversial nuclear program and repeatedly calling for the annihilation of Israel. Ahmadinejad's harsh words and aggressive policies led to frequent spars with the West as well as and with Iran's neighbors.
In June 2009, Ahmadinejad's reelection victory was called into question by USA and its supporters in Iran who flooded the streets of major cities in the so-called Green Revolution; an uprising led by social media-savvy Iranians, obviously instigated by USA and Israel to destabilize Iran. But they failed. President Obama and other Western leaders came under scrutiny for months to follow for not throwing support behind the protestors in what was deemed a "missed opportunity" for regime change by removing or killing President Ahmadinejad, or at least significant policy and behavioral change by Iran's government to serve American causes.
Despite insisting that he would retire from politics at the conclusion of his second term, Ahmadinejad has remained politically active and recently made headlines when he wrote a letter to President Obama demanding the return of Iranian assets seized by the USA to compensate victims' families of the 1983 bombing of the US Marine barracks in Lebanon. The attack left 241 Americans dead, and in 2003 a US judge found the Iranian government "guilty" of ordering the attack which was carried out by Hezbollah, a terror group funded by Iran's government.
Ahmadinejad remains a popular choice among leading hard-right conservatives who remain opposed to Iran's nuclear agreement with the West. For some, he is the only one who can truly mount a challenge to the 'moderate' rule of Rouhani.
Ahmadinejad's path is sure to be filled with many challenges, considering that he faces opposition not only among much of the Reformists, but even some figures within his own Principlist camp. Western powers that had tough time during his previous tenure, would feel unease the prospects of his return to power and work to see he is not Iranian president again.
For now, it is uncertain whether the Principlists will be willing to accept another defeat to Rouhani or be ready to succumb to Ahmadinejad and his many challenges. Or perhaps Ahmadinejad's prediction will come true and there will be no Rouhani in the May 2017 vote.
The presidential elections still eight months away and many things could take place during the rather long period.