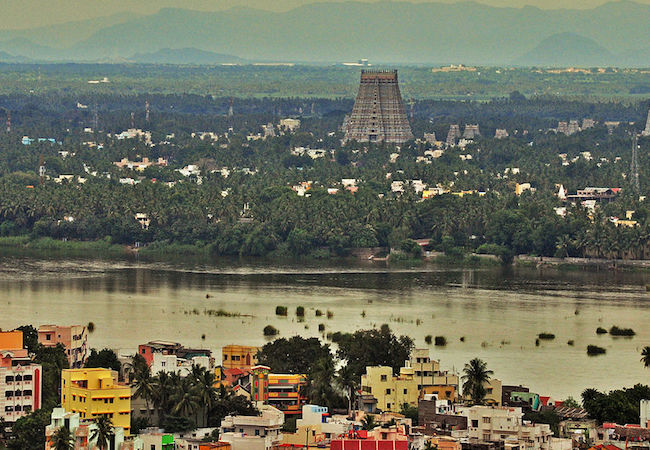 By Dr. Abdul Ruff
Supreme Court directs Karnataka to release water for Tamil Nadu, asks govt to constitute Cauvery Water Management Board.
In a historic judgment over the long pending Cauvery water dispute between Tamil Nadu and Karnataka, Indian Supreme Court today directed Karnataka state to release enough water to Tamil Nadu for agricultural purposes and as such Karnataka will have to release 6,000 cusecs of Cauvery water per day to Tamil Nadu from 21 till 27 September.  The Supreme Court declared the judgment on September 20 while raising the quantum fixed by the Supervisory Committee by 3,000 cusecs.
A bench of Justices Dipak Misra and UU Lalit has also directed the government of India to constitute within four weeks the Cauvery Water Management Board (CWMB) as directed by the Cauvery Water Disputes Tribunal (CWDT) in its award.
Tamil Nadu and Karnataka have a very different reaction to SC verdict on Cauvery issue. Political parties and farmers in Tamil Nadu termed as historic, the Supreme Court verdict directing the Centre to constitute Cauvery Management Board and urged the Union government to set up the body sans delay. The response was completely different in Karnataka with CM saying the order is unimplementable. Tamil Nadu Chief Minister Jayalalithaa came in for praise for her pursuit of legal measures over the Cauvery issue, which eventually led to the ruling. President of Tamil Nadu All Farmers' Federations, Pandian said that the farmers are now confident that the Cauvery Board would order release of water to farmers in accordance with the needs and without any political interference.
Farmers wing of CPI (M), Tamil Nadu Vivasayigal Sangam urged the Centre to implement the order without delay and the state government to make efforts to get additional quantum of water as 6,000 cusecs will not be sufficient. PMK chief Ramadoss said, "though the Supreme Court direction to release 6000 cusecs of Cauvery water to Tamil Nadu per day from tomorrow till September 27 is not sufficient, the ruling to constitute CMB is historic and we welcome it whole heartedly." He said the order has given joy and confidence to lakhs of farmers that now "doing farming is possible in Cauvery Delta districts of Tamil Nadu." He wanted the Centre to take immediate steps for setting up CMB. MDMK chief Vaiko said the Apex Court through its order has upheld the rights of Tamil Nadu on the Cauvery waters. He too demanded the Centre immediately constitute Cauvery Management Board and Cauvery Water Regulatory Authority. All India National League Party chief S J Inayatullah said the "verdict is a huge victory for Chief Minister Jayalalithaa who has been in pursuit of a legal struggle on the issue," and greeted her for the apex court ruling.
Reacting to the SC verdict, Karnataka CM Siddaramaiah said Karnataka had placed certain facts based on ground reality before the Cauvery Supervisory Committee but it still passed an order directing the state to release 3,000 cusecs per day between September 21 and 30.Noting the committee was constituted by the apex court only, he said it had given a direction on September 5 to Tamil Nadu to approach the committee and also asked Karnataka to file a response to the neighbouring state's plea. Terming the Supreme Court's order directing Karnataka to release 6,000 cusecs of Cauvery water to Tamil Nadu till 27 September as "unimplementable", Chief Minister Siddaramaiah has called for a Cabinet and an all-party meeting on Wednesday to chalk out the next step. "….the Supreme Court has passed an order, since we do not have water, it is very difficult to implement it. It is an unimplementable order," he told reporters here.
Meanwhile, people of Karnataka, especially in Mysore and Mandya districts have resumed their agitation now against the Supreme Court verdict. CM Siddaramaiah has appealed to the people, especially to people from Cauvery basin to maintain peace; they should not get carried away by emotions. Government is committed to protecting the interest of the state, its people and its farmers. "Everyone should cooperate…"
In recent months Tamil Nadu and its neighbor Karnataka have hurled mutual accusation about the water issue. A citizens' group led by entrepreneur Kiran Mazumdar Shaw moved the Supreme Court seeking intervention in the ongoing legal battle between Karnataka and Tamil Nadu over distribution of Cauvery water and protection of drinking water rights of residents of Bengaluru and surrounding districts.
Noting that it was a dispute between two states, an apex court bench headed by Justice Dipak Misra said it would decide whether the citizens' group can be allowed to intervene in the matter on the next date of hearing. "We will hear you on 27 September, the next date of hearing of the main petition," the bench, also comprising Justice U U Lalit, said.
Senior advocate Harish Salve, appearing for Bangalore Political Action Committee (BPAC) said the citizens of Bengaluru need adequate drinking water and their right to life needed to be protected by this court. Senior advocate Shekhar Naphade, appearing for Tamil Nadu, opposed the submission saying these kinds of pleas cannot be entertained in an inter-state dispute of this nature. "That the present application is being filed by the applicant in the aftermath of the violence that took place in the city of Bengaluru, since the applicant is of the belief that there are extra-ordinary circumstances in the city and its adjoining areas which needs to be addressed through the intervention of this Hon'ble Court," the BPAC plea said.
The annual requirement of Bengaluru city alone is more than 19 TMC of water to be supplied to the citizens by the authorities of the State of Karnataka. The annual drinking water requirements of the Cauvery basin districts including the Bengaluru is roughly about 26 TMC (approximately)," said the BPAC, in its plea filed that the lack of rainfall is also evident by the reservoir levels in the major reservoirs of the Cauvery basin in Karnataka, which have a huge shortfall of inflows, and thereby the drastic decrease in the storage capacities of the respective reservoirs. "The approximate live storage of Karnataka's reservoirs (Harangi, Hemavathi, KRS and Kabini) as on 16.09.2016 is only 28.77 TMC as against the total drinking water requirements of Bengaluru, Mysuru, Mandya and other Cauvery basin districts which is 26 TMC (approximately)," it said.
River Cauvery (Kavery) originates in Karnataka (as Thalakaveri in Kodagu region) and passes through Tamil Nadu a before emptying itself into Bay of Bengal near Kollidam in Tamil Nadu. Leaders of Karnataka claim entire water of Kavery River but Tamil Nadu uses for centuries and it requires water of the river for drinking and agricultural purposes. In fact, Tamil Nadu depends on rivers of Karnataka , Kerala and Andhra Pradesh.
The apex court has finally asked Karnataka to release 6,000 cusecs of Cauvery water per day to Tamil Nadu from Wednesday till September 27. Earlier, the Cauvery Supervisory Committee had asked Karnataka to release 3,000 cusecs water to Tamil Nadu.