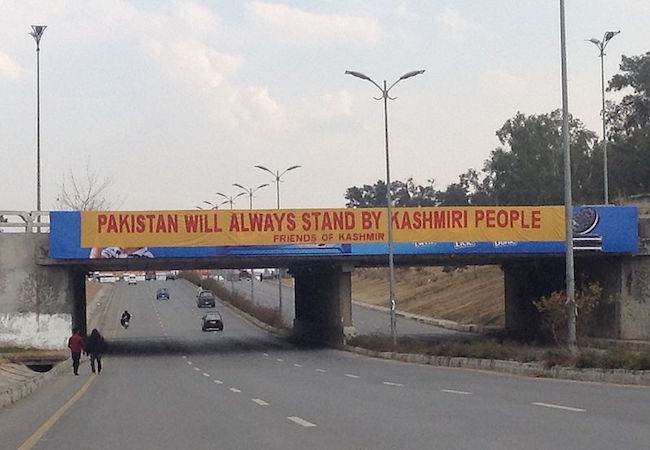 By Sidra Khan
In the words of Muhammad Ashraf, Former Director General Tourism, Jammu & Kashmir, "when a small group of people defy the authority of a state, it is called rebellion but if the entire population stands up, it is a revolution". In the early 2000, a string revolutions in the Baltic states with the name color revolutions took place. Members of color revolution resorted to nonviolent means of resistance which also can be termed as civil resistance. The color Kashmiris have chosen for their civil resistance is green which is deliberately picked as it expresses solidarity with Pakistan. Pakistan is the only state which is most ardent and consistent with its advertisements towards the cause of Kashmir. Pakistan and Kashmir has a symbiotic relationship; one cannot survive without the other.
The recent protests against the illegal Indian occupation in Kashmir have made the Indian to impose months long curfew in Indian held Kashmir. The massive protests and indefinite curfew began when Kashmiri freedom fighter Burhan Wani was allegedly killed by the Indian security forces in a gun fight. Burhan, was the icon of freedom for the people of Kashmiris. His death made the people come out of their homes and rejecting the notion of fear and looking straight in the eyes of danger.
Children as young as 6 years old blinded by pellet guns and mercilessly killed by the security forces in Indian held Kashmir has not been enough for the international conscious to even shed fake tears. International organizations like United nations whose moto when formed was to solve the conflicts prevailing in the world not the conflicts presiding in Europe only. The issue of Kashmir is an elephant in a room which cannot be side stepped or kept at back burner neither the world can keep its eyes shut towards the horrific atrocities happening in Kashmir. The dual standards of the international community can also be visualized that if at all international community passes statements, they do in in such a perfunctory lukewarm manner as if going through motions. Compared and contrasted with Syria, Libya or South Sudan the united nations security council is responsive and proactive. It is a matter of great concern if people of Libya or Syria do not get food and medicine compared to the genocide happening in Kashmir to eradicate an entire race. Kashmiris are treated as orphans. What more is alarming that international community uses two basic prisms to look at South Asia. First being the expedience, international community has its own strategic alliances and a world view in which India is a steadfast ally. The second being the security prism, India and Pakistan as nuclear armed states existing in a delicate balance which should not be compromised. Among these prisms, Kashmir disappears from the international radar.
India on the other hand has espoused an unpleasant strategy of using pellet guns as a force to undermine the peaceful freedom movement whose vow has been taken up by the 5th generation of Kashmir. India's immoral policies not only has hampered peace in the South Asian region but also is a grave threat to the idea of achieving world peace. As mentioned above Pakistan is the most successful supporter of Kashmir cause and will never abandon Kashmir in any situation. Therefore, it is advisable for Indians to come out of their denial as Kashmir will never be part of India and accept the ground realties. Kashmiris demand human rights which is the right of every living being in world. Kashmir is changing and the they will not let any force take their basic human right. The revolution which started after the death of Burhan Wani will not bleed red rather green in color.
As the revolutionary generation of occupied Kashmir are fighting with a force bigger than them, people in Azad Kashmir need to support them morally and politically. Azad Kashmir is not in shackles and should discard the notion of being helpless which a renewed sense of optimism and confidence in their policy. Kashmir will not be given to Kashmiris on a gold platter for the sacrifices Kashmiris have made since decades. Azad Kashmir along with Pakistan should keep the UN and other international organizations engaged consistently. The constant repetition creates diligence and over whelming presence projecting a narrative not confined only in South Asia but in every corner of the world. Today in the globalized world many wars are lost and won in cyber space, the incident of Uri has categorically put Modi under fire by its own people as Pakistani media and analyst gave a quick and substantial response rejecting false accusations of India to divert international attention form Kashmir.
Present situation of Indian held Kashmir can point towards two main things. Firstly, the prevailing circumstances of the streets of Kashmir are sensitive and volatile as there is an over whelming response to gain freedom by the locals against the Indian aggression due to death of Burhan Wani. The second is the Indians are fearful and due to this fear they have imposed an all-out curfew and are trying to suppress the revolutionary wave. In these testing times, Pakistan must expand its full scale political, moral and strategic support to the Kashmiris. The time has come to tell the world that Kashmiris are not terrorist. On the contrary, Kashmiris are sufferers of Indian state-supported terrorism. As said by John F. Kennedy 'Those who make peaceful revolution impossible will make violent revolution inevitable' and the green revolution of Kashmir is inevitable.
Sidra Khan currently works as a lecturer in NUML.