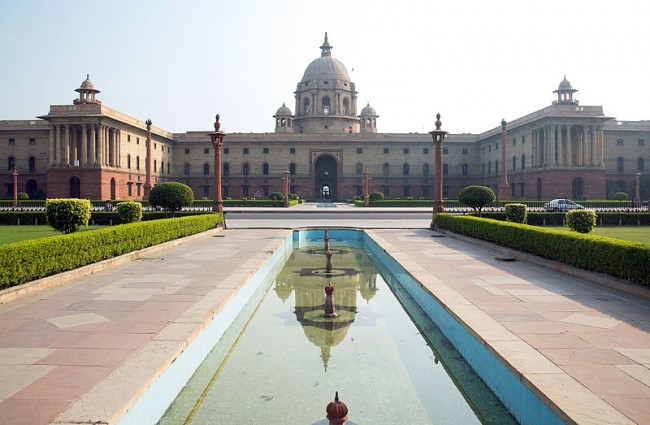 By Abdul Ruff
Indian rulers are good at creating huge wealth for themselves and problems for the people – and they very coolly and safely blame Pakistan for them as their key policy. Indians, on their part, are used to the Indian state gimmicks using Pakistan whenever India is in trouble. One does not know if India is trying to outsmart even the global supper power USA, though it may not be all that easy. However, in case it is so, that would be India's US-pivot.
Demonetization
World attention was fully focused on US presidential poll as Republican Donald Trump was leading on November 08 when Indian premier Narendra Modi announced in the night on Indian TV channels about the state ban of 500 and 1000 currency notes, making life miserable for the people without enough money in hand. While making the announcement to discontinue Rs 500 and 1,000 banknotes, the government had also announced closure of bank branches and ATMs next day. It also announced the launch of newer notes of Rs 500 and Rs 2,000 from November 10.
India has plenty of money but not got locked in banks, houses, offices, and elsewhere, including hidden underneath to avoid taxes to the government and people of India are unable to use them as government of India has banned currency notes of denomination of Rupees 500 and 1000, causing the first ever serious cash crisis in India.
Modi has indeed declared another surgical attack, now on the helpless Indians. 
Demonetization measure is too harsh for the common masses who have very limited resources. The result is people are not buying things, business establishments have no business, as banks allow only 2000 thousand rupees a day for the peole to withdraw or exchange. New rules are being announced complicating the life of common people while the rich and corporates have their own "channels" of money transfer and expenditures.
The BJP government of Narendra Modi abruptly announced a ban of big notes of denominations 500 and 1000 that played huge role in trade and even ordinary business. In fact, high value currencies have ceased to be legal tender from 8 November midnight when PM Modi announced the new financial measures. There has huge rush since 09 November at the bank branches as customers throng to deposit their Rs 500 and Rs 1000 notes or exchange them with Rs 100/50 notes.
The Modi government explains the measures as being necessary to end black and bad money floating along with the genuine notes, causing inflation, whereas experts say corruption is the cause of inflation and poor quality of life of common people. Whether or not PM Modi would be able to contain the dirty cash and make the value of Indian money strong, people are suffering a lot, while the regime has not been able to control the corporate funding of elections, thereby bring Indian democracy closer to American.
Demonetization effect
The recent demonetization of currency notes reveals the sad state of our public discourse on government policy. The combination of braying anchors on TV channels and opinions on social media show how to mangle a discourse. Demonetization of high denomination currency has created big problems to common people and law and order situation is being created with police being deployed outside banks to control the queue. The issue has reached the parliament. The Winter Session of Parliament opened on Nov 16 with a united Opposition mounting an assault on the government over demonetization, saying it had led to "economic anarchy" in the country. The opposition parties also demanded a probe by a Joint Parliamentary Committee (JPC) on the alleged selective leak of information before the official announcement. Joining ranks over the raging issue, parties like Congress, JD(U), RJD, SP, BSP, Trinamool Congress, Left and AIADMK slammed the government, particularly targeting PM Modi, for making Rs 500 and Rs 1,000 denomination notes invalid and said the "ill-timed" and "ill-conceived" step had severely hit the common people, the farmers and the poor.
While Lok Sabha was adjourned for the day, the seven-hour-long debate in Rajya Sabha, however, remained inconclusive. The debate in Rajya Sabha continued till 6 pm as there were repeated demands by the opposition members that the Prime Minister should be present in the House to listen to the members. Leader of Opposition in Rajya Sabha Ghulam Nabi Azad said PM Modi, who did not come to the Rajya Sabha, should at least be present tomorrow and possibly intervene. During a discussion on demonetization, which was taken up after suspension of all business in response to notices given by a host of opposition members, a scathing attack was made on the government which strongly defended the step as one taken in national interest and to end corruption and black money, which it linked to terror activities in the country.
Opposition attack on Modi in parliament
In an all-day debate in parliament today, opposition leaders like Anand Sharma of the Congress said they are not opposed to the reform, but to what they described as the lack of preparation to manage the cash crunch. The government has emphasized that if the notice for the initiative had been longer, the move would not have been effective. Congress is the major opposition in parliament. Deputy Leader of Opposition in the Rajya Sabha Anand Sharma sought a probe into "selective leakage" of the demonetization move, which he termed a "Nadirshahi farman" (autocratic order). Initiating a debate after listed business was suspended to take up a discussion on the 8 November decision to withdraw old higher denomination currency, Sharma used wit and humor to attack Modi for being insensitive to problems caused to the common man. He asked Modi to state where he got Rs 23,000-24,000 crore, estimated by the International Money Watch Group, for his Lok Sabha elections. He also asked if cheque or credit card payments were made to organize his rally at Ghazipur in Uttar Pradesh a few days ago. Alleging that the information on demonetization was selectively leaked, he said, "Your BJP units have deposited crores (just before the 8 November decision)." Sharma sought to know from the Prime Minister as to "who wants to kill him", referring to the Prime Minister's speech in Goa where he had said that with demonetization resulting in "Looting of their 70 year corrupt earnings, they will destroy me, they can kill me". "There should have been an ordinance for demonetization. But no ordinance was brought. This is a Nadirshahi farman (autocratic order)," Sharma said.
The decision to demonetize high currency notes was leaked to a select few. Secrecy was not maintained on this issue. It was published in a Gujarati newspaper long back and even other newspapers wrote about it," said Sharma. "There should be a probe into the selective leakage of information," he said, asking: "What did the government do to prepare for effective implementation of the policy." He also sought to know from the government which law gave it the right to impose limits on withdrawing money from peoples' own accounts. "An atmosphere has been created by the government where questioning them has become a parameter to decide one's nationalism," said Sharma. He sought to know from the Prime Minister as to from where the "15 thousand crore rupees spent on your mega election campaign come from". "Did you pay for your recent Ghazipur rally through credit card," Sharma said mocking the government for asking people to use plastic money for day-to-day expenses. After withdrawing Rs 500 and Rs 1,000 currency notes, restrictions were placed even on foreign tourists who could not get their currency changed.
The Modi government rejected as baseless the opposition charge that there was "leakage" of the 8 November decision that benefited BJP, and said everyone was taken by surprise which is why there are "initial" problems. The government argues that the honest tax payer is being rewarded as he does not have to worry about his cash deposits. For once the honest tax payer is in a privileged position which is rare and shocking for him. Finance Minister Arun Jaitley had informed Parliament in August that fake currency was 0.02 percent of the total currency in circulation. If 0.02 percent by government admission is counterfeit currency, how can that be made the base to remove 86 percent of currency in circulation. An undeclared emergency has put common people in grave inconvenience, he said while crime money, ill-gotten wealth and that accrued through corruption or tax evasion is black money. One wonders if money in the market, or in households or with farmers, workers and employees was also blackmoney.
Key opposition leaders
BSP chief and former UP chief minister Mayawati demanded the presence of the Prime Minister in the House to hear out the Opposition parties and address their concerns. Mayawati questioned the government's preparedness for the demonetization of high-value bank notes, accusing it of spending the last ten months on settling the black money of its people. "The government has said that they spent ten months preparing for this decision. Ten months was a long time to prepare. If they were serious about it, they would have prepared well for all the problems that people are facing today." "If the government had spent ten months preparing for it, then why do they need another 50 days? There is something fishy."
While the masses are in pain, PM Modi keeps taking after creating a national crisis and Mayawati said he must be sleeping after taking pills, adding that the poor and the middle classes were the worst sufferers. "It is an immature decision taken in haste and the whole country feels that is an 'economic emergency'," she said adding that it was like a "Bharatbandi situation."
The hardship is real especially among lower income categories that do not have bank account and need cash for emergencies. Their trouble is painful and affects the society emotionally. There is no justification logical or emotional for this pain. An emotional pain cannot be justified by logic, neither should an economic decision rest on emotional arguments. The reason an emotional justification is pulled in is because of the nationalist fervor or color being given to an economic decision.
The nationalistic line or patriotic one is wrong all it shows is the intellectual drought that TV channels suffer from these days. Their desire to kowtow the government line crosses limits of ridiculousness and borders on stupidity. Though the line is supported by those in the government and is detrimental as it will affect economic decisions in the future. People are not stupid to be swept by such fervor. TD will not reduce or remove corruption. The artifice is high and is the favorite line of criticism for opposition politicians. Especially, as the government is introducing a higher denomination Rs 2000 note and reintroducing Rs 500 and Rs 1000.
To understand, TD by itself does not remove black money or will get rid of it. One, it will help to bring more people in the banking system as they stop relying on cash, particularly traders and jewellers. Second, currency as stock is not going vanish anytime, it cannot go away, Rs 500 and Rs 1,000 are also going to come back. This step is a shock therapy to the system. To put the fear in the minds of people who do not pay taxes or use cash to hide unaccounted income. Clever politicians have tried to explain that black money is no longer kept in cash but in gold and real estate.
Like all criticism it is easy. There is no single step or action that can get India rid of black money irrespective of what politicians say. The reason it is black is because the system is not able to capture it. No country has been able to successfully capture it, which is why tax havens exist. TD affects a small percentage of it, but should this step not be taken because it affects a small percentage. Should we wait endlessly until we find that brahmashastra that will destroy black money. If incremental steps help they should be taken. This shock required surprise, surprise required secrecy that means not many people knew. Therefore the system is still not ready. Hence the hardship! Though the secret argument cannot be used for justifying the hardship as once announced banks need to get their act together. Especially as the nail that has lost the kingdom is the tray in ATM machine that is not able to take a Rs 2000 note.
Yechury, Mamata, Mayawati
CPM leader Sitaram Yechury said that of the 130 crore population in the country, only 2.6 crore have credit cards. He took a dig at Modi and narrated the infamous quote of Queen Marie Antoinette during the French revolution who had said that people can eat cakes when they don't have bread. "We have Modi Antoinette who says 'If you don't have paper, use plastic'". Alleging that a BJP unit in Kolkata deposited Rs 1 crore in Indian's Bank Account on 8 November, he said "prove me if I am wrong." He added that Prime Minister was advertising for Paytm while talking about cashless economy.
The CPM leader said 1/5th of the economy is black economy and people who kept black money invested it in real estate, gold etc. That is why the imports surged and stated that it was this PM only who had stated that 95 percent of the black money is stashed offshore and is in safe havens. "PM is cleaning a pond to kill crocodiles but big crocodiles have survived and only small fishes are dying." He also demanded that corporate funding of all political parties should stop and there should be a system of state funding for elections to which Kurien said "why don't you move a private members bill in this regard."
Meanwhile, seeking immediate withdrawal of dangerous demonetization exercise, West Bengal Chief Minister Mamata Banerjee met President Pranab Mukherjee along with leaders of National Conference, AAP and NDA ally Shiv Sena and submitted him a memorandum voicing serious concern over the crisis arising out of ban on Rs 1000 and Rs 500 currency notes. Mamata said the situation arising out of demonetization has triggered a sort of constitutional crisis. Expressing concern over the problems being faced by the people after the demonetization move, she said "We have requested the President to speak to the government and decide on this and bring back normalcy in the country. President was once the Finance Minister and knows country's situation better than anyone else, he will take appropriate action." Seeking the intervention of the President in the "interest of common people to alleviate the untold suffering, helplessness and financial insecurity that they are facing now", the memorandum said "withdraw this draconian demonetization measure immediately." Pitching for a broader campaign against demonetization, involving various political parties, Mamata yesterday met Delhi Chief Minister Arvind Kejriwal. Both the leaders discussed the crisis for about 40 minutes but Kejriwal reportedly expressed his reservation to come along with Shiv Sena on a same platform.
Leaders of the other opposition parties including Congress, Left parties, SP and BSP did not took part in the protest march. Describing as "dictatorial and draconian step" the government's demonetization move, the memorandum has sought its immediate suspension. "Stop harassment of the common people by lifting of all sorts of restrictions recently thrust upon them," the five-page memorandum said, and added "ensure that supply of essential commodities in adequate quantities be restored in the markets forthwith."
Before beginning the march from Parliament, Mamata said "The march is to save common people from disaster." The ban has affected the normal functioning of the household as there is no money available. However, the Shiv Sena differed on the issue and insisted the government to extend the deadline of accepting the old currency notes. Mamata also said "Those with black money have been supported, but taxpayers are suffering", and added that the situation arising out of demonetization has triggered a sort of constitutional crisis and financial emergency.
Mamata had approached other parties, including Congress and Left, to join the march against the demonetization of Rs 500 and Rs 1000 currency notes, saying "common people are suffering because of it." However, Congress and Left though opposing the demonetization move preferred not to join the rainbow platform created by Mamata against the government. Undeterred by the absence of major political parties she marched ahead. The parliament decried the ban on notes as a move that is punishing the poorest and weakest, who suddenly find themselves cashless.
Positives approach
On a day when the opposition launched an offensive against the government over the abrupt withdrawal of Rs. 500 and Rs. 1,000 notes, there was a rare exception. Nitish Kumar, Chief Minister of Bihar, expressed his "total support" for the ban, introduced last week by Prime Minister Narendra Modi. "Fake notes will disappear," said Kumar in his home state, sharing rare agreement with PM Modi, who has said the reform will attack the roots of black or untaxed money, counterfeited currency and corruption. Eight days after the old notes were cancelled, with just a few hours' notice, banks are swarming with huge crowds desperate to get to the counter or an ATM to collect some new currency. A new version of the Rs. 500 note is still a rarity; the 2000 rupee note is being rejected by many vendors who say they cannot provide change for the high-denomination bill.
Nearly 48 billion dollars have been deposited in banks so far, as people turn in the old notes. And though the lines at banks in cities are long, it is in villages that a crisis is threatened with lakhs who are excluded from the banking system. For now, people can exchange Rs. 4,500 of old notes for new ones – after this swap, indelible ink is used on the customer to ensure it remains a one-time exchange; upto Rs. 24,000 can be withdrawn per week from a bank account; Rs. 4,500 can be withdrawn from an ATM per card per day. The government has repeatedly said it is working night and day to reconfigure ATM machines, which need bigger trays to stock the new currency. The Reserve Bank of India has also confirmed that it has made special arrangements to help villages by dispatching micro-ATMs. The Positives approach of Bihar CM Nitish should be misunderstood for support for the BJP government at all.
Observation
Any government move to harass he people would fail in the long run. Before announcing the end of currency notes 500 and 1000 the government shold have made plenty of currency denominations Rs 100, Rs 50 and new replacement currency denomination Rs 500 etc so that people don't have to suffer notes. The arival fo Rs 2000 only accelerated the popular agony. One is not sure if India would ever become corruption-crime free at all. Indian leaders are simply used to promoting corruption and offering and taking bribes as their "birth right". In fact the government approves corruption as part of Indian democracy and does not put the culprits in jail. Most of the politicians, if not all, are corrupt and promote nepotism.
Moving towards cashless or digit economy maybe fine but even the most developed economies of US or Europe has not achieved that objective yet. If they had, the US central bank would have stopped printing dollars, European Central Bank won't be printing Euros and UK central banks would have stopped printing pound sterling. 
The Modi government should have first ensured the economic security of common people who make majority of voters. The move is without preparedness and people will punish BJP in 2019 during general elections. People of five states going for elections including Manipur, Uttar Pradesh and Punjab will punish BJP.
Of course, RSS-BJP has a hidden agenda which is being pursued by PM Modi in a hidden manner. Cow meat ban, Ghar vapsi ("return" of non-Muslims back to Hinduism), inordinate delay Babri Mosque reconstruction by the courts, etc, point to a larger Hindutva agenda for secular India. The currency ban is also an extension of the same idea. PM Modi fools people saying they would get lacs of money in their bank account once all black moony is "discovered". Earlier, he had promised the people to give lacs of money once back money is recovered from foreign sources but nothing is forthcoming, though apparently a lot of money seems to have flown into Indian government because it does not want to keep its word and give money to people just like that. The I opposition leaders have not raised the issue. .
The common people, especially the poor and the housewives were put to great hardship through this move and if elections are held today they will teach this government a lesson, he said, adding that majority of women who saved money through household savings were upset with the move. It shows the shallowness of the TV anchors as intelligentsia. It also shows social media has the ability to influence the trajectory of public debate. It does not portend well for a democracy when the crowd is used as the arbiter for policy. The broad segment of the public discourse can be easily drawn as it is shorn of all nuances and can be easily clubbed into segments.
The hardship is real, but griping about it is not an argument for or against TD. An opinion based on hardship is just that a gripe.
The nationalistic and the ideological jingoists are not too different. As both do not see facts they only see political angles to every policy. They are criticising this step because it will not rid India of black money.
Criticism is always the lowest form of intelligence as it is an argument without a solution. Anybody can make it does not take any effort. Just because there an opinion exists does not make it right. Today, social media gives every man the means to broadcast their opinion. But if you have a solution with that opinion it may be just a mite more useful. Otherwise, it is just another voice shouting loudly.
Demonetization move, causing hardship for the common people, is an economic decision that has far reaching ramifications. The hardship caused to people is not the reason temporary demonetization should not be done. Please note it is a temporary demonetization (TD). If the measure is hardship government should not take any step that causes it even it is long term interest of the people. Undoubtedly PM Modi and BJP are now focusing on the assembly poll in UP and next Parliament poll. UP poll results will have impact on the future elections in the country. After the loss of Delhi and Bihar, BJP would be hard-pressed to be seen as the loser of UP also. But BJP has no hopes whatsoever of winning UP state which is now being ruled by the Samajwadi Party (SP) and opinions reveal a plus point for the BSP of Mayawati in UP. If the cash crisis, if not controlled effectively, could lead to a serious economic and financial catastrophe making India a weak nation among third world nations. If the government is unable to tackle the black and other flirty money, that could have serious impact on the future of Indian politics. Unfortunately, entire society in India is being destabilized. What next?