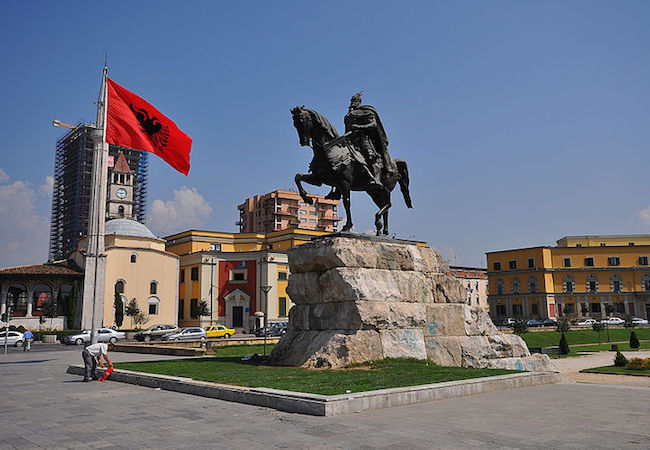 Two weeks ago, walking in Tirana's semi lucid main boulevard, I met for the first time with Maks Velo, a distinguished painter and architect whose art work has genuinely promoted and strengthened Albanian school of visual arts in Europe and beyond. As I cautiously approached Mr. Velo, it was obvious that he thought I was an assailant who was going to ask for his wallet, however the next few minutes enabled me to: exchange a few thoughts with one of the brightest, visionary intellectuals that for many years had been tortured by Albanian communist regime authorities in the infamous jail of Spaç – the very same arrogant and autocratic elite group that is running the country  today with its neo communist sons and daughters -; take a deep glimpse on a discriminatory practice feted by Albanian Government, and its Prime Minister Edi Rama, towards Tirana's top intellectuals and renowned artists that have intentionally been abandoned over the last three years.
Such a short and sweet encounter with Mr. Velo will always be engraved in my long term memory: in his eyes I could see Albania's uncertain future due to Mr. Rama's aggressive marijuana cultivation campaigns; in his face I could see an overwhelming poverty and malnourishment that is reigning above every corner of Albania due to massive corruption scandals led by Albanian Minister of Foreign Affairs and his colleagues for more than three years; on his rough clothing was evident Albania's dark national image that is wandering throughout many European capitals. After our photo snap, I shook Mr. Velo's hand and we both continued walking on the opposite directions; meanwhile I had a hard time to understand the reasons why a world renowned painter – with a US Citizenship – had been neglected and abandoned by a government that is also run by a professional neo-communist painter. I kept asking myself: how is it possible to encounter poverty in the faces of Albania's most representative artists, what is life like in Albania's most remote villages, what are the origins of inhumanity among Albanian politicians whose main goal is to drain out every penny from the national treasury accounts.
Perhaps it is time to encourage International and Albanian Institutions to conduct an in depth investigation on how public funds are handled and administered by the Minister of Foreign Affairs Ditmir Bushati – the son of a former high ranking Albanian Communist official – and his cronies. Based on a number of reliable sources Mr. Bushati has broken the law of procurement when it comes to awarding public funds to a so-called company that is expected to administer a global health insurance policy for Albania's diplomats and their families, while serving abroad.
Mr. Bushati has abused with his legal duties when awarding this contract – without conducting any open, proper procurement practice whatsoever – to Mr. Kadri Morina, (his private mentor and a principal financial sponsor) an illegal procedure that could send behind bars Mr. Bushati and his corrupt associates.
An order signed by his obedient subordinate, Mrs. Blerda Kadzadei (who has recently been cited on reliable Albanian News Media for her corrupt handlings), forces every Albanian diplomat worldwide to take health insurance package from Eurosig whose owner is mention above! There is no single hospital in the globe that recognizes such a health insurance company; however it is evident that Mr. Bushati gets his fair share from this corruption affair.
Albanian Attorney General's Office needs to conduct a serious investigation over this mega scandal, as well as European Union Institutions, national and international public in general deserve candid answers to the following questions: What is the procedure of purchasing health insurance plans for Albanian diplomats and their families while in foreign service abroad?!; what is the amount of money allocated in the health insurance program by the Ministry of Foreign Affairs since 2013?!; what is the price of this health insurance package for every Albanian diplomat and their respective family while living abroad?!; What is the total cost of health insurance allocated to every diplomatic post of Albania?!.
Moreover Mr. Bushati's cousin and Deputy Minister of Foreign Affairs, Mrs. Odeta Barbullushi, as George Soros' student has ample time to undertake extensive entertainment trips and beauty treatment sessions abroad while using government's assets, such as: cars, living allowance, per diem expenses, airfare and paid vacation; at a time when everyone at the Ministry of Foreign Affairs continues to suffer from a prevailing arrogance and lack of respect that characterizes the leadership of Albania's home of diplomacy.
While Mrs. Barbullushi enjoys spa treatments, nail polishing, body massages thanks to the generosity of Albanian tax payers, social segregation in Albania persists, economic discrimination in Tirana is ever more apparent, at the same time drug trade and massive marijuana farming has ruined Albania's agriculture sector, bolstered informal economy, increased the level of weapons trade, is slowly killing Albania's teenagers and certainly its future.
Drug trafficking in Albania generates almost three percent of its GDP and over the last three years has ruined Albania's image abroad. As we view the adamant wounds of Albanian society as well as the permanent stains of corruption and arrogance on most of its institutions, such a gruesome Albanian reality is the legitimate source of sadness in Mr. Velo's eyes.