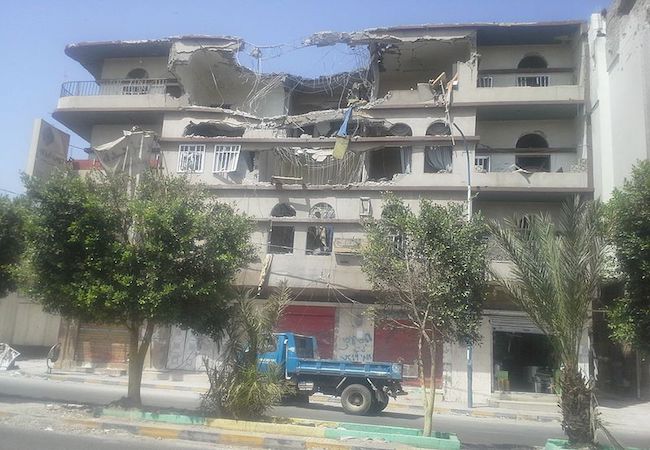 By Mehmood Hussain
Republic of Yemen is situated at south-west corner of the Arabian Peninsula. Its neighboring countries are Saudi Arabia on the north, Gulf of Aden on the South, Oman on the east and the Red Sea on the west. Yemen is the center of oldest civilizations and known for construction of the world first dam. The country encompasses total area of 555,000 Kilo meters and it has more than 100 sizeable islands scattered in the Indian Ocean, the Red Sea and the Arabian Sea.[1] Yemen comprised large mass of Houthi population who are follower of Shia Islam and have very close contacts with Iran. Houthi rebellion movement started in 2011 with Arab Spring and transformed into full-fledged war when they took effective control of Sana'a Yemeni capital. As a result of movement, already weak and transitional government led by President Abd Rabbuh Mansur Hadi lost control over key state institutions. Ultimately President Hadi resigned in January 2015 and fled to Saudi Arabia.[2] This Houthi armed movement largely threaten Saudi Salafist Wahhabi state's interests in region as a whole and particularly in Yemen. To counter Houthi's movement, Saudi led military forces started 'Operation Decisive Storm' on March 25, 2015 with substantial support from MENA region and GCC states. The major objectives of 'Operation Decisive Storm' were to disable Houthi insurgency and to reinstall Hadi as the President of Yemen. Saudi Arabia appear as leader of operation and other Gulf states notably UAE provided large mass of heavy weapons including tanks, armored vehicles, missiles, fighter jets and ammunitions to coalition forces and pro-Hadi fighters.[3]
So far during the whole Saudi air strikes and ground operations, thousands of Yemeni civilians including, men's, women's and children's lost their lives.[4] Contrary coalition forces also met with loss of lives and significant military equipment's. Saudi Arabia and GCC countries forces have lack of operational capabilities and skills which is major impediment to defeat rebellion movement. Despite massive air strikes by the Saudi-led coalition, Houthi rebellions consolidate their control over Sana'a. Instead Saudi Arabia did not stop its air strikes and war in Yemen cost $5.3 billion alone in defense budget during the year of 2015. In addition Saudi Arabia surpassed India in terms of largest arms importer during same year.[5] SIPRI revealed latest data on arms imports and it disclosed that from 2011-15, Saudi arms imports increased at 275% as compared to 2006-10.[6]
As for as war costs increased in Yemen, Riyadh started to sale its assets in European markets. An estimate developed by Reuters that Saudi Arabia is spending $175 million per month for bombings in Yemen and additional $500 million for ground incursions. These unexpected expenditures forced Riyadh to sell off $1.2 billion of its $9.2 billion holdings in European equities.[7] Besides Riyadh denounced budget for 2016 with a deficit of SR 326 billion ($87 billion). In budget it was predicted that expenditures will be 840 billion SR ($224 billion) while revenue will be at SR 513 billion ($137 billion).[8] While Saudi government allocated SR 213 billion ($56.8 billion) only for military and security spending which comprise more than 25% share of total budget. It is important to note here that Saudi defense budget had been rising by 19 % since the Arab up springs of 2011. Beyond budget deficit, Yemen war also have unprecedented impacts on Saudi foreign reserves and only during 2015 Saudi foreign reserves depleted from $732 billion to $623 billion in less than 12 months.[9] Below picture clearly indicate the grave consequences of Saudi intervention in Yemen over foreign reserves.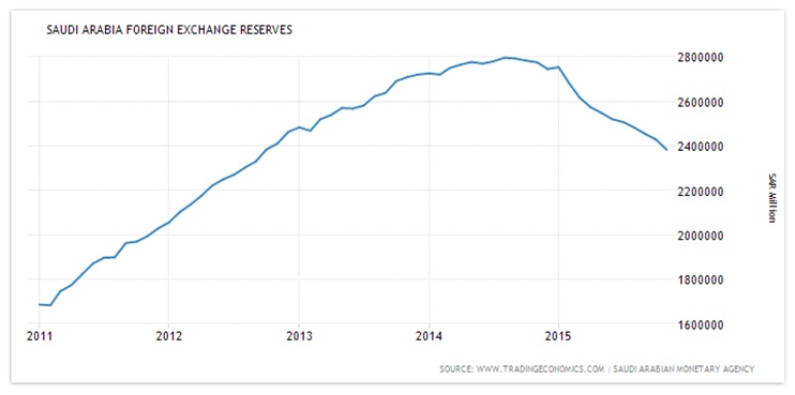 Daunting Saudi economy also have unprecedented impacts on employment generation. Two-thirds of the Saudi population 30.8 million are under the age of 30 and according to official statics unemployment rate is 30 percent. According to Woodrow Wilson International Center for Scholars in 2011 "thirty seven percent of all Saudis are 14 years old or younger and Saudi Arabia needs to create at least 3 million new jobs by 2020".[10]
It is worth noting here that Riyadh faces sharp economic decline after Yemen war in 2015 and decided to respond by implementing far reaching economic reforms. Saudi government increased oil and natural gas prices for domestic consumption. While it also cut off 80% subsidies on public goods and services which have far reaching costs over Saudi lavish living standards. This action spurs the dissatisfaction nationwide.[11]
New economic policy reforms devastate foreign workers who are working in Kingdom from many years. Hundreds of thousands foreign worker's victims for Saudi economic slowdown and Yemen war. As a result, they lost their jobs and their families stopped receiving remittances and this act kicked them in deprivation. Construction companies in Kingdom were largely dependent on government subsidies, but when government denounce to stop giving subsidy it deteriorates the whole structure of companies and most of them bankrupted with a short span of time. Saudi state owned Ogar Company decided to lay off 40% of its staff and almost 90,000 foreign workers lost their jobs. Similarly, more than 3 million Indians, 1.5 million Pakistanis and some 600,000 Nepalese affected by economic slowdown in Kingdom.[12]
In concluding remarks decline in oil prices and war in Yemen have cumbersome impacts on Saudi economy. During 2015, Saudi economy grew at 3.4%, but it is forecasted that it will further decline on 1.1% in 2016-17.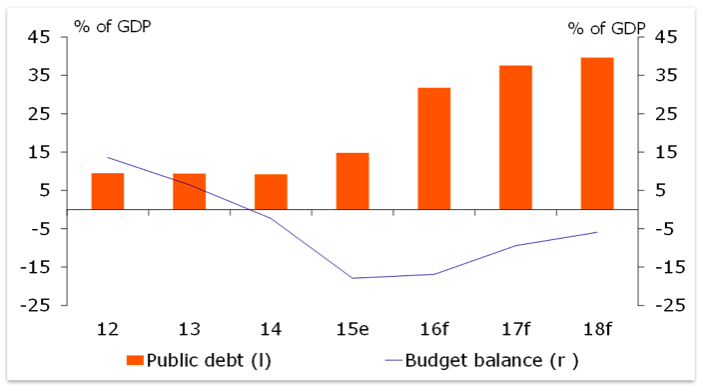 The above graph enlighten that Nominal GDP of Saudi Arabia declined by 13.3% in 2015 while current account turned negative during same year by -5.5% as compared to a 22% GDP surplus in 2012. To escape from economic trap, Saudi government announced economic reforms and longer term vision of 2030. Among new reforms, Riyadh introduced value-added-tax (VAT) to generate revenues and to balance budget deficit.[13] Government also cut down subsidies on fuel and introduced plan for public transport to control domestic oil consumption. Moreover, Royal family cut down public employment and trim salaries of high ranking officials, but these actions will have considerable impacts on social stability and unity of country. If Riyadh want to revive its economic might, it must stop war in Yemen and stop huge spending on security and arms imports. It needs to reform its entire economic and social structure for fast and sustainable economic growth.  Additionally, it must need to transform its economy from oil driven to industry and services driven. This strategy will give new breath to Saudi Arabia and it will stabilize the economic structure of the country.
References
United Nations Organization
Aleksandar Mitreski, Civil War in Yemen: A Complex Conflict with Multiple Futures, Arab Center for Research & Policy Studies, August 2015
Roland Popp, War in Yemen: Revolution and Saudi Intervention, Center for Security Studies (CSS), ETH Zurich, June 2015
Madawi Al-Rasheed, Saudi war in Yemen impossible to win, Al Monitor, October 2, 2015
Times of Israel, Mideast arms sales surging to record $18 b in 2015, with Saudis in lead, April 24, 2015
SIPRI, Asia and the Middle East lead rise in arms imports; the United States and Russia remain largest arms exporters, says SIPRI, February 22, 2016
Faisal Al Naseer, Saudi Arabia Sells Off Wealth Fund as Yemen War Cost Rises, Sputnik News, October 13, 2015
Amal Nasser, How long can Saudi Arabia afford Yemen War, Al Monitor, January 21, 2016
Luay Al-Khatteeb, Saudi Arabia's economic time bomb, Brookings Institute, December 30, 2015
Luay Al-Khatteeb, Saudi Arabia's economic time bomb, Brookings Institute, December 30, 2015
Press TV, Yemen war cost Saudi $5.3 bn: Minister, December 29, 2015
Frida Ghitis, Why Saudi Arabia's Economic Slowdown Is Causing Pain in Far-Off South Asia, World Politics Review, August 6, 2016
Marcel Weernink, Saudi Arabia: reforms are necessary to reduce economic reliance on oil, Rabo Bank, June 7, 2016
Mehmood Hussain is PhD Fellow in International Relations at School of International & Public Affairs (SIPA), Jilin University, China. He also holds a Master's degree in Political Science from University of Gujrat, Pakistan.