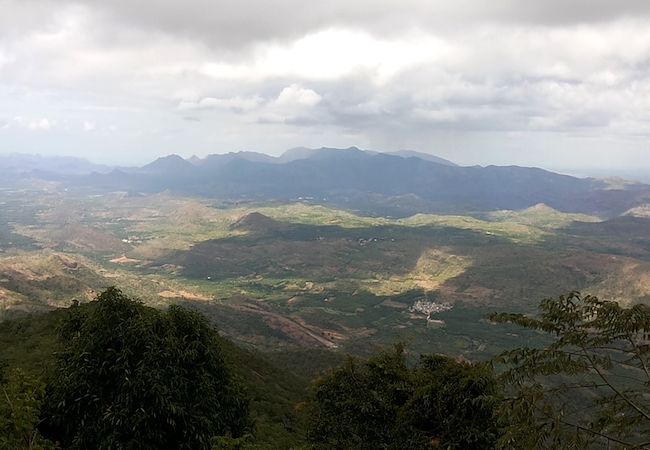 By Abdul Ruff
Much of TN capital Chennai is in dark as electricity is cut. Traffic is dislocated for hours.
It has not rained in Chennai since about 4 pm, a little after Cyclone Vardah hit the Tamil Nadu coast on Monday afternoon making landfall about 15 km away from the capital. But after a one-hour lull, strong winds have started to blow again. The cyclone struck land with a wind speed of 120 and 130 kmph, bringing with it heavy rain that lashed the coast in Tamil Nadu and neighbour Andhra Pradesh all through Monday morning. More than 16,000 people have been evacuated from low areas and four people have died. Schools and colleges in Chennai, Kanchipuram and Tiruvallur will be closed tomorrow.
Many roads in Chennai are water logged traffic collapse. Electricity polls are broken as trees fell on them. At least four persons were killed so far as heavy rains accompanied by high velocity winds pounded the city and coastal districts of north Tamil Nadu on December 12 Monday due to severe cyclonic storm called "Vardah" which began making landfall near Chennai, disrupting land and air transport and throwing normal life out of gear. "The landfall process of cyclone Vardah has begun," the India Meteorological Department (IMD) said. According to M Mohapatra, Additional Director General (Services) of IMD, the "eye" of the Cyclone is 20 kms off Chennai.
Thousands of people were evacuated from the low-lying areas, as the cyclone made a landfall near Chennai. Chennai airport services suspended at least till 9 pm; 4 killed in Tamil Nadu, over 8000 evacuated. As the cyclone struck land, so strong were the winds that glass panels blew off the facade of a five-star hotel in Chennai, while in Andhra Pradesh, an oil tanker tipped over on a highway. The state government has asked people to stay home at least till midnight. All schools and colleges were closed today in Chennai, Kancheepuram and Tiruvallur and private offices were asked to allow staff to take a day off or work from home. The TN administration began clearing roads the moment the rain stopped this evening, with residents pitching in at many places, but it will be a long haul, with many arterial roads still flooded with ankle-high water.
In Chennai, powerful gusts of wind uprooted more than 200 trees and 50 electricity poles, blocking off many localities for several hours as corporation staff and policemen struggled to clear the roads. The electricity board cut power supply in most parts of Chennai for up to eight hours as a precaution.
Over 7,000 people have been evacuated from near the sea in Tamil Nadu and more than 9,400 in Andhra Pradesh and moved to relief camps. Over 9,400 people living along the Bay of Bengal coast in SPS Nellore district of Andhra Pradesh were evacuated to relief camps amid heavy rains due to the influence of severe cyclonic storm Vardah.
Home Minister Rajnath Singh has phoned the chief ministers of both Tamil Nadu and Andhra Pradesh to assure them of the centre's help if needed and to make an assessment of damage. Over 15 teams of NDRF have been deployed in various coastal regions of Tamil Nadu and Andhra Pradesh which are on high alert due to the approaching cyclonic storm. Eight fishermen belonging to Tamil Nadu were rescued from the sea near the Sriharikota High Altitude Range while search was on for ten more persons feared trapped at sea.
The armed forces have been asked to be on standby with the army, navy and air force prepared to be deployed anytime as and when required.
The Navy, Army and Air Force have been on the ready to assist with evacuation and rescue. The Navy has had two ships ready with doctors, food and water for 5,000 people. The National Disaster Relief Force or NDRF has deployed 16 teams. 
Cyclone Vardah will reach Karnataka tomorrow and pass over south Goa on Wednesday, December 14. The coastal zones are under panic and TN government and CM Paneerselvam, Radio and TV channels alert the people about the latest position and possible future effects and warn them not to go the beach.
However, the human deaths and other casualties are less than that happened last year thanks to preparedness of Tamil Nadu government to face such natural calamities. Last year's tragedy in Chennai taught lessons to Tamil Nadu to be very cautious and this time the government was quick to react and take appropriate measures to bring the impact lesser felt and under control.
Sadly, very soon after the loss of their beloved leader TN Chief minister Jayalalithaa, who and her ruling AIADMK party had recently won a historic win in state assembly poll, in an abrupt manner, Tamil people are attacked by a fast track cyclone, causing havoc.
December month seems to bring bad time and even horrors for Tamil Nadu. Last year about this time giant floods ransacked the Chennai city and many other coastal towns that had resulted in destructions, evacuations, dislocations, and deaths. It took months for Chennai to return to normalcy as many houses were in flood water.