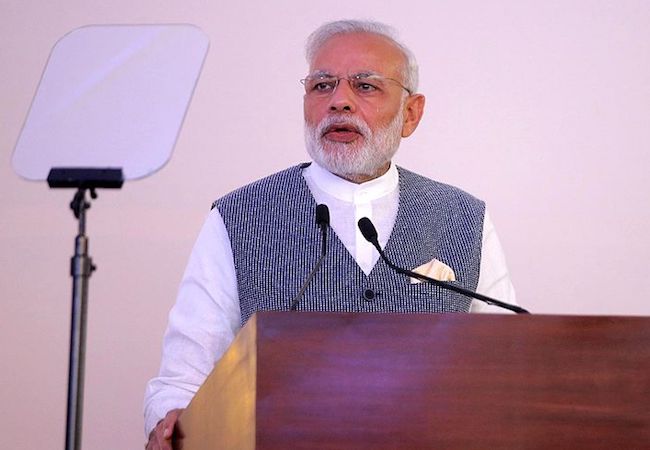 By Abdul Ruff
Indians are today reeling not under the terrorism or cross border fires at LOC, but by the painful effects of Prime Minister Narendra Modi's demonetization move, that besides making the life common masses extremely miserable and intolerable, also is crippling national economy and prestige abroad. Ruling Barathiya Janata Party (BJP) is in a fix now as some state polls are round the corner.
Both urban and rural India have been hit hard by artificial cash crunch post the demonetisation exercise announced on 8 November by PM Modi ostensibly to kill black money in the economy, fake currency, corruption and terror funding.
Modi thanked the nation for supporting the demonetisation drive and acknowledged the resultant on account of an acute cash crunch. He urged the banking system to bring back normalcy in transactions at the earliest and made a case for transparency in the finances of political parties.
The note ban invited severe criticism from his political rivals and a section of economists. Hence, this was an opportunity for PM Modi to take the nation into confidence by giving hard facts on the status of the demonetisation exercise by giving clarity on issues with regard to its originally stated goals of war on black money, corruption and fake currency. The PM should have left the goodies for finance minister Arun Jaitely, formerly a strong EC member of BCCI, to dole out in his 2017 budget slated just a month later.
Demonetization has weakened economy and trade, reduced the GDP, killed more than 100 people, including farmers. Currently, the whole of India is suffering. Ordinary people gave their life because of the idiotic, short-sighted order of this one man. According to the Centre for Monitoring Indian Economy (CMIE), unemployment rates rose to 6.1 percent in the week of 4 December and further to 6.6 percent in the week ended 11 December and then to 7 percent in the week ended 18 December. Also, there were reports of vegetable farmers taking huge losses as the prices plummeted in the market forcing many of them to dump their produce.
The TV panelists of the BJP can be seen shifting uncomfortably when asked difficult questions from the anchor. They have no other reason to tolerate these interviews than defending the egoistic order of their prime minister. The BJP ministers are not able to open their mouth. They don't have any voice under the Modi's dictatorship. The BJP leaders and the cadres also sat through the effects of the economic disaster imposed on ordinary citizens, but did not speak out and voice their concern for the common people. The majority of his supporters may be are in the organized sector and already have smart phones in their hands. That is just negligible part of voters. the farmers, daily coolies, etc must have smart phones in order to participate in any survey on demonetization. .
The demonetization is not an economic policy to curb black money or fake money. It is a blind attack on the poor people of India, But, known for his thirst for fame abroad as well as indoors, Modi, fully aware that his plans have failed badly, addressed India on New Year's Eve on December 31 on national television, giving no details of his demonetization move. He may have felt sorry for the poor but has not sought their forgiveness. Instead, the shrewd politician Modi presented nothing short of a mini-rural budget in his much-hyped speech doling out sops meant for the poor and farmers. The package included interest subventions on small ticket home loans (up to Rs 12 lakhs), 60-day interest rate waiver on farm loans taken from cooperative banks, higher credit limit and government guarantee for small traders.
None of the people who use black money are suffering hardship, or waiting in seemingly endless queues or risk losing their lives. Through the bank officials and agents the black money is mostly converted into the new Rs 2000 notes easily. Modi is batting for the rich not for the deprived sections of the society Modi expected India to become cashless overnight and India currently has 85 percent of unorganized sector employees, and to these people Modi is asking them to buy smart phones to help make the Indian economy cashless.
Having committed a serious crime against Indians by betraying their trust in the BJP government, PM Modi has tried to blame all negative outcomes on others, officals, .etc Indian PM's speech is devoid of specifics of black money, party funding, estate cum sand mafias, and cash curbs, among others.
Since Modi focused on black money the specifics PM Modi should have spoken in his address should be Black money. What is the status of his government's war on black money? The banking system is estimated to have received over Rs 14 lakh crore deposits in invalidated currencies since 10 November, 2016. The Reserve Bank of India (RBI) hasn't given updated numbers beyond 10 December.
Cash crunch: The PM urged the banking system to bring back normalcy at the earliest, but what about his promise of 50-days made repeatedly since demonetisation to end the pain of the common man, which he has clearly failed to fulfill. The cash-crunch has eased a bit with queues turning shorter at ATMs and bank branches. The RBI's announcement to increase the ATM cash withdrawal limit to Rs 4,500 per day from Rs 2,500 earlier is a welcome move, but this does not help much given that 2/3rd of ATMs in the country are still running dry as noted in an earlier column. The weekly withdrawal limit of Rs 24,000 per week stays. In this backdrop, PM Modi should have offered guidance to the public as to when will the cash curbs end and the situation back to normal, acknowledging that he couldn't meet his 50-day promise. Such an admission and clarity would have gained more support for him.
Political funding: During his speech, Modi urged political parties to come clean on their finances and shed their 'holier than thou' attitude. That is a good move, but of no use, since our politicians are not used to acting on good intentional words. They all drink from the same pot, after all. Had it not been the case, there would not have been a situation in India where political parties have become the biggest hoarders and facilitators of black money. Instead of requesting them, PM Modi should have shown the courage to lay out his government plans to make the necessary changes in the existing laws to overhaul political funding and make all such transactions in the digital mode.
If the government can insist the common man to change their cash transactions to digital mode, why can't it ask the same of political parties, too? If the existing laws are a hurdle, it should amend it. No political party would dare oppose such a proposal since they risk getting exposed in public. Why was the PM silent on such a radical reform step in his speech given his government's stance on black money?
Compensation for demonetisation victims: There is no clear estimate of the number of jobs loss post-demonetisation and the extent of losses to small traders in perishable segments and service sectors due to cash crunch. But, lakhs of jobs in the informal sector have been reportedly lost due to the note ban.
There is no clarity so far either from the RBI and the finance ministry on the amount of deposits received and how much of it has already been reckoned as illegal cash by taxmen. Also, what is the plan ahead to deal with black money in benami assets? Given the hardships the general public had to undergo for the war on black money, something that Modi himself has acknowledged, shouldn't he have given an update on the gains of demonetisation — no matter how small it is — after 50 days of the drive? The PM was totally silent on those numbers and the way ahead.
Why was the PM silent on any compensation to these people, who are victims of a policy move initiated by him?
PM Modi's New Year speech was high on rhetoric and low on facts and specifics. The PM's silence on specifics has given room for his political rivals and critics to up their attacks on demonetisation and has caused the prevailing uncertainty to continue, which wouldn't augur well for his government, the economy and the common man. In that sense, the New Year speech was a missed opportunity for PM Modi.
Voters of India voted for Modi's party the BJP with belief of the magic word 'development'. of Modi who used Gujarat development as a model for entire nation during parliamentary poll campaign 2014 would make them rich. But today they are running post to pallor for daily expenditures . .Modi ridiculed the policies of Congress led UPA government as failures and pledged splitting the back money from abroad among the people of India. He refuses to disclose the names of Swiss bank account holders. He is silent on that promise, while common folk sill expects money in their bank accounts. Similarly people of Indian thought Modi's demonetization drive would add more money to their bank balance and they are poorer today than ever before.
Dictator-style decision making, the Prime Minister of the largest democracy in the world announces the demonetization decision of withdrawing Rs 500 and Rs 1000 from the public domain starting on November 8th and since then the RBI has changed the rules of withdrawal limits 71 times.
Indians are still patient in regards to Modi's election dance because they still believe that he could deposit 15 lakhs in their bank account, a statement promised during his election campaign and that is why they have taken themselves to streets seeking justice or approached the courts for money settlements. The patience of India's people should not be taken for granted by the BJP; however it should be acknowledged, understood and appreciated. Modi now has no way to turn, and has gave his attention to the slogan of eradicating the black money from India.
For the people of India, especially the common people, demonetization is a tragedy and betrayal by their leader – ruler, though for Modi it is another comedy.