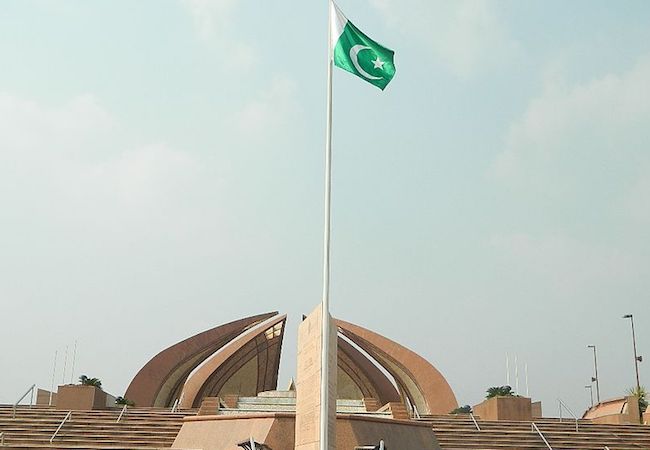 By Kinza Arif
Limited number of states possess second strike capabilities; it is one of the prime features which the world's military powers like United States, Russia, China and India exercise. Possession of second strike capability means that in case of a nuclear attack on a state, the state exercises enough capacity to retaliate against the enemy with the similar force and destruct enemy's capabilities. Usually it revolves around an attack on the industrial areas or where the most population resides to completely destroy the enemy.[1] These weapons may be launched from mobile launchers or nuclear submarines which are sea based and difficult to track. This new feature brings additional strength to Pakistan's defense against India, providing them with the essential military capacity to counter Indian threats. Which once again have heightened in the recent years due to the Uri attacks, Indo-US Nuclear deal and the Nuclear Supplier waiver to India. NSG waiver allows India to have access to the fissile material which it claims to use for peaceful civilian purposes, this effectively allows India to have various defense and trade deals with the western world.
Apart from that, Pakistan and India's history has not sailed smoothly, where they have fought three wars and multiple border clashes. Pakistan exercises credible minimum deterrence against India, where it has played a crucial role during the Kargil crisis and the 2008 Mumbai attacks. Other than nuclear deterrence, international interventions have also played a crucial role in formulating peaceful relations amidst the two.  In regards to conventional military capability, there is a drastic gap amidst both states and Pakistan has opted for attaining nuclear weapons to counter India.  On the other hand, India claims that their nuclear programs are China centric and not directed towards Pakistan. Analyzing Pakistan foreign policy it has been security driven, thus, their focus remains on strengthening military strengths. The animosity amidst both states drives them to focus upon strengthening their military capabilities. The waiver provided through NSG clearly goes against the settings of Non Proliferation Treaty (NPT).  The biased western attitude towards India has forced Pakistan to adopt measures to expand their nuclear arsenal. Despite showing their interests to have a similar deal, United States showed no interests, whereas, a civilian nuclear deal would assist Pakistan in overcoming their energy issues. One can view these developments of Indo-US Nuclear Deal and the NSG waiver as an attempt by United States to aid India to become a regional power to counter China, which also creates regional instabilities. Previously, in response to India's BMD capabilities (India's Ballistic Missile Program) Pakistan developed Air Launched Cruise Missile (ALCM) – Ra'ad which is also known as Hatf VIII and  prior to that developed Hatf IX SRBM (also called Nasr) with the aim of increasing their deterrence capabilities in regards to Pakistan's strategic weapons development program at shorter ranges.[2][3]
The debate about Pakistan having the second strike capability has remained to be the pivotal focus, where multiple analysts and military officials had previously hinted towards Pakistan's progression towards attaining second strike capabilities. Pakistani nuclear expert, Shireen Mazari and ex director of government funded think tank Institute of Strategic Studies declared in 2012, that Pakistan is on its way to develop second strike capability in a year or two.[4] Pakistan has emphasized that it has no keen interests in having a strategic arms race in the region; however, they would not compromise their security and defenses. In attempts to increase their nuclear strengths, in 2013, Pakistan had established a nuclear naval authority; the Naval Strategic Force Command.[5] Former defense secretary retired Gen Naeem Khalid, in 2015, also claimed that Pakistan possesses second nuclear strike capability against India but did not specify whether it is land based or sea based. According to an American Magazine Foreign Policy, India has been developing a top-secret nuclear city to produce thermo nuclear weapons enhancing the states nuclear power and thus creates regional instability. India has already developed nuclear submarines and has also initiated six more projects under P-751.[6]
On January 9 2017, ISPR announced that Pakistan had successfully launched its first successful test fire of submarine launched cruise missile SLCM (Babur-3), providing Pakistan with the second strike capability.[7] Babur-3 is a sea-based variant of the ground-launched cruise missile (GLCM) Babur-2, which was successfully tested in December last year.[8] This successful launch embodies a major scientific milestone, in response to which both President and the Prime Minister congratulated the nation and the team for their success.  India has blamed Pakistan for several terrorists attacks (2001 parliament attacks, 2008 Mumbai attack and Uri Attacks), and claimed that Pakistan has been supporting insurgents to create volatile environments in their territory. Afghanistan has also blamed Pakistan for attacks on the Indian embassies in Kabul whereas; Pakistan has maintained that India has been aiding insurgents in Baluchistan to tamper with the internal security. India has always maintained their interests in becoming a regional power and their policies have been centered on both economic and defense goals to successfully achieve a pivotal position in the region. One can link their ties with Afghanistan and Central Asian countries as their maintained efforts to become a dominant regional player.
In regards to Pakistan, the recent development towards CPEC showcases a positive change in Pakistan's foreign policy, which symbolizes a shift in Pakistan foreign policy towards economic goals. Previously, our policies have been security driven. But the recent developments towards attaining the second strike capability shows that Pakistan is moving forward to maintain a balance amidst both arenas to successfully emerge as strong state. The Indian military explicitly created the Cold Start Doctrine for usage in a potential war against Pakistan, which consists of various divisions through which the Indian military can accomplish offensive operations. The prime purpose is to allow Indian military to conduct attacks, in order to constrain a nuclear reprisal from Pakistan in case of a war.[9] Pakistan has maintained to nuke its own cities to respond towards Indian coercion. However, the new capabilities symbolize Pakistan's response towards India coercive policies, where they are actively engaged in strengthening their defenses. Pakistan has successfully become a nuclear triad power, and will most likely pursue other defense projects to enhance their nuclear arsenal. The credibility of a second strike capability is rooted in being undetectable; India has previously showed vast interests in the development of undersea radars and other anti-submarine warfare. The testing of nuclear capable K-4 submarine-launched ballistic missile by India in April 2016 marked their success in attaining the second strike capability.[10]
For Pakistan to establish a prominent position within the region and counter Indian threats, Pakistan has to further increase its Pak-Navy budget to strengthen its sea based defenses which could strike the enemy at longer ranges and remain undetected. CPEC can generate enough economic avenues for Pakistan to eventually further strengthen their defense needs. Other than that, states like Russia have also showed interests in formally aligning themselves with CPEC initiatives and any further defense deals signed amidst the two can allow Pakistan to further develop their nuclear capabilities. Such forms of avenues allow Pakistan to further strengthen and open arenas to connect globally. Previously, they have signed deals with China; however, Pakistan needs to develop ties with other states apart from United States to have a dominant hold in the international arena. After the careful analysis of the regional and international scenario, Pakistan successfully launched the cruise missile which has allowed Pakistan to establish their hold as a nuclear triad. Despite India's growing nuclear capacities, Pakistan has been simultaneously working to develop their nuclear arsenal and in light of the recent positive developments, Pakistan's has successfully updated their nuclear defenses.
References:
Kinza Arif is an intern at Islamabad Institute of Conflict Resolution. She is getting BSS in International Relations from Bahria University.