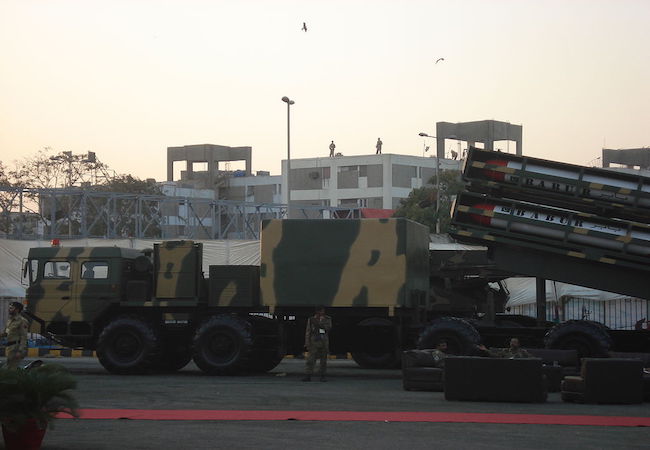 By Abdul Ruff
Tensions continue harm the peaceful environment and proper development in regions like West Asia and South Asia. While Israeli terrorism and its illegal nukes threaten peace in West Asia, encouraging US led NATO scheme to invade and destabilize the region after looting its vast energy resources in their own ways, the nuclear powers in South Asia – India and Pakistan- do not let the region development in a normal manner. Perpetual domestic crisis in Nepal as well as the rival efforts by India and China to control this Himalayan nation and its government adds to the tensions of South Asia. Sri Lanka, after murdering Tamils stock and barrel and committing massive crimes against humanity, now keeps attacking Tamil fishermen and confiscating their boats making a mockery of maritime peace.
Pakistani effort to catch up with India  
Pakistan on January 24 Tuesday successfully test-fired its second indigenously-developed nuclear-capable missile Ababeel, capable of engaging multiple targets with high precision with a range of 2,200 km, which brings many Indian cities within its striking range. The test firing comes two weeks after the launch of submarine-fired Babar III that Indian side military analysts as usual dubbed as "fake".
Pakistan military said Pakistan has successfully conducted the flight test of surface-to-surface nuclear-capable missile 'Ababeel'. Ababeel is capable of delivering multiple warheads using Multiple Independent Re-entry Vehicle (MIRV) technology, Army spokesman Major General Asif Ghafoor said in a statement. "The test flight was aimed at validating various design and technical parameters of the weapon system," he said. Ghafoor said: "The development of the Ababeel weapon system was aimed at ensuring survivability of Pakistan's ballistic missiles in the growing regional Ballistic Missile Defence (BMD) environment and has the capability to engage multiple targets with high precision, defeating the enemy's hostile radars."
The missile has a maximum range of 1,367 miles, and is capable of carrying multiple warheads using the Multiple Independent Re-entry Vehicle technology. According to Inter Service Public Relations, the media arm of Pakistan's military, the test was conducted to validate the weapon's abilities.
On 8 January, Pakistan conducted its first successful test fire of submarine launched cruise missile Babur III having a range of 450 km. The missile was fired from an underwater, mobile platform and hit its target with precise accuracy.
The Babur weapons system incorporates advanced aerodynamics and avionics that can strike targets both at land and sea with high accuracy, according to ISPR. It has been described as a low flying, terrain hugging missile, which carries certain stealth features and is capable of carrying various types of warheads.
ISPR adds the missile will be a powerful deterrent for the country. Ababeel can be armed with nuclear weapons, and engage multiple targets while overcoming enemy radars. High-ranking Pakistani government officials praised the flight test as a landmark achievement for the country's military.
Pakistan's demonstration follows its nuclear-capable Babur-III launch on Jan. 9, and a number of test-firings conducted by its neighbor India, which have contributed to escalating tensions between the historically hostile nations.
India's Defense Research and Development organization test-fired its Agni IV ballistic missile on Jan. 4, and launched its guided Pinaka Rocket Mark-II on Jan. 12.
Indian military prowess
This development comes just weeks after the neighbouring rival India ill-focused on Muslim neighbors,  successfully test-fired the nuclear-capable Babur-3, its first Submarine-Launched Cruise Missile capable of carrying a nuclear warhead up to 450 kms. In an apparent reference to India, the release said, "The development of the Ababeel weapon system was aimed at ensuring survivability of Pakistan's ballistic missiles in the growing regional Ballistic Missile Defence (BMD) environment."
India considers itself the super power of the SA region having first obtained nukes threatening the regional nations, especially Pakistan and Bangladesh.  .
Referring to India's test of its nuclear-capable Agni-IV missile on January 2, Pakistan had also cautioned members of MTCR that introduction of destabilising systems such as "missile defence programmes" and "inter-continental ballistic missiles" in South Asia pose a "risk" to regional stability.
A country's non-proliferation record is one of the key criteria to join MTCR.
Like India Pakistan has also intensified its efforts to join the exclusive club of countries, controlling exports in missile technology, since India joined the elite grouping last year as its 35th member.
Notably, India was successful in joining MTCR, ahead of Pakistan's all-weather ally China, whose application is pending since 2004. However, experts say that Pakistan's controversial record in nuclear proliferation and absence of its patron China inside the club are major obstacles in Islamabad becoming a formal member of MTCR. India has reason to celebrate with semi-explosives all over the country just as it does when it wins a cricket match after fixing it in its favor. .
Pakistan has cautioned members of MTCR that introduction of "destabilising systems" like "missile defence programmes" and "inter-continental ballistic missiles" in South Asia pose a "risk" to regional stability, in an apparent reference to India. Pakistan's "serious concerns" over the introduction of such systems in South Asia were expressed to a delegation of Missile Technology Control Regime (MTCR), a 35-member elite grouping that includes India and controls export in high-end missile technologies, a Foreign Office (FO) statement said. "Pakistan highlighted the risks posed to regional peace and stability due to the introduction of destabilising systems such as missile defence programmes and inter-continental ballistic missiles," the FO statement said.
India is the only country in South Asia having successfully tested inter-continental ballistic missiles. "Pakistan was, however, committed to avoiding any kind of arms race in South Asia," it said, adding that Pakistan's proposal on establishing Strategic Restraint Regime (SRR) in South Asia which covers nuclear and missile restraint remains on the table. "Pakistan believes that progress on this proposal (SRR) through meaningful dialogue can promote peace and stability in the region," it said.
Concerned about regular rissole tests in India and Pakistan and their seemingly never ending conflict over Kashmir, the United States also weighed down on Pakistan's test of Babur-3 missile urging it to 'exercise restraint regarding the use and testing of their nuclear capabilities'. "We continue to urge all states with nuclear weapons to exercise restraint regarding nuclear and missile capability testing and use, and we encourage efforts to promote confidence building and stability with respect to those capabilities," former US state department spokesperson John Kirby had said.
Highlighting Pakistan's non-proliferation credentials, Additional Secretary, FO, Tasneem Aslam told the MTCR that Pakistan has always remained in the "forefront to stop the spread of weapons of mass destruction" and has "always followed international standards while delivering weapons". Aslam also briefed the delegation led by Ham Sang-Wook, the current MTCR Chair, about the administrative, legislative and regulatory measures taken by Islamabad for the establishment of a robust command and control system, an effective and comprehensive export control regime, and the steps taken to improve physical security at all levels. "Pakistan's export control regime is at par with the best international standards and its national control lists encompass the items and technologies controlled by the MTCR," Aslam said.
Pakistani diplomacy
Pakistani diplomacy is indeed commendable. On the eve of test firing, Pakistan released 218 Indian fishermen who had allegedly strayed into its waters. Despite a thaw in bilateral ties, Pakistan has now released 439 Indian fishermen as a "goodwill gesture" in the last 10 days.  The 218 fishermen were freed from Malir jail on instructions from the interior ministry as a goodwill gesture, jail superintendent Hasan Sehto said.
This is the second batch of Indian fishermen released from Pakistan jails since relations between the two countries became tense after the September terror attack on an Indian Army base in Uri for which India has blamed Pakistan-based Jaish-e-Mohammed organisation.
On December 25, the Pakistan government had freed 220 Indian fishermen who were in jail for more than a year as goodwill gesture after Prime Minister Narendra Modi greeted counterpart Nawaz Sharif on his birthday. The Indian fishermen who were released will be handed over to Indian officials at the Wagah border. He said that around 110 more Indian fishermen remain in Landhi jail in Karachi. Last March, the Pakistan government had released 87 Indian fishermen who had been languishing in jail in Karachi for the last two and half years.
Fishermen are being increasingly used as useful foreign tension tools by India, Pakistan and Sri Lanka in the troubled Indian Ocean/Arabian waters further complicating the regional tensions being generated by nuclearized South Asian powers India and Pakistan over Kashmir issue.
Pakistan and India frequently arrest each others' fishermen for violating the territorial boundary. Poor fishermen from both countries routinely find themselves arrested for illegal fishing as there is no clear demarcation of the boundaries between the two countries in the Arabian sea near Sir Creek and lack of technology has made life difficult for the fishermen of both countries.
Last Friday, Pakistan maritime security agency arrested 66 Indian fishermen for illegally fishing in Pakistan's territorial waters. Fishermen from both countries end up languishing in jails for years even after serving their sentences and their only hope of getting released is through 'goodwill' steps.
Pakistan released 220 Indian fishermen in December as a goodwill gesture aimed at easing tensions with its neighbour and pawing way for good neighborly relations to resolve the vexed Kashmir issue in favor of Kashmiris to regain sovereignty from occupation nations.
Sri Lankan atrocities 
Meanwhile, India and Sri Lanka with strained relations over Lankan army's war crimes against minority Tamil community during the Rajapksha era – agreed to release fishermen in each others' custody, a joint statement said on Monday, a move that is likely to ease tensions between the countries which have held fishermen captive for crossing territorial waters.
After ministerial level talks in Colombo, Sri Lanka reiterated its demand to end the practice of bottom trawling, a technique that involves sweeping the sea bed for fish, and India gave assurances that it would gradually phase it out. Critics oppose the method because the catch is indiscriminate and could wipe out entire fishing species, making areas unsustainable for fishing.
It was not immediately clear from the statement issued by the two governments and published on the website of the Indian ministry of external affairs how many fishermen were being held by either side, or for how long they had been detained.
The UN Convention on the Law of the Sea states that fishermen who cross territorial waters can be warned and fined but not arrested. But India, Pakistan and Sri Lanka do exactly that, clearly violating all sea laws. They expect their respective "protectors" on the UNSC would shield their crimes.
And, they are not entirely wrong! Veto members seems ot enjoy their power to gain fortunes form these countries, among other such "troubled' nations. No surprise, India is deadly focused on a possible UN veto handle to control the world with its corporate lords that sponsor joint cricket exercises.
While India and Pakistan continue to test missiles to retain the parts of Jammu Kashmir under their respective control, Sri Lanka does not testifiers missiles in the absence of any such Indo-Pakistan problems. However, Sri Lanka is scared of India more than Pakistan with which it does not have any close sea links to fight territorial claims.