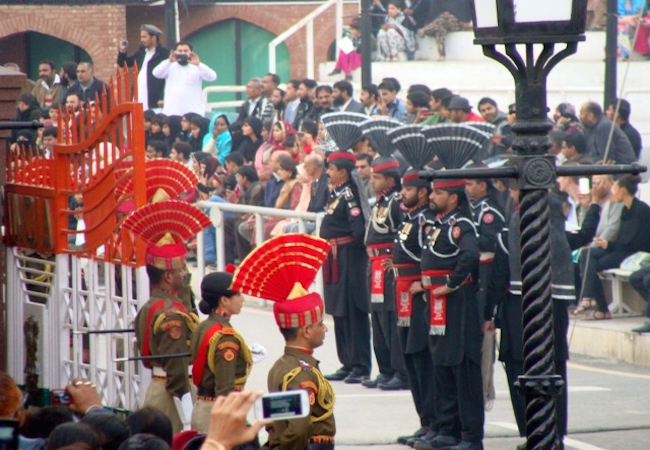 By Hashim Chohan
South Asia is on a brink of Cold War because of Indian imperialist aims to become hegemony of this region. India is reviving its Cold Start doctrine: a recent Russian report claimed that India was planning to deploy more than 460 battle tanks along on its western and northern parts of the border with Pakistan. These tanks include T-90 MS MTB's which are ready to be deployed against Pakistan in the coming days. Furthermore, Indian Army Chief General Rawat has also threatened Pakistan with possible surgical strikes in the future. These two incidents raised serious questions about the revival of India's so-called Cold Start doctrine. India's Cold Start doctrine is Pakistan-centric military doctrine, intending to wage a limited war against Pakistan by crossing  the international border and hold Pakistani territories for a short period of time and strike against Pakistani military targets on a limited scale without escalating into nuclear war.
For a long period of time Indian government has denied its existence but Indian army chief acknowledged that the doctrine was adopted in 2001 after the attack on the Indian parliament. Pakistan has all the reasons to believe that India is reviving its Cold Start doctrine and they will wage limited war against Pakistan. There can be many reasons for this. First, Pakistan has successfully tested its submarine-launched cruise missiles which are capable of carrying nuclear warheads. Secondly, Indian army generals are facing huge criticism for mistreating their own soldiers. Indian soldiers have uploaded their videos on social media exposing Indian army generals for corruption and ill-treatment of low-ranking troops.
So, Indian army leadership has no option but to divert its attention from this issue, and threatening Pakistan was the best option they had. Furthermore, it's in the best interest of newly appointed Indian army chief and other generals to revive Cold Start doctrine to gain popularity while maintaining immense defense spending to support their lavish life style by diverting the attention of Indian people and media from other issues relating to the corruption within their army. Moreover India has already lost its proxy wars with Pakistan, as TTP, BLA and other terrorists groups have been defeated by the Pakistan army. Even if India manages to strengthen these groups again it might takes many years for them to revive this strategy. Another reason includes CPEC: all Indian attempts to derail this project have failed. So, reviving the Cold Start doctrine is the only option India has left and the recent statement of Indian army chief is clear evidence that Indian establishment is desperate. Questions have been raised within the India about their army's capability to maintain its Cold Start doctrine as they couldn't even land their fighter jets on highway. On the positive side this statement issued by Indian army chief is beneficial for Pakistan as it reveals the true face of Indian mindset and their imperialist aims. As Pakistan is the only Muslim country which has not only survived the 5th generation war but win it. War against terrorism has made Pakistan army stronger, realistic and more battle trained compare to the Indian army.
Furthermore the constant threat of India's Cold Start doctrine has forced Pakistan to improve its nuclear capabilities and gained international legitimacy to build up its nuclear arsenal. Indian war games can bring destruction to the whole region. It is the time for Indian leadership to understand that they need to focus more on their internal issues and stop blaming Pakistan for their own failures. The Pak Military is determined to counter the Indian threat on all grounds, the successful test of surface to surface missile (SSM) Ababil on 24 January is the clear evidence that army is taking this treat very seriously and responding to it aggressively. This remarkable achievement by Pakistan army can further repel Indian expansionist aims in the region. Pakistan has always perused a peaceful foreign policy but if India keeps on playing its war games; Pakistan will eventually have to change its peaceful policy toward India which can become a nightmare for India.
Hashim Chohan is an intern at IICR. He is getting his BS degree from Bahria University