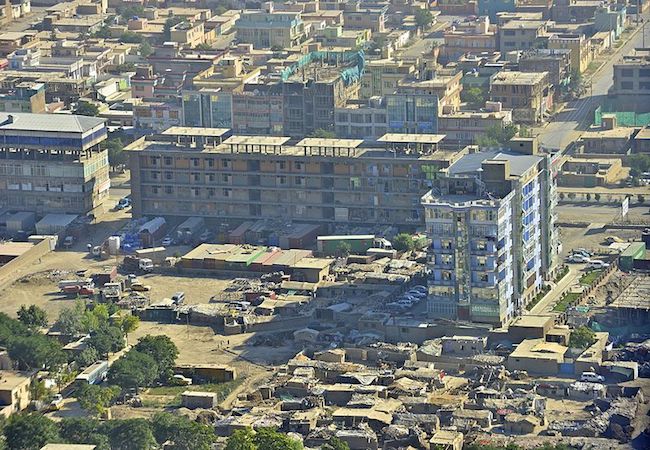 By Ghulam Farooq Mujaddidi
Recently, Russian, Chinese and Pakistani officials met in Moscow to discuss the fate of our country, Afghanistan, without coordinating with and or inviting our elected government. This has raised some serious and legitimate concerns among my generation of young Afghans, who unfortunately have witnessed nothing but war, casualties and destruction in our country, and the Russians know the reason more than anyone else.
Till date, we Afghans have been bearing the brunt of the senseless decision of the warmongering Soviet Union leaders to, first interfere and later, invade Afghanistan to sustain their puppet regime in Kabul. For that same reason and reasons listed below, the recent decision of Russia and China to bypass our legitimate government and instead discuss our future with Pakistan is misguided, detrimental, and questionable at its best.
First of all, the officially stated reason for the trio's gathering in Moscow, namely threat posed to Russia and China by the Islamic State or ISIS in Afghanistan, is largely unfounded and far from reality on the ground. The so-called Islamic State in Afghanistan mainly operates in an eastern province of the country bordering with Pakistan, and its members are mostly Pakistanis. Not only this eastern province of Afghanistan is very far from the Russian-Chinese borders, but also ISIS has failed to make territorial gains in Afghanistan and is restricted to few districts of the said province largely due to successful military operations of the Afghan National Defense and Security Forces (ANDSF) backed by the US-led coalition troops' aerial support.
Therefore, rather than posing a threat to Russia and China from Afghanistan, or being contained by the Afghan Taliban – as Russians claim to justify their interference and direct contact with the Taliban, the Islamic State in Afghanistan is losing its foothold due to our government's sincere commitment to 'war on terror' and elimination of all sorts of terrorism from our soil. Our government does not differentiate between good and bad terrorists and target them all.
Second, Russia, China and Pakistan's agreement to work on delisting some of the Taliban leaders from UN sanction list to facilitate the peace talks between the Afghan government and the Taliban is questionable and dangerous. It is questionable because our government has recently asked the UN to blacklist the new Taliban leader to pressure them to come to the negotiation table. Meanwhile, discussion about clearing Taliban leaders from the UN terrorist list before their commitment to genuine peace talks is dangerous because it will embolden the group to continue its unholy campaign and insist on their other unrealistic demands.
Finally, by approaching Pakistan and engaging it in Afghanistan's internal issues, Russia and China are acting against the will of our people and government and are reducing the international pressure on Pakistan to stop sheltering the terrorist groups. Russia and China forgets that Pakistan is not the solution but rather the main problem of on going war and instability in Afghanistan. We do not need to argue and remind ourselves about the hideouts of Osama bin Laden and or deaths of the founding father of the Taliban movement, Mullah Omar, and his successor, Mullah Akhtar Mansour in key locations of Pakistan to prove Pakistani support for these notorious terrorist groups. Rather, past and present high-ranking Pakistani officials themselves, including their ex-Army chief, Parwez Musharraf, and their current foreign affairs advisor, Sartaj Aziz, have repeatedly confessed that they have sheltered and supported the Taliban and other terrorist groups to counter India's influence in Afghanistan.
Therefore, we request Russia and China to join us and the rest of the international community in condemning and acting against the use of terrorism as foreign policy tool by the Pakistani establishment, and to respect our national sovereignty by restricting their communications and sharing their legitimate concerns, if there is any, with us through our elected government. Meanwhile, to ensure Afghan-led and Afghan-owned peace process, we Afghans cordially request from all permanent members of the UN Security Council, especially the United States, to accommodate our government's requests and to veto any resolution regarding delisting of Taliban leaders and or their affiliates without the consent of our elected government.
We believe in peaceful coexistence, non-interference, and mutually respectful relationships, while have repeatedly proven to defend our freedom and country from all sorts of unwelcome interferences and foreign invasions throughout our history. However, as an independent sovereign nation-state, Afghanistan has every right to choose what is best for it and the current presence of U.S.-led international community is part of that self-determination. The international community is here to help us build our country and we are grateful for their resolute support and generous assistance. We would like to have the same kind of constructive relationship with Russia, China, and even Pakistan, and encourage them all, especially the Pakistanis, to come forward and work with us for a better and peaceful future by honestly targeting all terrorist groups and eradicating terror sanctuaries from their soil.
Ghulam Farooq Mujaddidi writes about contemporary Afghan and regional security issues, foreign relations of Afghanistan, and socio-political developments in the country. He is a Fulbright scholar, with MA in Political Science from University of Nebraska-Lincoln, and currently serves as the President of the American University of Afghanistan Alumni Association.