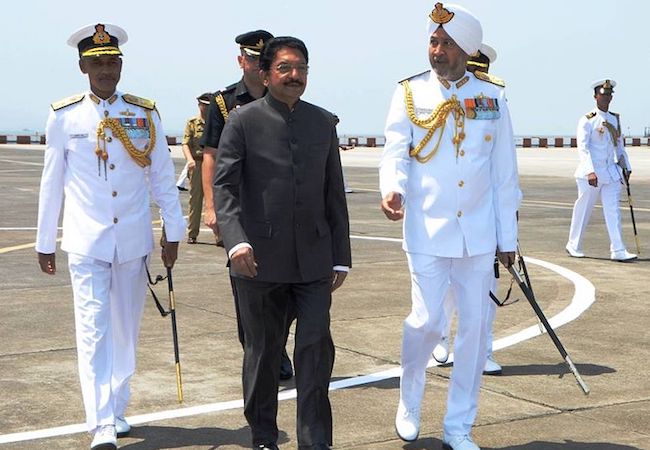 By Abdul Ruff
Clearly democracy is being killed in Tamil Nadu with the backing of Governor Rao. After performing his duties as governor in the stalemate in government formation in Tamil Nadu, Governor Rao finally allowed the Sasikala proxy Palanisamy to win the false vote in the state assembly on February 18. It was expected that Governor would free the MLAs kept by the Bangalore prisoner No 9234 Sasikala who is undergoing punishment of four year term there for her disproportionate assets case to the tune of 60 crores that she had made working as a helper of former CM Jayalalithaa.
Apparently, Sasikala and her proxy Palanisamy played very tactfully the Reddy factor by including a Reddy in to the list of new ministers that would have impressed the Governor who belongs to Andhra Pradesh/Telangana with Reddy links. Obviously Rao is happy that a Reddy is now a minister in Tamil Nadu.
Apparently, Sasikala from jail in Bangalore planned to keep the opposition parties like DMK out of Assembly by some tricky fight and without allowing nay secret ballot to prove his majority.
It appears, Governor has helped Sasikala to outsmart Panneerselvam whom Jayalalithaa had chosen to be the acting CM in her absence that offended Sasikala and many of his cabinet colleagues who were senior to him. Sasikala exploited the pathetic mindset of ministers and MLAs and became general Secretary of the party and wanted to be the CM as well but the Supreme Court locked her in Bangalore jail after she kidnapped all MLAs in a hotel.
Sasikala and Palanisamy decided to go for direct voting rather than secret one as practiced in democracies as they knew a vote through secret ballot would be defeated and dash all dreams of Sasikala to rule the state and who had slapped Jayalalithaa's burial site before leaving for Bangalore jail that she has proved her challenge to her for not choosing her to be act as CM when Jayalalithaa was in jail.
Thus Palaniswami has officially won the trust vote in Tamil Nadu Assembly, but democracy takes a beating. The ministers can now enjoy the post and privileges until further development.
Thanks to Governor's Rao's wrong decision, democracy formally retired hurt in the land of Tamils on Saturday. The entire Opposition of the DMK, Congress and the IUML were evicted to allow Edappadi K Palaniswami to seek a trust vote, which he won 122-11. In the process, farce earned a synonym.
The Kollywoodish drama started early at 11 am with both MK Stalin and O Panneerselvam demanding secret ballot voting. But once Speaker Dhanapal rejected the demand, as expected, the decibel levels inside the Tamil Nadu Assembly rose with DMK MLAs climbing on to their chairs, tearing up documents. Visuals were leaked selectively by the AIADMK-backed Jaya TV to highlight DMK's belligerent behavior, it established that Dhanapal was manhandled, his shirt torn, his microphone broken and his table overturned. Stalin, however, claimed the Speaker tore his shirt himself and accused the DMK of misdemeanor to build a case against them.
Not that the past two weeks have not dented the Tamil Nadu political ecosystem. The manner in which one person in the quest for becoming chief minister confined all her MLAs to a resort outside Chennai, was a vulgar low. While a majority of the legislators were indeed followers of VK Sasikala, having earned their entry into politics with her blessings, there were some who were allegedly arm-twisted to stay on. Some of them managed to escape to tell the tale of coercion inside the Golden Bay resort. One of them, Madurai MLA Saravanan, fled clad in bermuda shorts.
Then there was the sight of Stalin, the leader of the Opposition, walking out of the Assembly with his shirt buttons open, claiming it was torn by political rivals. It was the DMK leader's political 56-inch chest moment, signifying his party was ready for the political battle.
All that has happened in the last two weeks in Tamil Nadu have been a blot on democracy in the battle of the veshtis. Contrary to Panneerselvam's desperate hope that at least half a dozen MLAs will vote according to their conscience to make the Palaniswami government lose the trust vote, the 122 lawmakers decided that power in hand is better than a re-election victory in the bush. Winning the trust vote means no immediate election and gives the resort sun-tanned legislators hope that they will have time to woo their voters once again.
That will be an audacious hope given that people in Tamil Nadu are saliva-ready to spit on the MLAs, the moment they set sight on them. The anti-Sasikala sentiment runs so deep that the Palaniswami regime that will look to Bengaluru for instructions from convict number 9234, will start its innings without any honeymoon period.
And if people needed a spark to light up their anger, that came from actor Kamal Haasan who tweeted taunting India's "de-mockcrazy" soon after the trust vote saying : "People of Tamizhnadu, Welcome your respective MLAs with the respect they deserve back home." Earlier, Kamal Hasan had said Panneerselvam would eventually win the war as he is patient.
Not that the Sasikala camp spared any effort to downplay its enthusiasm to get into positions of power. Sources reveal that the name of Sasikala's nephew, TTV Dinakaran figured in the initial list of ministers to be sworn-in. But Governor Vidyasagar Rao put his foot down in light of the economic offences cases against Dinakaran. Rao told Palaniswami that he will have to seek legal opinion on Dinakaran and if Palaniswami insisted on him, he will have to put off the swearing-in ceremony to another day. A desperate Palaniswami fell in line, agreeing to strike out Dinakaran's name. If not for Rao, Tamil Nadu would have seen an economic offender who coughed up a fine of Rs 25 crore in a money laundering related FERA case last month, sworn-in most likely as the finance minister.
Palaniswami may have won the battle of Fort St George, where the Assembly is located but the war of Madras is far from over. 'Thalapathi' Stalin, with his torn shirt as his first weapon, wanted to sit on a hunger strike at the Marina. The DMK calculated that even if it indulged in what would be deemed to be unparliamentary behaviour, the public mood is so anti-Sasikala that it would forgive Saturday's misdemeanour. Stalin would hope to build on this to start a public movement against the Palaniswami's freshly minted government.
However, Palaniswami who is clearly a man of numbers, after having bagged 122, has imposed Section 144 at the Marina which empowers the Chennai police to evict Stalin and company from the Gandhi statue area.
Giving Stalin's competition to grab the anti-Sasikala space, will be Panneerselvam. His dramatic revolt got him no more than 11 legislators but made him into a hero in the public eye. He will now have to show the spine to cultivate the AIADMK cadre to tap into the gulf between the Sasikala-led AIADMK leadership and its cadre.
Across the Cauvery, Sasikala will be pleased. Both the party and the government are in her grip. Little does she realise that in all probability, she has lost Tamil Nadu.
The Palaniswami government won the confidence vote in the Tamil Nadu Assembly on Saturday by a comfortable 122-11 margin after high drama and bedlam in the House. The vote was preceded by eviction of principal opposition DMK and walkout by its allies, which have 98 legislators in the 234-member House, in protest.
Former Chief Minister Panneerselvam could muster only 11 votes, ending the prolonged stalemate triggered by his rebellion and by conviction of AIADMK chief VK Sasikala after being elected the Legislature Party leader.
Governor Ch Vidyasagar Rao, while appointing Edappadi K Palaniswami as the chief minister after he was propped by Sasikala, had given him 15 days time to prove his majority.
The vote was taken after two adjournments due to pandemonium and charges of attacks by DMK members.
Speaker P Dhanapal and Leader of Opposition MK Stalin said their shirts were torn in the fracas in the House.
Tamil Nadu governor Rao seems to have misread floor testing operation to prove the Sasikala proxy government's majority. While Gov Rao did not ask the Sasikala's CM candidate Palanisamy to first release all MLAs under his/Sasikala's control and kept in Palace hotel so that they freely go home or constituencies to seek the advice of the people who voted them to rule.
Governor refused to do that.
TN governor Rao did not ask the new CM Palanisamy to let the government seek vote of confidence by secret voting so that MLAs could vote according to their conscience or preference without pressure.
Governor refused to do that as well.
Governor's failure to assess the theatrics properly has now led to floor conflict in TN assembly.
Advocate Acharya who fought against the disproportionate asset case against Jayalalithaa and Sasikala and got both of them severe punishment, said Governor Rao should have asked for President's rule in Tamil Nadu for a few months instead of letting Palaniswami win the trust vote by mischief. Even now it is not too late.
The theatrics in Tamil Nadu reminds us of the official match fixing in cricket.
Therefore, TN Governor should take the blame for the assembly fight.
The Palanisamy government is doomed to fall sooner than later.