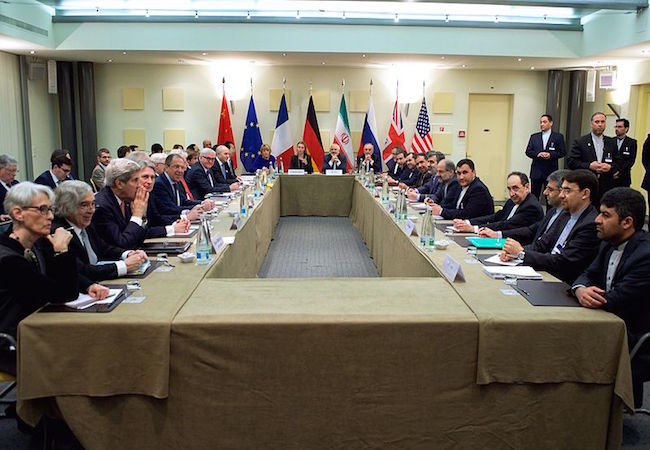 By Asma Khalid
Conflicting trends and deeply rooted threat perception plays key role in shaping the security and political matrix of Middle East. These trends have let the regional states to pursue military modernization, defence acquisition and preparations. Whereas, among all elements the Missile proliferation in Middle East is more evident because of two factors: First, perusal of confrontational asymmetric strategies against great powers, Second is the cost effective advantage of ballistic missile for maintaining modernized conventional forces. In the aftermath of Suez crisis Israel was the first country that launched indigenous Missile program in Middle East.  The threat perception by regional states due to Israel's military buildup was the key motivation for developing missile capabilities. These diverse factors have initiated offense-defense missile race among key countries of Middle East.
Recently, Iran has become the focal point in global politics due to its latest military exercises and ballistic missile tests series. According to the Foundation for Defense of Democracies, it was 14th ballistic missile test conducted by the Iran after inking the Joint Comprehensive Plan of Action (JCPOA) with p5+1.  Under JCPOA, Iran is committed to limited purchases and sales of conventional arms for 5 years and embargo on ballistic missiles for 8 years. It also include the clause about putting a ban on manufacturing and conducting the nuclear tests. It further includes that sanctions will be e-imposed in case of violation of agreement. Though Iran's nuclear deal has eliminated the impasse between Washington and Tehran but recent tests has escalated the tension between both states.
USA has condemned the missile launch in strong terms. U.S President Donald Trump stated that "Iran is playing with fire – they don't appreciate how 'kind' President Obama was to them. Not me". In response to Iranian Ballistic missile tests Trump administration has imposed additional sanctions on Iranian and chines companies and personals that are associated with Iran's ballistic missile program.  Iran has responded angrily to USA Sanctions and stated that Ballistic missile is not the violation of United Nation Security Council Resolution (UNSCR).
Consequently, Iran's view on its ballistic missile ambitions is very clear and perusing the policy of defensive fence. They stated that Ballistic Missile was not the part of Nuclear Talks (JCPOA) and no one can stop Iran to conduct the missile tests as Iran's conventional defenses is its own matter. Subsequently, they maintained that 2015 resolution deals with testing missile that is capable of carrying a nuclear warhead, and their tests are legitimate as they are not capable of carrying a nuclear warhead.
So did Iran violate the JCPOA? In 2015, United Nations Security Council Resolution 2231 was passed, and a nuclear deal, officially titled as "Joint Comprehensive Plan of Action" was signed among P5+1.  An Annex of the UNSC resolution states: "Iran is called upon not to undertake any activity related to ballistic missiles designed to be capable of delivering nuclear weapons, including launches using such ballistic missile technology, until the date eight years after the JCPOA Adoption Day or until the date on which the IAEA submits a report confirming the Broader Conclusion, whichever is earlier." According to the text of Resolution, technically missile test didn't violate the JCPOA, as the nuclear pact has clauses about limiting the Iranian arms import and export and putting arms embargo on Iran but because it contains no prohibition against such testing.
Global and regional powers like United States, Israel, UAE and Kingdom of Saudi Arabia have serious concerns regarding Iran's missile program having direct implications on their security. Some of the Iranian missiles are operational with the range of 2,000 km. These missiles have whole of the Middle East in its effective strike range. It is considered that if Iran continues to test missiles capable to reach beyond its regional adversaries, such technological advancement may contribute to eventual manufacturing of intercontinental ballistic missile in future. Such technological milestone will give Iran the capability to target the north and central states of the America. Restricting and capping the range of Iranian ballistic missiles through diplomatic pressure exerted along with alliance will be preferred strategy by USA.
Presently, Trump by stating the deal "bad" gave the impression of willingness to withdraw from the Joint Comprehensive Plan of Action. As the deal is a multiparty negotiated agreement among China, Russia, France, Iran and Germany hence such a move will be highly costly diplomatically. Missile test by Iran in such a time when the foreign policy of new administration of the USA is in formulation process is intimidating. The resistance model that Iran has adopted is strong defensive fence to address its regional security concerns. However, If Iran desires to have a cordial relationship with Trumps administration then such a move will be highly destabilizing for Iranian interests. Upholding and implementation of this deal in letter and spirit by all parties involved will be big boost for global nonproliferation efforts. For this very purpose USA and Iran both need to understand each other's security concerns and avoid the measures which can stall the treaty. Iran on the other hand shall not give an excuse to Trump administration to end or harm JCPOA.
Asma Khalid is a Research Associate at Strategic Vision Institute, a think-tank based in Islamabad.