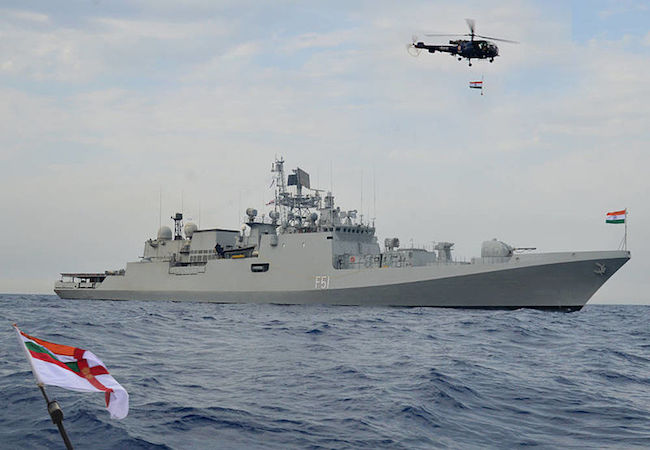 By Maimuna Ashraf
Israel, followed by Russia and US, is India's third largest defense supplier and the bilateral defense cooperation between two states is continuing to be strong. Both states would also be celebrating twenty-five years of establishment of their diplomatic relations this year, whereas at the end of last year the Israeli President Reuven Rivlin made visit to India which was first after two decades. India's foreign policy has undergone through watershed change over past two decades. Until back 1992, Indian abstained to establish close relations with Israel and even Indian passports prohibited travels to Israel. However after Gulf war and Kargil war these relations were revived. The relations are supported by Congress and India's current establishment. The estimated arms trade between India and Israel has been more than $12 billion in last decade which makes India the largest Israel's customer. Israel has lately carved its niche in India by delivering the most sophisticated weapons systems and annually Israeli weapons sales to India amounts to $1 billion.
Previously, Israel has been importing India the most sought-after drone technology, early warning systems to detect adversary's warplanes, state-of-the-art missile defense systems, Patriot Advanced Capability (PAC) for surveillance on missile sites and aircraft, missile defense system (Arrow II) to neutralize enemy's ballistic missiles and anti-missile system to protect Indian Navy ships from hostile missiles. DRDO and Israel are cooperating on producing technologies related to sensors, battlefield management, mobile observation system and command and control. In the words of Israel's Ambassador to India, Daniel Carmon, "Israel is one of the first countries to implement the 'Make in India' vision. There are already plans for joint ventures for making 'for India' by Israeli companies, with the support of the Israeli government." While lately both states are cooperating for missile projects. Resultantly, these technologies have improved India's air defense capabilities. It was in 2013 when India expressed desire to precision-guided munitions and missile cooperation.
The latest deal has opened prospects of more defense cooperation of both states. The deal to build the missiles, reported to have a range of 50-70 kilometres. Five regiments, which consists of 40 units and 200 missiles, are to be developed under the deal. Israel and India will co-develop and produce a medium-range surface-to-air missile  for the Indian Army. Contracts for the deal are expected to be awarded later this month with the value of the project estimated at over $2.5 billion. Known as the MRSAM, development of the missile will be undertaken jointly by India's DRDO, Israel Aerospace Industries (IAI), and will be produced by state-owned Bharat Dynamics Limited (BDL) in partnership with other state-owned and private defense companies. Israel is in a good position to help develop more effective and cost efficient missile defenses after becoming member of MTCR. According to media reports, India is negotiating for Israeli missile technology to perfect the launching and guidance systems of the Prithvi, an indigenously developed surface-to-surface missile and also seeking Israeli help in electronics for its submarine launched Sagarika missile. India has also sought certain technical assistance from Israel to develop Akash, the country's indigenous missile system. These missiles can counter the threat posed by M-11 acquired by Pakistan. Israel is also helping India in developing state-of-the-art air to air missiles.
India believe that defense relations between two states should flourish because it has limited political implications unlike US which keeps trying to tap in Indian defense market but the reservations to transfer technology remains a deadlock. Moreover, both states are observed as common enemy against Pakistan which presents another striking reason to their defense ties, this is why Pakistan also perceive this connection as threat to its security. India would look forward to further strengthen its relations with Israel not only to maintain qualitative and quantitative defense superiority but also to play a dominant role in South Asia. A significant cooperation area between India and Israel is in space field and Indian Ocean which further widens the conventional and non-conventional irregularities between Pakistan and India. The bilateral relations between two countries would also endorse India's significant role in West and Central Asian region. Whereas in South Asian context, further strengthen ties of India and Israel can alter geopolitical realties and strategic equilibrium in favor of India. Thus, two states find the bilateral relations mutually beneficial.
Recently, India has stated taking various initiatives to further improve its strategic relations with US, Israel and Japan. Analyst believe that by improving these ties, India is aiming to aggressively pursue its ambitions in broader Asia, South Asia and Indian Ocean regions generally and particularly, respectively, against its two neighbors China and Pakistan. In essence, Indo-Israel relations have grown in importance because it is based on very practical considerations. For India, Israel is a source of high technology in many including military related industries.