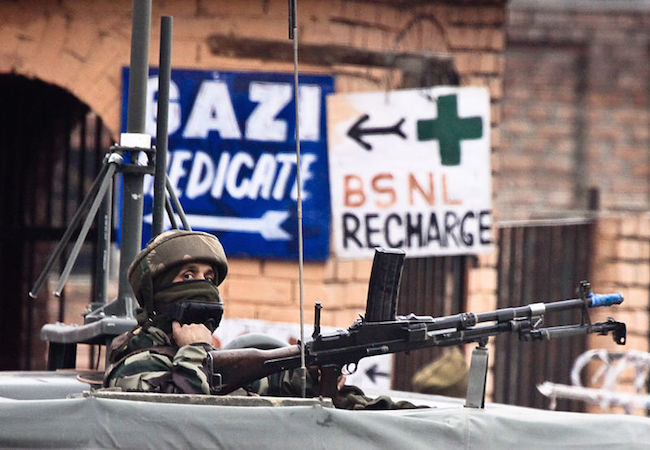 By Rameez Raja
A common perception about political violence is that it is rooted in economic and social deprivation. In a democratic country like India, people have revolted against the government from different regions and have demanded their rights. For instance, Maoists and Naxals have criticized the Indian democratic set up and demanded their rights over land, forests resources, social dignity, and self-governance. On the other hand Nagas and Mizos wanted total independence from India.
The Indian government did not accept the violent movements of the rebels and deployed forces to counter them. However, it is simply a war over its own citizens who prefer to resist against the government after realizing that government is not faithful to them. Some Indian think tanks argued that Indian government should deal these rebels with force and put them down ruthlessly. However, before applying force, government should try to ascertain the causes of the resistance. Moreover, the government should first understand the complexity of socio-economic, ideological, political, tactical and strategic issues raised by the rebels. The causes of the violence from the rebels should be studied in depth and one must know the ground realities of these areas.
The people did not revolt against the government only because of social deprivation; the revolt is also against the perceived foreign rule like the resistance movements in Kashmir. Since 1947, Indian government has intentionally violated the state autonomy of the valley through 48 presidential orders and eventually resulted into resistance from the people.  If we closely study affected areas, most of these areas are ethnically different from the rest of India. For instance, geography and culture are the main differences that alienated these areas from the rest of India. However, it does not mean that the government cannot handle these areas softly.
The good governance is the main element through which government can control and handle the affected areas. But unfortunately the case is different; these affected areas are dealt more with force than by democratic ways. There are two approaches that deal with conflicts; one is 'Strategic Studies' and second is 'Peace Research'. The former focuses on the national security, wars, and admits force as a suitable strategy to counter rebels. The latter focuses on peace, negotiation, and welfare of the human beings and admits that states should abjure wars and force by formulating such policies as to bring peace in the affected regions.
The resistance movement is of two forms: violent and non-violent. The former is based on the use of force both armed and unarmed and the latter is based upon civil resistance (without force). There has been a dispute about identifying a legitimate combatant and an illegitimate combatant in terms of International law. The state government's perspective on resistance movement is based on lawful and unlawful combatants and members of the resistance movements are labeled as militants on the basis of unlawful combatants. For instance, India labeled Kashmiri rebels as militants according to their mind set and laws. However, history reveals that the resistance movement in Kashmir has a genuine cause and Kashmiris have recognized themselves a right to resist against a foreign rule. It is interesting to note that the 1977 Additional Protocol to the Geneva Convention of 12 August 1949, and relating to the Protection of the victims of International Armed Conflicts that is referred in Article 1 have a genuine ground in Kashmir. The article 1, paragraph 4 provides that armed conflicts "… in which peoples are fighting against colonial domination and alien occupation and against racist regimes…" are to be considered international conflicts. Moreover, the articles 43 and 44 give a new description of armed forces and combatants. The articles also focus on the protection of civilian population, prohibition of attack on civilian persons and objects. The articles (61-97) deal with the protection of civil defence organizations, relief actions and the treatment of persons in the power of a party to a conflict.
The international law favours Kashmir's cause which is the reason that India is not willing to accept third party intervention like UN to settle Kashmir dispute. Moreover, India has rejected United Nations Human Rights Council (UNHRC) team's visit to India to monitor Kashmir. India rejection rests on the ground that Pakistan is frustrating the situation in Kashmir. However, Pakistan' response is same that RAW is funding the Baloch insurgents to aggravate the situation in Baluchistan. Recently Inter-Services Public Relations stated that 20 insurgents surrendered to Pakistan Rangers who were funded by Indian spy agency RAW through Brahamdagh Bugti who leads Baluchistan Republican Party (The Express Tribune, 05 April, 2017).
Resistance takes place in the areas where power, domination, or oppression is present. As far as Kashmir is concerned, the resistance movements are against foreign rule, power and oppression as well. The present PDP-BJP coalition has not won hearts of Kashmiri people and the atrocities of the armed forces has led to more conflicts that is why civilians are joining resistance movements without any fear of their life and career. The resistance movements in Kashmir are also because of anger and fear. The Kashmiri people are annoyed with the flawed policies from the state/central government and resulted into anger from the public. The resistance movements in Kashmir have now shifted to more civilian resistance in the form of write-ups, facebook posts, graffiti and songs. The educated Kashmiri people highlight the Human Rights Violations in Kashmir in local, national and international newspapers. Research papers and books particularly on Kashmir dispute form academic scholars have supported the Kashmir's right to self determination academically. International conferences, national seminars on affected areas have alerted the civil society about the human rights violation.
Those who did not participate in direct resistance movements in Kashmir do not mean that they are outside of movements. These people believe in praying, crying, cursing and wailing plaintively particularly Kashmiri women who are beating their chest and singing songs to show their resistance and express their anger towards a foreign rule. These types of resistance (civil) are more powerful than armed resistance to pressure civil society and international community to intervene.
Most of Indian people did not know the actual reality inside Kashmir and armed revolt has not an ability to win all hearts. But matter of the fact is that civil resistance has a capability to knock the door of every house whether native or non-native. Hate does not need hate, it needs love in order to change the behaviour of others and as we witness since 1989 that armed resistance is not as powerful as civil resistance.
Armed resistance is not an effective solution, but pen is definitely. The civilians in Kashmir are not in a position to overthrow the occupying power through armed resistance. India has deployed a large concentration of armed forces in the valley and it is futile to believe that armed resistance will succeed. India believes in the tactics of force and Strategic Studies are more important for India than Peace Research. Since 1947, India is 'managing' crisis in all the affected areas and lacks expertise to settle disputes.  However, it does not mean that there is no solution. May be the resistance movements are not on a right track and also those who claim themselves as custodian of Kashmir lacks expertise too vis-vis a unification problem.
I conclude that pen and civil resistance is more powerful than armed resistance. India should revise its Kashmir policy and focus on good governance. The flawed policies resulted into anger and anger changed into resistance movements. Kashmiri people resisted because these has not been treated as per promises made by Indian government particularly the violation of the state autonomy since 1947.
Rameez Raja is a Ph. D Scholar at Department of Political Science, Jamia Millia Islamia, New Delhi