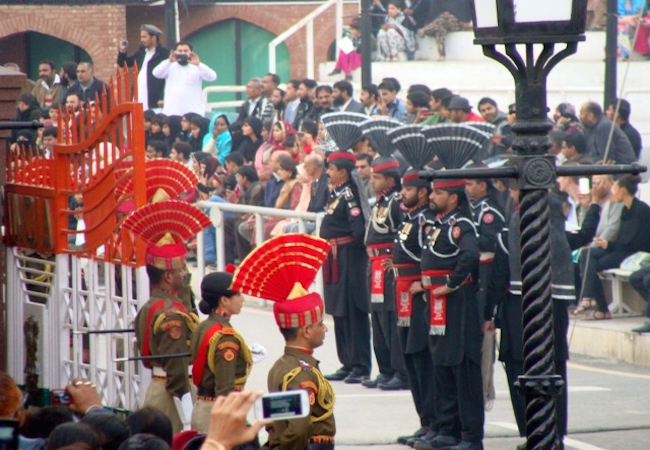 By Babar Khan Bozdar
Since the Indian Navy officer, Kulbhushan Yadav was given capital punishment by Field General Court Martial under Pakistan Army Act and the Official Secrets Act. Indo-Pak relations have been plunged. Yadav could appeal against capital punishment to Pakistan's Supreme Court within 60 days. He was indicted for secret activities, sabotaging and espionage. Yadav had admitted before the court that he worked for the Indian intelligence agency Research and Analysis Wing (RAW). He was included in a few furtive exercises to make instability in Karachi and Baluchistan. Amid the trial, Yadav was provided with defending officer as per legal provision. It should be noted that Yadav was arrested by Pakistani intelligence agencies in March 2016 in Baluchistan. India reacted to this decision immediately by calling Pakistan's High Commissioner Abdul Basit to the Ministry of External Affairs and gave him a demarche saying that the court procedures that prompted capital punishment of Yadav were "ludicrous" and it would consider it as "premature murder'. In the meantime, Sushma Swaraj cautioned/ warned Pakistan to be responsible for the 'outcome'.
The Yadav execution verdict precipitated heat in the political environment. It is not surprising that India is sponsoring terror in the country and then summons an ambassador to protest over the sentence of terrorists. This is the real face of so called largest democracy. Is India sponsoring terrorism on neighboring soil on one side and on the other side trying to be innocent? Yadav execution is a rational decision and Pakistan should never inch back from the verdict because terrorists neither have a religion nor state or nation. It would be better if Pakistan would do the same as India did with Kasab.
Though Kulbhushan Yadav was not first RAW operative, caught snooping in Pakistan. Prior to Kulbhushan, a great number of Indian spies have been spotted and handcuffed during the course of country's enmity with Pakistan. The distinguished among dozens of Indian spies caught in Pakistan was Ravindra Kaushik, who was sent across the border in 1975 on a mission at the age of 23 after extensive training in Delhi for two years and finally deported. India is playing spy war against Pakistan more efficiently. Now it is important for Pakistan to be vigilant and implement Yadav's punishment.
To complicate matters, a Pakistani Lt Col (R) Muhammad Habib Zahir disappeared from Nepal which suggested that the spy war between India and Pakistan had intensified. It is believed that India's Research and Analysis Wing (RAW) abducted the retired lieutenant colonel as a retaliatory act to the conviction of Kulbhushan Yadav. Observers believe that India could use the abducted Pakistani retired army officer as a negotiating tool for the RAW specialist.
India relied upon the USA to take up the matter when the U.S. National Security Advisor McMaster visited India to meet PM Narendra Modi, Foreign Minister Sushma Swaraj and Ajit Doval was intended to plan to raise the matter with his counterpart but the United States made it clear that it wouldn't intercede in the matter. The Indian government has been contending on Pakistan's claim on Yadav's charged spying mission, entering Pakistan with original Indian visa as it was troublesome for India to reject.
Not surprisingly, Indian response was prompt and cynical. There was furious feedback of the decision in the Indian media. Defense Minister Khawaja Asif quickly announced that the death sentence against Yadav would not be carried out quickly but law of land was followed. National Security Adviser and previous Army general Nasser Khan Janjua said that India and Pakistan can't be adversaries perpetually and must take part in discourse to determine debate But Modi is vigorously into populism in view of disdain of Muslims. Therefore Indo-Pak relations are all weather hot.
India's Minister of External Affairs, V. K. Singh reiterated that the Indian government was considering all steps to get access to Yadav. The case of Kulbhushan Yadav continues to remain at boiling point While India has postponed talks between the coast guards. The Indian spy war against Pakistan is going on and throbbing the future of the people living in the region.
Pakistan consistently maintained that the two governments need to start the comprehensive bilateral dialogue, as announced in December 2015 to resolve critical issues. The maritime talks, coupled with meetings mandated by Indus Waters Treaty, were a small beginning by both countries to move on after the bitter exchanges over Uri.
India was looking to mount yet another diplomatic offensive to save Yadav and the government was awaiting a response from Pakistan over its demand for a copy of the charge sheet against Yadav as it mulled options to secure his release. The government was contemplating a move like the one it launched last year after the Uri attack to "isolate" Pakistan but all efforts were in vain and Pakistan again arises with greater support of ECO countries.
Eventually, India and Pakistan are indulged in spy war. RAW is sabotaging activates in, should expect and accept the same response too. India executed Kasab and alleged with Pakistan; though he was terrorist but Yadav is serving Indian Naval officer. It is necessary to treat Yadav and Kasab on equal grounds and India should avoid supporting terrorism on neighboring soil.
Babar Khan Bozdar is a Research Affiliate at Strategic Vision Institute in Islamabad. He can be reached at [email protected], [email protected]