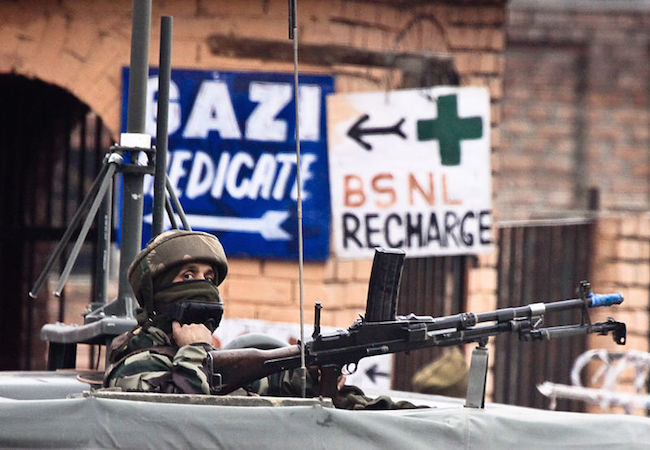 By Touseef Ahmad
The "Eden of Bliss" has myriad untold stories. Its polity underwent many surgeries but it never succumbed. It causes people to exhibit discontent, at times proves their wedding with reconciliation. Since the hay days of militancy in Jammu and Kashmir, Indian establishment has come up with many strategies to make it obsolete. Reportedly, thousands of militants were killed during operations and hundreds surrendered for survival. Though it was at peak during 1990's but because of many reasons the number got lessened. After 9/11 world politics underwent change and Indo-Pak relations were under scanner. The political dispensation in Pakistan in view of post 9/11 challenges had to bring changes in its national mind towards terrorism. Pakistan had to stop its support to militancy in Kashmir because of the international surveillance. The number of exfiltration and infiltration cases was recorded less. The change of power in Jammu and Kashmir after 2002 election was also displaying indications of thaw at domestic level. The PDP led government came up with some confidence building measures which the ever reluctant people accepted open heartedly.  The instances are abrogation of POTA (Prevention of Terrorism Act), depowering of STF (Special Task Force), judicial enquiry of human rights abuses and many other wound ending therapies were taken advantage of. Militancy during this era was neutralized to a good extent. Hence a ray of democracy and governance orientation was recorded in people.
Since many things got birth after 2002 elections, such as meritocracy, transparency and many other instances which earlier regimes had disvalued. These developments by and large zero sized image of separatist camp in Kashmir. However, the 2008 agitation and open confrontation to government once again gave birth to phrases like "revival of separatism". It was outburst of the decision taken by government to allot a share of land to Amarnath Shrine board in Phalgam Anantnag, which supervises the entire season of pilgrimage from all states of India. It led to regional tussle between the valley and Jammu, consequently economic blockade was recorded. People revolted this act on streets and mobilized a massive campaign against it. This confrontation movement was spearheaded by separatist camp. This resulted in death of 60 people and the coalition had to leave in view of the growing anger among people against it. Suspicious outlook of people again grew up against state which was correspondent to earlier practices. People thought it as assault on their remnant part of distinctiveness in comparison to other states. In order to end this warfare outlook in state, the government resorted to physical might. It led to arrests, nocturnal raids and confusion like situation came in.
The arrest and release of youth from jails resulted in two important results; first the security agencies began to revive their power corridor on the traditional lines. They smelled new hope of being power holders as they had been before 2002.They created fear once again in youth which turned vice versa. Method of calling youth to police stations and demanding bribe on account of survival was dominant.  It led to enlargement of trust deficit. Secondly, the government of Jammu and Kashmir and Central government ignored even the least demands of youth and people. Central government sent interlocutors to talk to people on ground and to recommend a long lasting end. On both occasions government thought to continue its upper hand which consequently led to new breed of militancy. This gave ample opportunity to people to think on traditional lines to confront government.
New faces began to join militancy and new ways were drawn to recruit youngsters. They are also known as tech-savvy militants from rich educational background if not economical. They do believe in indigenous outlook of militancy irrespective of names of outfits. Moreover there is a new trend called as "arm snatching", once someone can snatch arms from security forces, is more eligible to become a militant. It pacifies the need of arms, makes them not to wait till arms come from outside.  Here partly word religious indoctrination goes out, because whosoever got killed in past years, his family had to say that our son has been harassed by security agencies and consequently joined militancy. Moreover, the fashion orientation, inclination to heroism and style is one more instance to disqualify them as radicalized by religion. Hence, respect to rights such as life and dignity becomes objection to fight.  Reportedly, (BMW) Burhan Muzafar Wani, the last year protest celebrity in Kashmir has been outcome of the same mystery. The heroism of local and national security wings is also deplorable. Instead of rehabilitating the wronged ones police and paramilitary forces resort to brutalities, it becomes presumption amongst the young minds to jump to arms. There is a tale in "South Kashmir", where a police officer visited the family of a militant and had some provocative statements. In reaction, the militant next day visited the family of the police officer and paid revenge of.
The heroic tribute to BMW in 2016, has rendered thought provoking results. The rate of militant joining has increased. Deadly blockades and curfews were less important in 2016. Localization of résistance movement, first time bore challenging results. No dictations from separatist camp were waited. Though wireless and print media got banned but a new inclination to continue the unrest got it done. Youngsters would say that they are paying the sacrifice of their future and life on account of Burhan. An unverified verse was flying in rural areas that scarcity of arms has stopped youth to join militancy. If arms get available an en-mass armed revolt can be a possibility. This is what Omar Abdullah has to say about it in an interview with Karan Thapar. The central rhetoric about Kashmir is based on Islamic orientation, Afghani interpretation and something revolving round political Islam. For the knowledge of those who proximate militancy in Kashmir with that of other Muslim named outfits, that it is a super secular state. It is a state where minorities are currently respected better than any other part of world. It is a state where people question Mullah's on sermons of carrying wrong impression. More importantly, the education and literacy rate in women is far better than men. They are not questioned about their dress code and don't have ban on any practice equating them with men.
Why militancy lives in Kashmir despite massive operations and fatalities on side of militants? It needs to be studied in comprehension. Once you push negativism in a state reaction is obvious to be negative. How it penetrates positively in other people is a different question. The education of contemporary militants has worked. The early militants who used to interfere in domestic affairs and daily rights of people is of huge importance. It is a celebrated talk in Kashmir, that why Burhan Muzafar Wani lived for six years on ground and with an iconic impression. It is because he would never interfere and would often stop his colleagues to interfere. Fear lives in people for holding militants in homes and hearts. Despite, why they do it, answer lies on establishment.  Instead of police force, why militants are honored, though both are Kashmiri born. Why a marring invitation on "facebook" by new militants is getting feed backed with optima. Hopefully, "facebook" own no Muslim mercenaries.
Militancy has hit about differently, but the difference new age militancy has offered is deliberative. In primordial times of militancy, when it was encounter time, people had to leave their homes to assemble in an open field or space. Procedurally, it was to avoid civilian deaths. Mosque woofers had to be utilized to call upon people to assemble. With the passage of time and more emphatically because of birth of new techniques, the government forces have stopped it. Now selected locations are cordoned where militants take shelter. It avoids involvement of all people in military blockade of an area. But a very alarming phenomenon has evolved in valley Kashmir. A certain area or place cordoned to end militants is seen with huge contingent of people around. People now have started to live with more militant feelings and tress pass militants combating with arms. Inside encounter locations militants fight, at the same time people around encounter sight help militants to escape by busying armed forces in stone pelting. This new trend has taken life of half a dozen civilians, bearing Chadoora Budgam as big example. The involvement of local people in militancy is growing geometrically.
The current generation believes in speak out. They read, discuss and judge things. They go through national and international discourses related to elections, terrorism, science, literature, glamour, religion etc. Hence, by reading about corruption, democracy and other world governance doctrines, they get aware. In practice when they find corruption in least important things, democracy in gutters, and look at law with a prism of superior-inferior relation, they think silence is good. But this silence after living in humans comes out in a bad way. This sudden outburst afterwards gets named by writers as radicalization which in fact is less important. Arguably, identity crisis, institutional decay, political alienation, disrespect to individual rights and choked access to economic opportunities are requirements to have militancy in a state.
Touseef Ahmad holds an MPhil and is now pursuing doctoral degree at Dept. of Political Science, University of Kashmir.