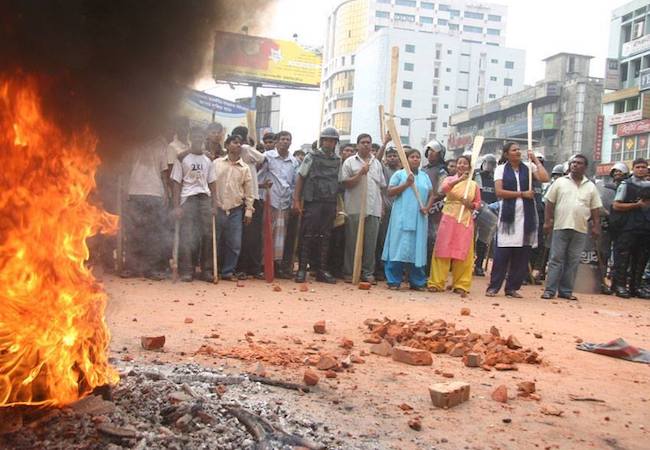 By Minar Rashid
Sheikh Hasina has choked her grip on the citizens of Bangladesh using all kinds of rules and regulations. Bangladesh passport bill is the latest one. This law can refuse issuance or renewal of anyone's passport if the government suspects someone to be anti-state. Mixing up the state with the government, anyone can be accused of anti-state activities. A citizen is criticizing his government, could be deemed anti-state and hence denied a passport. This is her latest ploy to shut free voice in the nation.
The number one item in the Bangladesh's economic indicators are the remittances sent by about 20 million laborers working in the Middle East and other countries under very harsh conditions. Sheikh Hasina's control of their passports would guarantee her control over their free speech, hence safeguard her noose on power. This law will empower the already corrupted officials in the Bangladeshi Consulates abroad. The poor expatriates will be exploited by Consulate officials, most of whom were selected by her party to fortify loyalty to Sheikh Hasina and her government.
Anyone inclined to oppose her government will be denied renewal of their passports. Political opponents will only have one option; seeking political asylum in the host country if their passports are not renewed. The refugee crisis will be exacerbated by more people making their way aboard illegal boats that are susceptible to sinking in the treacherous seas.
Akin to Donald Trump and Kim Jong-Un, Sheikh Hasina has the least respect for human rights when it comes to clinging to power. While Donald Trump does not have the liberty to do whatever he pleases, Kim Jong -Un takes liberty in his hands to do whatever he wants. North Korean people do not feel the double pain as they know they do not have democracy or freedom under a one-man rule. They cannot speak freely and therefore; they go on with their life the way they are told to do.
But what hurts the majority of Bangladeshis is; they must follow Hasina's sycophants and call Bangladesh a democracy. The irony is that many of the leading Western nations including the great United States silently accepted Hasina's government as legitimate. This elevates her authoritarian regime, allowing her free reign the way she pleases.
It is easy for Kim Jong-Un to kill his opponents. Unlike Kim Jong-Un, Sheikh Hasina uses her handpicked judicial system to kill her opponents or abduct the opponent and ships him/her through the border into India. Her Rapid Action Battalion (RAB) kills opponents in so-called "cross-fire," calling them either terrorists or religious fanatics. This gives Hasina accolades from the great neighbor India, and the terrorist freaked Western Nations. The actual terrorists are never caught and apprehended to face the law. The whole system was created to kill opponents, many times planting a gun after the murder to make a fake report demonstrating the other person had a gun and took aim at the law enforcement officials. Hence, it legitimizes their cross-fire killing. The peculiarity of these murders is that RAB personnel cannot be prosecuted most of the time.
Hasina and her sycophants invented "International Crimes Tribunal" that has become a vehicle to eliminate opposition leaders using the law created by her government. Despite the international uproar, she has used the tribunal to take revenge against her opponents. This tribunal used false witnesses armed with invented evidence to convict so called criminals against humanity. This International Crimes Tribunal does not abide by the United Nations rules but has adopted a concoction of home brewed laws to knock off political opponents.
Just as an example, a man born in 1978 has been used as a witness for a crime that occurred in 1971. A man named Sukh Ranjan Bali was specially tutored in a safe house in Dhaka to act as a witness against a person accused of crimes against humanity. Bali refused to be a witness for the government dictated the process. He wanted to be a witness for the defendant for the facts he knew about his brother's killing. To control the damage, the panicked government agency abducted him from the High Court compound at broad daylight when he appeared at the court to testify as a witness for the accused. The court did not accept opposition lawyers presentations including a video as a proof of Bali's abduction. The judicial system has been perverted by Hasina government beyond parameters of civil society.
Bali was transported to the Indian border and was discovered in an Indian jail after several months of his disappearance. He is lucky to be alive. Being a person from the minority Hindu community may have saved him this time.
Another lucky escape and release were Mr. Salah Uddin, an ex-minister and senior spokesman for the opposition Bangladesh Nationalist Party (BNP). He was abducted by the state agency when he was acting a spokesperson of BNP. His family and the party could not trace him for several months until he was located wandering as a distraught person in one of the streets in Eastern India. He is now under trial in an Indian court for illegal entry into that country. He is unable to retrace how he ended up in India.  Probably he was drugged by the Bangladesh's elite forces after his abduction.
The peculiarity of Hasina's character has been demonstrated by her treatment towards her opposition. She blocked the entrance and exit of former Prime Minister Khaleda Zia by placing trucks loaded with bricks and sands and thus kept her locked inside her office room for several weeks. She cut the supplies of water, electricity, and telephone from Khaleda Zia's office where she was trapped. Finally, Hasina's police stopped the supply of food and water entirely.
Bangladeshis are aware, each of them could become another Sukho Ronjon Bali or Mr. Salah Uddin.  The country is navigating through a stormy weather heading towards an unknown harbor. Once known as the daughter of democracy has now turned into an authoritarian ruler dreaded by her ministers as well as the opposition. By dismantling a fair system of voting mechanism, she paved the way for a permanent rule. Unfortunately, she calls it a democracy; a Westminster-type parliamentary democracy. Perhaps totalitarian power has diluted her brain from thinking rationally.
Hasina modeled her democracy with an authoritarian trait, keeping the opponents at bay with fear and uncertainty. In her early political life, she used to lead extremely violent political demonstrations against the sitting governments, and now she does not even allow peaceful demonstrations by the opposition.
While in opposition, on October 28, 2006, her party demonstrated political violence which stunned the whole world. Their activists were seen in the streets beating their political opponents to death with poles and oars and then dancing on their corpses.  Sheikh Hasina openly instigated her activists to come to Dhaka with poles and oars (Logi-baitha) of boats, their party symbols. This was done to demonstrate their disruptive power and create havoc in the capital.
The tragic events of 28th October 2006 created the opportunity for a Military-backed government to rule the country for next two years without any mandate from the people. Hasina proudly called the military-backed government as the product of their movement, and she promised to indemnify them from any wrong doing including a safe exit from the country if she is allowed to come to power. Bangladeshis were looking forward to relief from the military government and greeted the upcoming general election.  The military-backed government supervised the national election in which Sheikh Hasina came to power with two third majority. This new government was entirely different from Hasina's previous government of 1996-2001.
Hasina's model of democracy already cost the country her independence and sovereignty. Under her leadership, billions of dollars were drained out of the country's banking system.  Some Tk. 6  lakh crore (USD 7356 crore or USD 73.56 Billion)—an amount twice the size of Bangladesh's current national budget—has been swindled out of the country over a period of 10 years. On an average, 7 billion USD has been duped abroad each year, according to a new international study. All public money from the 5 Banks has been looted. As a political move, Bangladesh's largest private bank was taken over by the government. Hasina placed her cronies on the board of directors to control the bank.  Like banking, she tightened the noose around the media, and as such, if they deviate from her wishes, she closes the media and jails the editors or controls them by seizing their passports.  The media is expected to beat her drums.
Sheikh Hasina uses the police and other elite forces at her will. Totally disregarding human rights, she ordered them to shoot at the political opponents or demonstrators at sight. No peaceful demonstration or political activities are allowed without a green light from herself. The government has lost people's support for her misrule, corruption, nepotism and thuggish methods. By displaying fight against Islamist terrorism, she has been able to subdue her political opponents. By using the word terrorist, her police shoots at the opponents and kills them. The irony is that these methods are in total compliance with her Indian mentors and some leading western nations.
Public frustration has reached a very high mark, and Hasina can feel the heat. Mr. Obaidul Quader, a senior Minister and the General Secretary of the ruling party warned the leaders and activists of the party of the consequences if they keep continuing their mischievous activities. That they may have to depart the country in a hurry with their money if the regime collapses.  The situation may be so swift that they may not be able to leave with their fortunes if they want to save their lives.
Minar Rashid is a social thinker and is a columnist in Naya Diganta