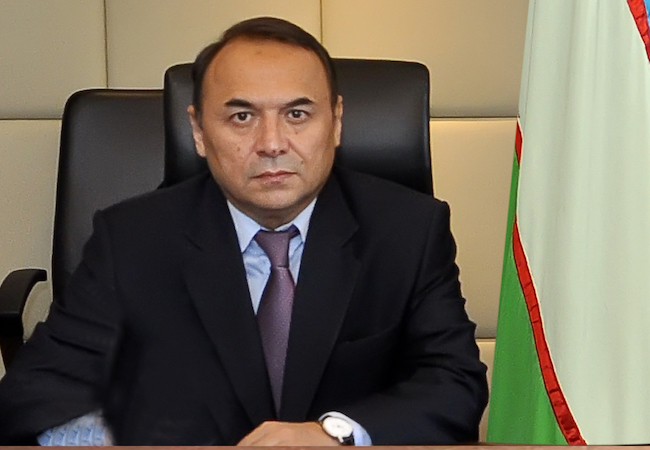 By Nia Amira
A sovereign country in the heart of Asia, located in a historical and geographical region of Mawarannahr or beyond the river as it is translated from Arabic.  The ancient countries such Sogdiana, Bactria, Khorezm, Turkic Khaganate already existed even before Islam came in the region, in the early of 8th century.  A long period of such events brought Uzbekistan as a land that is rich in history and in colorful culture and tradition.
H.E. Shavkat Jamolov (51), Ambassador of Uzbekistan to Indonesia understands very good the emotions of the Indonesian people.  The smiling diplomat has been encouraging his big efforts to strengthen the bilateral relations with Indonesia since he came for the first time for his post in Jakarta about nine years ago. Although smile is often observed on his face as to express Eastern hospitality, his Western influenced background mostly appears through his thoughts and I saw this cleary when I interviewed him in early May 2017. There are some concrete items in the mutual relations that have been significant in Social & Politics, Education and also Culture with the Indonesian government and among private Institutions.
Uzbekistan, a painting of an entire beauty that exists in Central Asia will take you to an unforgetable journey and Tashkent is a window where we can trace the largest, industrial, scientific and cultural centre in the region.  Those who desire to experience the way the Uzbek people lived in the past, can have their vivid imagination by exploring the land of Amir Timur. There are no architectural monuments of 9 to 10th century decorated with inscriptions like the ones preserved in Tashkent. At Hazrati Imam Complex, we can find the first Holy Qur'an written in Kuffi Alphabeth. Tashkent is the capital of Independent Republic of Uzbekistan, it was declared as the Center of Islamic Culture in 2007 following the major forum of the Organization of Islamic Culture & Civilization.
As a flash back to our memory of the Silk Road period, you will be having a strange feeling when arriving in Karvon Saray or Karavan Saray in Navoy province where most merchants from all over the continents came together to do barter of their merchandise. The famous gathering place will turn your mind towards a deep emotional circumstance of the past when standing on the soil of the 11th century. The bricks that were used by the people to build the inns, are still there in some parts. Take a deep breath.
Continue the road to Bukhara and stop by at a traditional restaurant in the resting area where we can have halal lunch with good service such as fresh Salad, humus, and a tasty local Plov which tourists can share with 3 or 4 other people.
Bukhara is a memorable ancient city where the glory of architectural of Madrasah and Mosque sculptured beautifully in a mozaik form and decorated with amazing garden during the Turkic dynasty in 7-8th century and the Samanids dynasty in 9-10th century.
The residents of Bukhara must be proud to be living in this magnificent city where the first Madrasah in the Islamic world was built in 877, just 7 years after the death of the Great Imam Al-Bukhari. Bukhara is the natal place of Imam Al-Bukhari and Ibnu Sina or well-known as Avicena in Western Encyclopedia.
Going further to pay visit to the Mausoleum of Chashma Yi Ayub a.s. we must pass the open hall facing to the traditional Bazaar. A young man kindly interrupted my way while promoting his Uzbek love songs CD for a 50.000 Som. A wooden plaque is hung with a text containing a legendary story of Ayyub a.s. when he arrived in Bukhara.  Meeting with locals in Pistaskkanon Street near by the Mausoleum is always an interesting part to do, especially when you can find a few cheerful children playing in the streets. A little girl with curly blond hair was still in her pinky pijamas smiled shyly and looked like she was hoping of something to happen in front of her white little house decorated with an old Mulbery and Pomegranate tree.   A little farewell with a few Soms to buy cookies that she liked, made this little fellow giving her genuine smile to me again.  Suddenly, I was trapped by a friendly encounter that gave me the idea of writing new poems.
Poyi Kalon Ensemble is the next destination to visit. A huge Mosque for Jumah prayer stands firmly and when entering the colour to see what is inside of the complex, I was struck in front of the round construction, it is believed that this round constuction was a well where many people were killed and thrown inside. A sorrow feeling stressed the ambiance.
Poyi Kalon has been well-known even before the construction of Bibi Khanum mosque in Samarkand in 1399-1404.  Bukhara is the city of Rugs. Splendid home made carpets, fine sajadah mostly made by fine cotton and silk thread will be worth to have in your collection.
Nothing can be compared with the great architectural monument of the oriental architecture and Registan Square in Samarkand is really a Gem to its international admirers. Looking from the three sides, the Square is surrounded by the grand Madrasah and portals of which are facing the center of the space and the three erections have their own unique decor. Registan Square is preserved by the territory of the city under the UNESCO World Heritage list in 2001.
My heart was captivated by a beautiful masterpiece of the Central Asian Arts & Culture, the tomb of Timurlenk where is resting the respectful man of Uzbekistan, buried in 1405 and followed by his grandson, Ulugbek in 1449 in Samarkand.
A slight shadow of a tall big man in a long robe appeared just a minute after my du'a was sent to the Greatest man who was the founder of the country.
Samarkand is the last place for the greatest Imam Al-Bukhari. He was asked to leave Bukhara by the Royal family after he rejected to come to the Palace and provide his teaching. Al-Bukhari had his own reason that knowledge never comes to people, but the people are the ones who must find and fight for it.
His Mausoleum is as a spiritual, memorial and educational complex built around the grave in Hartang village, after Indonesia's first President, Soekarno requested to Krushchev to find the grave of Imam Al-Bukhari and make an propriate grave for this great Imam that is fully respected in Indonesia and in other parts of the Islamic world as his agreement to visit the Soviet Union at that time. Uzbekistan was one of the ex Soviet Union countries. After this agreement had been made, Soekarno came to visit Moscow and a big appreciation was expressed to him by the Uzbek people. Indonesia is always in the heart of Uzbek people.
It was by the late President Islam Karimov who ordered in 1998 to build an integrated memorial complex including Mausoleum, Mosque, Library & Madrasah for Imam Al-Bukhari. The complex has been operating as a Training Center, Institute of Islamic Studies, and Islamic Heritage hub of The Central Asia. Sunnis consider the collection Hadith of Al-Bukhari as the most authoritative set that is preserved to this day.
Uzbekistan, a genuine fairy land would like to strengthen its close relations with Indonesia through a series of cooperation agreements among their governments. Mutual bilateral relations may be strengthened in good understanding. Uzbekistan has splendor Holy Sites to visit after the new 14 tourist destination places are expected to be launched by its government. As the biggest Muslim country in the world, Indonesia can be a very good market for religious tourism and increase the presence of international pilgrims in the Holy sites.
A young farmer at his early 30, walking adjacent to his donkey while bringing his produce and stuff in that old open chariot near by the Cotton Plantation after passing Navoy and stopped for a minute whilst smiling friendly with his timid face.  He focused on his action to the digicam that I had directed to him.  It became a modern picture of Hoja Nazaruddin from that 1001 nights story that is still alive in the hearts and on the daily life of Uzbek people, therefore a good lesson has been taught while it is easy to understand. Uzbekistan is the future destination of Pilgrims and religious scholars; Uzbekistan awaits you with a warm hospitality of its people, Shahslik and Plov diplomacy as well as to experience Uzbek Alpine Snow in the cable car in Chimgan which is also attractive.
Nia Amira is a distinguished author, journalist and linguist from Indonesia. She writes on cultural, international affairs, multicultarism and religious studies. Her articles have appeared in over thirty newspapers that are published in Europe, Asia and United States.