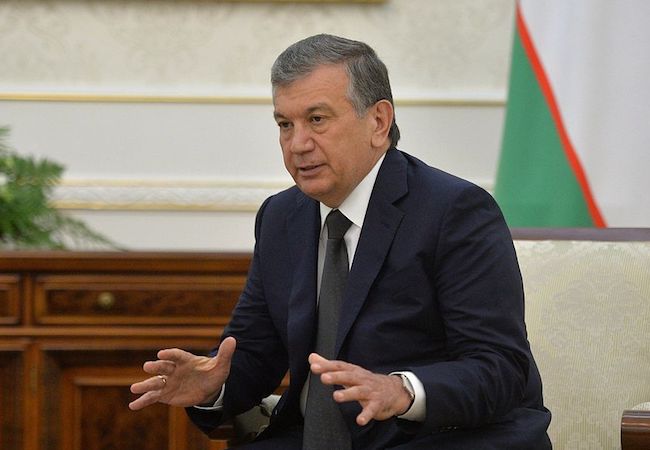 Earlier this month, the newly re-elected President of Uzbekistan Mr. Shavkat Mirziyoyev delivered an inauguration speech titled on the presidential website as, "We will resolutely continue the course of democratic reforms based on the development strategy of New Uzbekistan." In this speech, the president emphasized on the importance of implementing the concept of "New Uzbekistan – an enlightened society" by saying, "We must be open to the world, and the world must be open to us."
Through an amendment in law on "Personal Data" of Uzbekistan, a special condition for the processing of personal data of citizens of the Republic of Uzbekistan was introduced in January. As per this amendment, now the Article 27-1 of the Law on Personal Data obliges owners and (or) operators, when processing personal data of citizens of the Republic of Uzbekistan, to ensure the collection, systematization and storage of this data only on technical means physically located on the territory of the Republic of Uzbekistan. Uzbekistan also strengthened the liability for breaching the law On Personal Data by introducing amendments in Administrative Responsibility Code and Criminal Code.
Just three days before the speech of President, the State Inspection for Control over Information and Communications (Uzkomnazorat) tried to implement the aforesaid laws by restricting the access of some popular social media websites and messaging services. Just a few hours later, the President's Administration responded with a sever condemnation of Uzkomnazorat and consequently the restricted social medias and messaging services resumed to normal. This short social media blackout caused a panic which forced the head of Uzkomanzorat and other senior officials to resign. This later reflected in Presidential speech when said that he plans to build people's state through the development of a free civil society and "It is not the people who serve the state bodies, but the state bodies must serve the people".
This incident received nationwide criticism and many people are calling these laws as illogical which has blindly been copied from Russia. According to the online service NetBlocks, blocking all social networks for 2 hours have cost the Uzbek economy more than 28 billion soums. Twitter and Chinese applications such as TikTok and WeChat are already banned in Uzbekistan and the monetized damage of it has not yet been estimated. Lead media outlets have commented on these laws by referring them as "a controversial and ill-considered law, which does not serve human dignity in the age of digital technologies, and its negative impact on public confidence, its negative impact on the country's image in the international arena, investor opinion, and tourism potential cannot be measured in billions."
The state led digitization campaign, driven by the rapid adoption of technologies such as AI, cloud computing and data analytics, has increased the importance of data dramatically in Uzbekistan. This trend influences both traditional industries, e-commerce and impacts on the overall global image of the country. Data is being called as "New Oil" and is rightfully considered the lifeblood of the modern global economy, while transferring protected data overseas gets more and more complicated. More and more countries develop barriers that make this process time consuming and costly due to newly enacted data residency regulations. Same can be seen in Uzbekistan where legal scientists are trying their best to protect the personal data of the individuals as well to meet the demands of 4th industrial revolution. All of this should not be on the cost of making Uzbekistan a surveillance state which would be completely opposite to the President's vision of "New Uzbekistan".
Uzbekistan is not alone in the world in attempting to exert control over citizen data. However, this recent incident of social media blockage in Uzbekistan calls for serious measures which should immediately be taken with regard to the intelligent technologies including data management systems. All stakeholders including legal scientists and applied scientists should sit together and brainstorm before proposing, enacting and implementing such laws which are legally and technically very complex in nature.
Public should also realize this fact that the technological progression demands sacrifices from all the stakeholders. If public needs a secure society, then there will be a need to install security systems which will compromise their personal data and privacy to some extent. Legal progression also demands feedbacks, identification of loopholes in the system and the incidents where law went wrong.
This incident also highlights the importance of preparing contextualized laws which harmonize with the existing legal system. On numerous occasions, it has been noticed that the Presidential Decrees which are very futuristic and progressive, address the questions of utmost important such as AI, Digitalization and E-Commerce but on the other hand, a serious hierarchical and compliance issue has been observed between these decrees and existing laws.
Upcoming challenges are of Facial Recognition Cameras, use of 5G, management of Big Data and some other new innovation technology products which have been imported without consideration of their compliance with local existing laws. These products interact with data at different levels and possess various threat for existing laws due to their multiple technological dimensions. It is also possible that the further strengthening of personal data protection laws can compromise the expected technical benefits of these products on which millions of dollars have already been invested.
As President Mirziyoyev mentioned in his speech that the Development Strategy of New Uzbekistan will mark the beginning of a new stage in Uzbekistan's national development and he further said, "From now on, we organize our activities on the basis of a new principle: "man – society – state". This was actually reflected by the immediate reaction from the side of President's Administration and further demonstrated by the inauguration speech of the president. One can be hopeful that the "New Uzbekistan" will be able to reap the benefits of a Technologically Inclusive Society. Now it is the responsibility of man, society and state to strive for a successful social contract in the "New Uzbekistan".