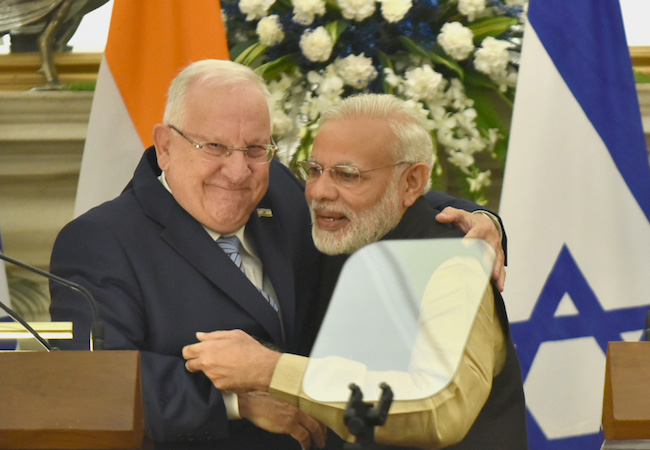 By Michael Bender
It is no secret that India's Bharatiya Janata Party (aka the BJP) has traditionally had a favorable view of Israel throughout its 30-plus years of existence. Not only has it been characteristic of the BJP to privilege Israel on a multitude of occasions, but they have also been known to criticize the Congress Party and its partners for their failure to support or properly engage the Israelis throughout most of Congress' history as India's primary ruling political party dating all the way back to Partition. With the roles now reversed, the Congress Party the opposition and the BJP the majority at the helm of national governance, is India's recent behavior towards Israel a limited affair or are the pieces in place for a substantial normative shift? The upcoming visit of India's Prime Minister Narendra Modi to Israel, a dramatic reversal of India's foreign policy towards the nation since its founding in 1948, has many signs pointing to the latter and could be indicative that this state-to-state relationship is about to ascend to a significantly new level.
India's stance on Israel has always been publically assessed and promulgated vis-à-vis the Palestinian issue and the status of this conflict at any given time. The staunchly pro-Palestinian sympathies espoused in India's official position on all Israeli-related issues remained strong even after normalization of relations between the two countries in 1992. While there has been a gradual improvement of relations every year since normalization, on the international stage throughout this time period India had always remained critical of Israel, and the way Israel has handled its issues with Palestine. Some events over the last few years, however, indicate that this pattern has been engaged in a shift since the ascent of the BJP as India's ruling party in 2014.
It is generally well known that the initial connection that the BJP made with Israel relied heavily on the perception of an Islamic extremist threat that has historically been faced by India and Israel. While the BJP's current support of Israel is apparently strong as ever, their historically anti-Muslim rhetoric on the national stage also seems to have been reduced by a measurable degree over the last several years as well.  This occurrence has left the door open for the focus of the narrative to shift to themes that are less security-based between the two nations. These include notions of development as well as the mutually recognized legacy of the ancient religion-based civilizations defining the Hindu and Jewish populations that dominate each state, and found in their ongoing dialogue.
The BJP's ascent to domestic political relevancy in the years prior to India's normalization with Israel provided a much-needed support base within the Lok Sabha (i.e. India's lower-parliament), whose policy stance could no longer be disregarded.  Tangible signs of a significant rapprochement, however, were very gradual, and the institutionalization of this normative stance has taken decades. During the years of the BJP's first majority governance term following the events of the 1999 Kargil War, the bilateral relationship would progress notably with the occurrence of four key political visitations. These included notable visits to Israel by India's first senior cabinet member, Home Minister L.K. Advani, and India's Minister of External Affairs, Jaswant Singh, in June of 2000. These also included a meeting in the USA by India's National Security Advisor Brajesh Mishra with the American Jewish Committee in May 2003 and, most significantly, Israeli Prime Minister Ariel Sharon's visit to India in September of that same year.
Sharon's visit is arguably the most important political milestone in the relationship between the two countries to date. However, the visit of Israel's PM was never reciprocated by India. Nevertheless in 2014, over a decade after Sharon's visit, the BJP would again come to power as India's majority ruling party with Narendra Modi leading as Prime Minister.  And, while no Indian Prime Minister has ever visited Israel while in power, this is scheduled to change the first week of July under the country's current BJP-led government.  Modi's planned visit comes on the heels of in what are considered to be a series of warm, high-level visits to Israel by President Pranab Mukherjee in 2015 and External Affairs Minister Sushma Swaraj in 2016. These exchanges were reciprocated, in part, by Israel in November of 2016 when President Reuven Rivlin visited India for several days, and will be further reciprocated by Prime Minister Netanyahu with his tentative visitation to India planned for 2018.
Modi has always had high praise for Israel, as was evidenced by the nature of his 2006 visit while he was chief minister of the state of Gujarat.  Gujarat's cooperation with Israel in several areas during this time period including water management, sustainable agricultural practice and joint research ventures to name a few, all of which demonstrate the favorable view Modi has had towards the Israelis dating back many years.  Prime Minister Modi's visit to Israel will undoubtedly be the most practically significant, as well as symbolically important, visitation to Israel by any Indian government official in the history of the relationship between these two nations.
From a practical point of view this visit will continue to significantly build upon the ties that these countries have in areas of agriculture, tourism, the economy, the burgeoning defense trade, and the seeming limitless potential for growth in these sectors. The BJP's third term as India's governing party is now in year three of a six year term, and history would suggest that India's relationship with Israel within these sectors will only continue to expand under BJP leadership  in a more broad-based and rapid fashion.  The takeaway is that, while these developments are significant in terms of the tangible or practical benefits they could bestow upon Israel (or India for that matter) in the short- or long-term, what is most remarkable is the seeming reversal of India's long-term normative stance towards Israel that had been solidified under Nehru's leadership over six and half decades ago.
Not only will PM Modi be breaking what seems to be an unspoken, decades-old "taboo" by being the first sitting India leader to visit Israel, but he will also be forgoing a visit to the Palestinian Authority during this visit as well.  This is quite a departure from India's historic foreign policy towards the region, and could be symbolic of a more permanent shift with regard to Israel and potentially even Palestine.
In addition to the improvement of direct, state-to-state cooperation between India and Israel that has been observed since the party's electoral success in May of 2014, the BJP's normative stance towards Israel could also be reflected in India's institutional behavior.  In December of the same year, India's long-time policy of abstention in the UN voting was purportedly under review as a part of the Indian government's evaluation of its foreign policy strategy as a whole. India's voting record in the UN, which has a historically well-known track-record of Palestinian support, is under consideration for revision with only an "administrative nod" needed to make this revision move forward.  Conversely, India's Foreign Minister Shrimati Sushma Swaraj, who visited Israel in October 2015, has stated publically that, "To say that we are tilted towards Israel or we are making any changes in our policy is wrong", insisting India's foreign policy remained unchanged at that time.
Despite the oratory from Swaraj reinforcing India's longstanding position and UN voting patterns regarding the Israel-Palestinian issue, developments on the ground seem to suggest otherwise. The beginnings of this potential policy shift were hinted at nearly a year earlier, in July of 2014 when India's BJP-led lower-parliament rejected a primarily Center and Left-supported resolution to condemn Israel over the conflict that was, at the time, taking place between Israeli forces and Hamas in the Gaza strip. Similarly, in early July 2015, just before Swaraj was quoted reassuring India's support for Palestine, India had abstained in a vote on a UN Human Rights Council resolution that backed a report critical of Israel's behavior in its conflict with Hamas in Gaza during the summer of 2014. Two months prior to this it was announced for the first time that Narendra Modi would be the first Indian head-of-state to visit Israel during his term as Prime Minister.
Lastly, and perhaps most notably, India's BJP-led government seems to have cleared what has historically been perceived as the biggest obstacle to engaging in close relationship with Israel: the reaction from its large minority Muslim constituency and its friends in the Arab-Muslim world.
Over the last few years, the BJP's more constructive political narrative has not been limited to its vision of India's policy towards Israel. The anti-Muslim rhetoric that has so often been associated with the BJP in the past was notably toned back in its campaign platform for the 2014 elections, with this rhetoric replaced by a focus on economic growth (highlighting Modi's success in Gujarat), the promise of equal treatment of all Indian citizens, and access to basic needs for the entirety of India's population, such as indoor plumbing. The initial reaction by India's Muslim populace to these promises and to the implicit self-image change of the BJP had, generally speaking, been one of belief and approval as 2014 election results from several of India's Muslim-dense states seem to indicate at the time.
Since then, there have indeed been some notable issues at the regional political level involving perceived anti-Muslim bias, in the election of certain regional leaders for example, and in doing little to prevent instances of vigilante violence in many cases. At the national level, however, they have been able to manage the anti-Muslim issue more effectively. While the ruling party's silence regarding instances of communal violence against Muslims (as well as other groups) is under consistent question, the BJP at the national level neither supports anti-Muslim bias nor condones the use of violence against its Muslim populace. Further, the tone regarding Indian's large Muslim minority at this level has largely remained intact and non-divisive since 2014.
In contemporary India, there still exists a notable anti-Israel sentiment amongst India's domestic Muslim constituency. And, while protests and a desire to disengage from Israel are still a regular occurrence, the majority of Muslims have demonstrated their biggest area of concern, first and foremost, to be with regard to Modi's promises for economic improvement and not with his party's clear intent to increase India's ties with Israel. This is extremely noteworthy given that fears over the backlash for such intent are now no longer deemed to be justified.
The significant relationships India has historically courted in the Arab-Muslim world have also been notably unaffected by their intent to pursue closer ties with the Israel. Concerns over the fate of India's political relationships with nations like Egypt, Saudi Arabia and the Gulf States have long been touted as a major deterrent towards any attempt at friendly ties with the Israelis. After normalization in 1992 and over two and half decades of stable relations with Israel, however, the impact of this relationship on India's standing with their Arab counterparts has been marginal at best.
Not only do Saudi Arabia and many of the Gulf States bare little concern for India's relationship with Israel, they may actually be in the midst of a gradual normative shift themselves when it comes to their own views on the Israelis.  The fears over Iran's nuclear program and its seeming ambitions towards regional hegemony, the ongoing and perpetual threat of Islamic extremist groups to the state, and the highly unstable geo-political environment in the Middle East that continues to be fueled by ISIS and the war in Syria-Iraq, have all seemingly caused these states to subtly reevaluate the nature of strategic threats and alliances in the region vis-à-vis Israel.  These issues have also worked to relegate the decades-long Israel-Palestinian conflict to the proverbial 'back-burner' of Saudi and Gulf state foreign policy concerns. Recent progressive developments involving Israel's relations with the UAE, Bahrain, and Saudi Arabia, may be indicative of the very beginning of these nations' own normative shifts towards the Israelis.  While the trajectory of Israel's relations with these traditionally hostile nations is up for much debate, these developments send a relatively clear signal to India that its growing relationship with Israel is of little concern to its Arab-Muslim counterparts.
Only time will tell if Modi and the BJP will normatively alter India's record of unconditional support for the Palestinian cause that dates back prior to Partition.  While it can be said with near absolute certainty that India will continue its friendly ties with the Palestinians, and be a party to the two-state solution moving forward, the tides have turned in ways that make a progressive Israel policy much more attractive and beneficial for India.  From agriculture to defense to R&D and beyond, the "fruits" that Israel can offer in return for India's support and friendship are too substantial for the world's largest democracy to pass on.  Combined with new and more imminent threats defining the state of relations in the Middle East at the expense of the Israel-Palestinian issue, these developments are paving the way for what could shape up to be India's new normative stance towards the Israeli state for decades to come.