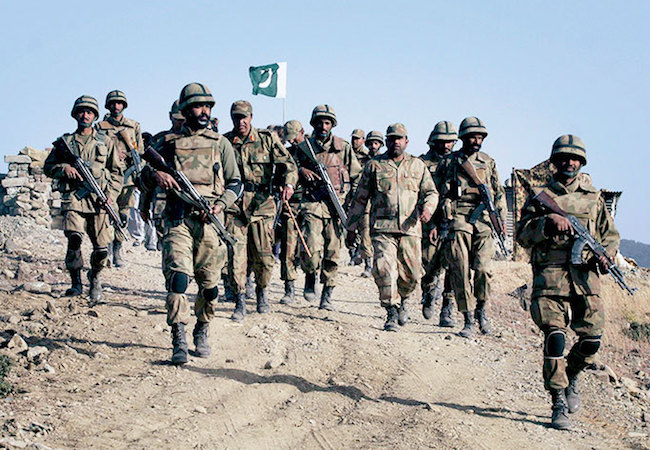 By Muhammad Adil Sivia
Pakistan Army has launched Operation Khyber-4 under Radd-ul-Fasaad (RuF) to wipe out terrorists in the Rajgal Valley area of Khyber Agency. Pakistan under its sustained and phase by phase anti-terrorism strategy has been clearing areas of Federally Administered Tribal Areas (FATA) along Pakistan Afghanistan border. Pakistan has twice informed Afghan authorities verbally and in writing about launching military operation in advance so that Afghanistan can simultaneously launch military operation on its side of Durand Line to eliminate the fleeing terrorists. In the aftermath on military operations in past, Pakistan expected Afghanistan to launch military operation against Tehrik-i-Taliban Pakistan (TTP) terrorists who fled to Afghanistan and found safe heaves there due to porous border between the two countries. TTP has found safe heavens in Afghanistan and uses Afghan soil to launch terrorist attacks on Pakistan.
It remains historical fact, and the US cannot absolve itself from responsibility for using proxy of Mujahedeen against Soviet Union in Afghanistan. The "terrorist producing incubators" created by the US proxy war in Afghanistan were left to be dealt by Pakistan. The US is reviewing its strategy in Afghanistan, but mantra from Washington under new administration is nothing but continuously blaming Pakistan for the Afghanistan and American failure to deal with Taliban. It's preposterous to argue that Taliban are fighting war in Afghanistan due to alleged sanctuaries they have on Pakistani side of Durand Line. Militancy that Afghan and foreign forces are facing in Afghanistan from Taliban is indigenous in nature.
Pakistan has always shown willingness to launch coordinated military operations against terrorists along Pakistan Afghanistan border. While there is realization on part of Pakistan that simultaneous military operations launched against terrorists can root them out in effective manner. Such military operations are very important for multiplying and reinforcing individual gains. The response from Afghanistan so far has been negative, blaming Pakistan for its failure to win fight against Taliban. Prevailing chasm of mistrust between the two countries mars any meaningful military collaboration against terrorists.
There has been substantial decrease in terrorist attacks in Pakistan due to elimination of terrorists in FATA and other parts of the country. Intelligence based operations carried out by law enforcement agencies against banned and terrorist outfits have greatly enhanced security situation in the country.  Pakistan is determined to continue fencing the Pakistan-Afghanistan border in different phases to stop illegal movement of Afghans to Pakistan.
While the US is reviewing its strategy in Afghanistan, foreign forces should convince the Afghan government to build fence on Afghan side of Durand Line. Fundamental realization missing on part of regime in Kabul is that Taliban were political force displaced by the US attack in Afghanistan. The coalition strategy of weakening the Taliban in battlefield before starting any meaningful negotiations has failed so for. Since Taliban in Afghanistan are people of the land, they will continue to resist the presence of foreign forces in their country. The war economy of Afghanistan has created many vested interests that profit from continued conflict.
Prospects of coordinated military operations against terrorists along Durand Line are not encouraging. Pakistan has launched operations against terrorists because there is consensus in Pakistan for removal of terrorists on its soil and restoration of peace. The gains of military operation can really be reinforced with the timely completion of fencing of the border. Terrorists trained and equipped by hostile agencies like Research and Analysis Wing (RAW), and sent into Pakistan can be checked greatly if Pakistan fences its borders with Afghanistan and Iran.
Muhammad Adil Sivia is Research Associate at Strategic Vision Institute, a think-tank based in Islamabad.