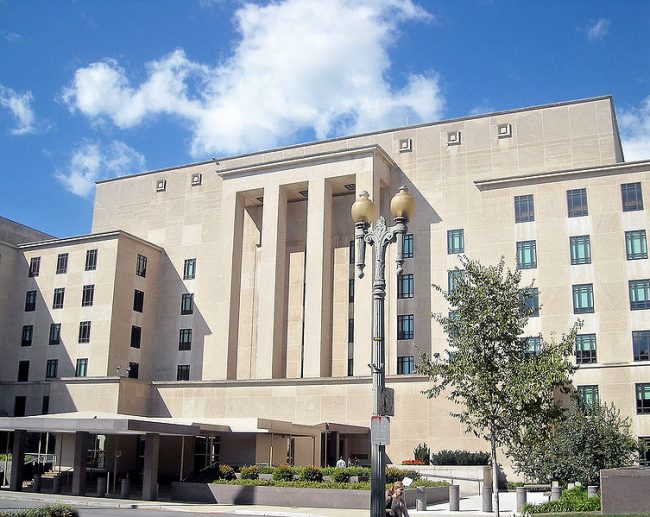 At long last, the USA is withdrawing military assistance units from Myanmar over the country's treatment of its Rohingya Muslim minority in Rakhine state. The US State Department said it had also dropped travel waivers for Myanmar military officials, and was considering economic sanctions.
Had USA taken this punitive massacre earlier, possibly most murders by the military would have been averted but now how the military regime of Myanmar would react to US action remains to be seen.
Generally, USA is known for its double standards and it might even signal that the military could continue to kill Muslims.
Last week, US Secretary of State Rex Tillerson said his country held Myanmar's military leadership "accountable" for its crackdown on the Rohingya Muslim minority, adding that the USA was "extraordinarily concerned" by the situation. "It is imperative that any individuals or entities responsible for atrocities be held accountable," the US state department said. "We express our gravest concern with recent events in Myanmar's Rakhine state and the violent, traumatic abuses Rohingya and other communities have endured."
Is USA really serious  about what it says?
Almost a million Rohingya people have fled Myanmar for Bangladesh, creating another catastrophic situation there, said Bangladesh's envoy to the UN.
The plight of hundreds of thousands of Rohingya people is said to be the world's fastest growing refugee crisis. Risking death by sea or on foot, more than half a million have fled the destruction of their homes and persecution in the northern Rakhine province of Myanmar (Burma) for neighbouring Bangladesh since August 2017. The United Nations described the military offensive in Rakhine, which provoked the exodus, as a "textbook example of ethnic cleansing".
The Rohingya, who numbered around one million in Myanmar at the start of the year, are one of the many ethnic minorities in the country. Rohingya Muslims represent the largest percentage of Muslims in Myanmar, with the majority living in Rakhine state. They have their own language and culture and say they are descendants of Arab traders and other groups who have been in the region for generations. But the government of Myanmar, a predominantly Buddhist country, denies the Rohingya citizenship and even excluded them from the 2014 census, refusing to recognize them as a people. It says they all are "illegal immigrants" from Bangladesh.
Myanmar's military says it is fighting what they perceive  to be Muslim militants and terrorists and not targeting civilians and he Burmese  regime controlled by military wants  entire west consisting of anti-Islamic regimes sot support and promote the military operations against Muslims as Muslims are viewed by them as the common enemy of  all of them . The military says it has a duty to remove Muslims from essentially Buddhist nation which is not a democracy.
The Burmese government boldly bluffs that "clearance operations" against the militants ended on 5 September but it continues to kil Muslims for sadistic pleasure, if not for any cruel cause. .
Amnesty International says the Myanmar military has killed hundreds of Rohingya and raped and abused Rohingya women and girls. At least 288 villages were partially or totally destroyed by fire in northern Rakhine state after August 2017, according to analysis of satellite imagery by Human Rights Watch. The imagery on TV shows many areas where Rohingya villages were reduced to smoldering rubble, while nearby ethnic Rakhine villages were left intact.
Human Rights Watch say most damage occurred in Maungdaw Township, between 25 August and 25 September – with many villages destroyed after 5 September, when Myanmar's de facto leader, Aung San Suu Kyi, said security force operations had ended. Before August, there were already around 307,500 Rohingya refugees living in camps, makeshift settlements and with host communities. Most Rohingya refugees reaching Bangladesh – men, women and children with barely any belongings – have sought shelter in these areas, setting up camp wherever possible in the difficult terrain and with little access to aid, safe drinking water, food, shelter or healthcare. Of the 537,000 refugees who have arrived since August 58% are are children, while 60% of the adults are women.
Under tremendous pressure and without nay UNSC action on the military crimes, Since the 1970s, Rohingya have migrated across the region in significant numbers. Estimates of their numbers are often much higher than official figures. In the last few years, before the latest crisis, thousands of Rohingya were making perilous journeys out of Myanmar to escape communal violence or alleged abuses by the security forces.
The latest exodus began on 25 August after Rohingya Arsa militants attacked more than 30 police posts. Rohingyas arriving in an area known as Cox's Bazaar – a district in Bangladesh – say they fled after troops, backed by local Buddhist mobs, responded by burning their villages and attacking and killing civilians.
More than 600,000 refugees have crossed the border from Myanmar since late August, Bangladesh's UN ambassador said, joining the 300,000 or so which had fled earlier outbreaks of violence. He claimed thousands were still entering his country every day.
The Myanmar government considers the Rohingya to be stateless immigrants from Bangladesh, despite their generations-long presence in the country. It claims security forces are battling dangerous militants in Rakhine state after 12 security personnel were killed on 25 August. But refugees say they have seen door-to-door killings, and widespread burning of civilian villages.
Most of the Burmese military personnel is illiterate and has very little education or culture and their barbarian behavior with humans. They, like Israelis, are fond of human blood.
The United Nations has already called the violence a "textbook example of ethnic cleansing" but it remains powerless to act to end state crimes in Myanmar or protect the Rohingya minorities. Burmese military has been ruthless and keeps pouncing upon Muslim community- including women and chidden like wild beast in a far off jungle. Apparently, Myanmar military boys have learned the apartheid techniques from Israel.
Foreign governments, including Washington, have called for a cessation of hostilities and the peaceful repatriation of refugees. But Myanmar's refusal to acknowledge the Rohingya "remains a stumbling block" for any negotiations, Bangladesh's ambassador said..
Observation: Some details of humanitarian crisis
Myanmar, like Israel, is a criminal state feeling free to kill humans indoors, especially the minority community. That is shame on UNSC and on civilized world represented mainly by the Western states.  The following details would make the point clear.
720,000 children in need of humanitarian assistance, according to Unicef; $434m in funding needed for UN humanitarian response plans over the next six months' 900,000 doses of cholera vaccine mobilized for immunization campaign' 10,000 latrines to be built by Bangladesh military to provide sanitation for 250,000 people;500 tonnes of aid has been delivered in five airlifts; There has been widespread condemnation of the Myanmar government's actions but talk of sanctions has been more muted:;The UN Security Council appealed to Myanmar to stop the violence but no sanctions have been imposed; The US urged Myanmar's troops to "respect the rule of law, stop the violence and end the displacement of civilians from all communities"; China says the international community "should support the efforts of Myanmar in safeguarding the stability of its national development";Bangladesh plans to build more shelters in the Cox's Bazar area but also wants to limit their travel to allocated areas; Myanmar urged displaced people to find refuge in temporary camps set up in Rakhine state but added that Myanmar would not be able to allow all those who fled to Bangladesh to return; The UK Disasters Emergency Committee launched an appeal for funds to help the refugees and their overstretched host communities. UK Prime Minister Theresa May also said the military action in Rakhine had to stop. The UK has suspended training courses for the Myanmar military
UNSC with huge veto powers has lost its relevance and it should be wound up!